Scots back indyref2 if pro-independence 'supermajority' elected, poll suggests
More than half of voters would back a second independence referendum in Scotland should a two-thirds supermajority of pro-independence MSPs be returned to Holyrood, a poll has found.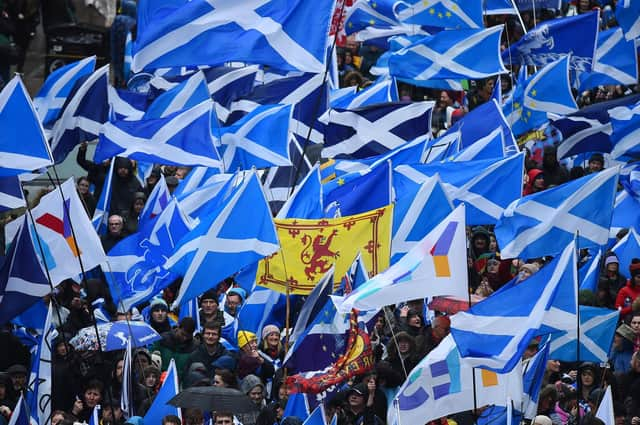 The poll, by Panelbase for The Sunday Times which interviewed 1,009 voters, found that 55 per cent of Scots – once don't knows were excluded – agreed that indyref2 would be justified should a supermajority of 86 pro-independence MSPs be returned to Holyrood.
This supermajority could include the SNP Greens and Alex Salmond's new pro-independence party, Alba.
If those three parties gained a 'supermajority' – defined in the Scotland Act as two-thirds of Holyrood of 86 MSPs – then 45 per cent of Scots would still believe a second independence referendum was not justified.
Alba have failed to define exactly what the party means by 'supermajority', however, more than half of Scots believe they are 'confident' they understand what is meant by the term according to a Savanta ComRes poll for The Scotsman.
However, the First Minister has criticised the constitutional argument from Mr Salmond that negotiations around independence should start on day one of the new Scottish Parliament.
Ms Sturgeon said that wanting to "jump over and bulldoze your way to independence" would risk pushing undecided voters away from the movement.
She adding it was time to "knock on the head" the idea that a 'supermajority' was required as a mandate for a second independence referendum.
Fewer than half of Scots backed the argument from Mr Salmond to start negotiating the details of independence on day one of the new parliament if there was a supermajority.
A total of 44 per cent agreed with Mr Salmond, with 56 per cent disagreeing with don't knows excluded, with that figure dropping to 36 per cent if don't knows are included.
An SNP majority is backed as the "best mandate" for a second independence referendum by more than one in four Scots (27 per cent).
A formal SNP/Green coalition is the next most popular, backed by 14 per cent of Scots, with a minority SNP government on nine per cent.
An Alba/SNP coalition is half as popular – backed by seven per cent of Scots – as an SNP/Green coalition, with an Alba/SNP/Green coalition backed as the "best mandate" by just six per cent of Scots.
The level of support for each option is broadly static regardless of political affiliation, however almost a third (30 per cent) of Scots said they did not know.
Sir John Curtice, professor of politics at Strathclyde University, told The Sunday Times that: "The urgency with which some in the nationalist movement regard the constitutional question should not be underestimated."
He added that figures suggest few Yes voters are going to leave the SNP through arguments around tactics and timings, with the challenge for unionist parties to present a positive case for the union.
A message from the Editor:
Thank you for reading this article. We're more reliant on your support than ever as the shift in consumer habits brought about by coronavirus impacts our advertisers.
If you haven't already, please consider supporting our trusted, fact-checked journalism by taking out a digital subscription.
Comments
 0 comments
Want to join the conversation? Please or to comment on this article.