Scots are 'savvy' about tactical voting to oust SNP, says Scottish Conservative deputy leader
Voters are "savvy and switched on" and know which candidates are best placed to take on the SNP, the deputy leader of the Scottish Conservatives has said, after a row broke out in her party over tactical voting.
Meghan Gallacher said she understood "the principle" of tactical voting to defeat the SNP. It comes after party leader Douglas Ross suggested voters could back Labour in certain seats to oust the Nationalists.
His comments caused anger within the party, with a UK Tory spokesman telling journalists: "This is emphatically not the view of the Conservative Party."
Ms Gallacher, who has been Mr Ross's deputy since May last year, spoke to The Scotsman ahead of the Scottish Conservative conference, which kicks off in Glasgow today. Prime Minister Rishi Sunak is due to address delegates this morning, while Mr Ross will make a keynote speech in the afternoon.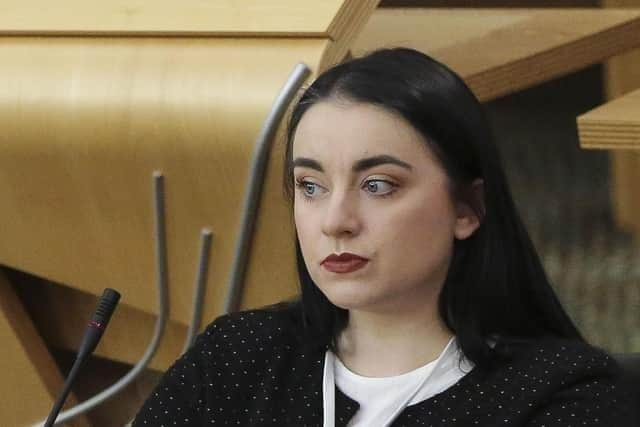 In his speech, Mr Ross is expected to row back on his previous comments by insisting the best way to unseat SNP MPs in seats "right across our country" is to vote for the Scottish Conservatives.
Ms Gallacher argued there had been a "misconception" over what Mr Ross originally said. She said tactical voting had benefited the Scottish Conservatives at Holyrood elections, adding that Mr Ross had "clarified" that he would always promote Tory candidates.
However, she said: "I think voters are switched on in Scotland. They know in terms of which candidate might be strongest, having looked at previous elections and the votes in previous elections, who might be strongest to take on the SNP – but that's up to the voters.
"Our job is to go out and promote and sell a vision, and hopefully people will agree with that vision that you're trying to promote. That's my priority. However, I can understand the logistics behind tactical voting to get the SNP out."
She added: "Voters are more than savvy and switched on to the political voting systems."
Ms Gallacher continued: "I think people understand, perhaps, the best way to defeat the SNP, whether that's a constituency vote for one party and a list vote for another. Or in the ranking of a local government election, for example, to maybe give the first preference to your preferred party but the second and third, perhaps, to the other unionist party who is best placed to defeat the SNP. I think that's long been established. You've had campaign groups promoting that for quite some time. So I understand the principle in terms of tactical voting."
Elsewhere, Ms Gallacher, the MSP for the Central Scotland region, said she believed the Tory conference offered "a really good opportunity" for the party to set out an alternative to the SNP, which she said is engulfed in "chaos".
She said the Tories are "feeling optimistic about going into the next general election". She added: "We're hoping to pick up seats. There are a few marginal seats [where] there are only a couple of hundred votes between us and the SNP. I definitely think that they are areas where we could make potential gains."
Asked how many seats the Tories are targeting, she said: "I don't want to give you a number just now, but there is definitely potential there for us."
Comments
 0 comments
Want to join the conversation? Please or to comment on this article.