Scotland's top lawyers accuse Boris Johnson of using 'facile and offensive' rhetoric
Scotland's top lawyers have penned a furious open letter to Boris Johnson, accusing him of using "facile, offensive" rhetoric against the legal profession.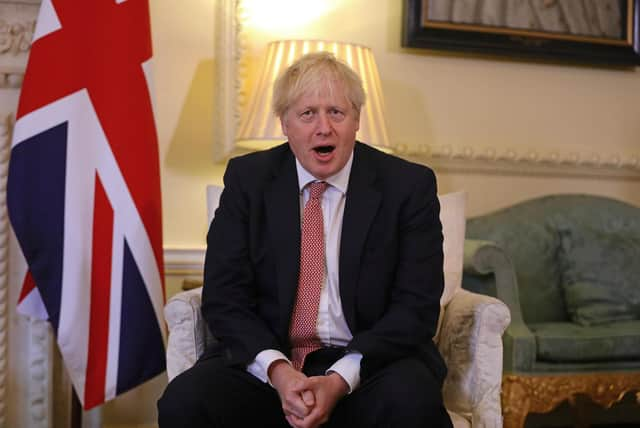 Prime Minister Boris Johnson has been accused of "offensive" rhetoric towards the legal profession
In a furious critique of the Prime Minister and his Home Secretary Priti Patel, the Dean of the Faculty of Advocates Roddy Dunlop QC accused them of using language that was "potentially harmful" and damaged the profession.
The unprecedented intervention comes after claims from the UK Government of being hamstrung by "lefty" or "activist" lawyers.
Rona Mackay MSP, deputy convener of Holyrood's justice committee, said: "Rather than respecting scrutiny and the democratic processes of this country, Tory ministers are increasingly using inflammatory language and downright deception in their attempts to bypass democracy.
"Lawyers should never have been put in this position, and it's frankly shocking that this letter had to be written in the first place.
"Rather than launching childish attacks on lawyers for doing their professional duty, Boris Johnson should reflect carefully on the language he uses and start respecting the role of the legal profession in maintaining a democratic and civil society.
"No politician or government is above the law. The Scottish Tories, some of whom are lawyers themselves, must urgently condemn the dangerous language being used by their Westminster colleagues."
In his virtual party conference speech this week, the PM claimed the UK Government were moving forward with penal reform despite opposition from the legal profession.
He said: "We're also backing those police up, protecting the public by changing the law to stop the early release of serious sexual and violent offenders and stopping the whole criminal justice system from being hamstrung by what the home secretary would doubtless – and rightly – call the lefty human rights lawyers, and other do-gooders."
His comments came just months after the Home Office released a video on Twitter lashing out at "activist lawyers" for allegedly frustrating efforts to deport people.
The Bar Council and the Law Society in England and Wales have also hit back at the accusations.
Amanda Pinto QC, the chair of the Bar Council, said: "It is shocking and troubling that our own prime minister condones and extends attempts to politicise and attack lawyers for simply doing their job in the public interest."
Want to join the conversation? Please or to comment on this article.