Scotland-UK Bill row: Angus Robertson says the UK Government is determined to 'roll back on devolution'
The constitution secretary says he has concerns about the UK's retained EU law bill
Constitution secretary Angus Robertson is warning the UK government is determined to "roll back on devolution".
Mr Robertson says he has "no confidence" the UK government is listening to the Scottish Government's concerns over the retained EU law Bill.
The Bill looks to remove all EU law that still exists in the UK after leaving the European Union, and would "restate, replace or update" parts of this to suit the UK post-Brexit.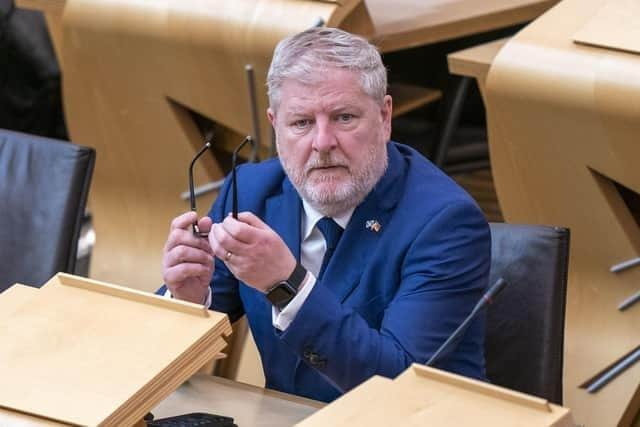 The Scottish Government says it is particularly concerned about nine parts of the Bill, as they believe they impact on devolved responsibilities – and Mr Robertson said he was not convinced the rest of the Bill was completely "clean".
The constitution secretary said the UK government was not listening to Holyrood's concerns about the impact the retained EU Bill may have on devolution.
Mr Robertson also claimed the UK government wrote a letter to him dated Friday, May 19 asking for the Scottish Government's consent to press ahead with its plans for the Bill.
He says he then received a note on Monday, May 22 to say the UK Government had chosen to proceed without a response from Holyrood – and stressed this was the latest in Westminster's attempts to undermine devolution.
Speaking to Holyrood's constitution, Europe and external affairs committee on Thursday, Mr Robertson said: "As someone who thought the devolution settlement was exactly that, it was settled, it is clearly not. There are a variety of mechanisms being used to roll back on devolution."
As well as concerns over devolution, the Scottish Government is keen to remain as closely aligned to EU law as possible as it believes EU law is of a higher standard.
Mr Robertson warned this "interventionist" approach from the UK government was one it planned to "develop and continue" after issues surrounding gender reform and the deposit return scheme.
In December last year, the Scottish Parliament agreed to proposals to make it easier for a trans person to legally change their gender. However, this was then blocked by the UK Government.
Similarly the SNP-Green Government had asked the UK government for an exemption from the Internal Market Act, so it could introduce its own deposit return scheme.
The UK government said this could only happen if Scotland conceded to restrictions such as not including glass.
Mr Robertson said: "There is a significant fear because if we look at the approach of the UK government recently on a range of issues from gender reform to the deposit return scheme, they are prepared to look at a range of ways to frustrate, block, delay and undermine progress in devolved areas of responsibility."
He said assurances there would be close working relations between Holyrood and Westminster on this were "delusionary".
The Scottish minister said: "Part of the challenge is we have got a UK government extremely keen to pass legislation extremely quickly and our ability to play a significant role in that process is much diminished.
"We do remain in close contact with the UK government on this, but I think it is fair to say there is no expectation this will be amended prior to gaining royal assent."
Comments
 0 comments
Want to join the conversation? Please or to comment on this article.