Scotland teacher strikes: Scottish teachers at halfway point in rolling programme of strikes
Teachers in both South Ayrshire and Edinburgh are taking strike action on Wednesday – as the 16-day programme of strike action being staged by the union reaches its halfway point.
As Scots mark the anniversary of Burns' birth, members of the EIS will be gathering outside Burns Cottage in Alloway in Ayrshire as the rolling programme of regional action reaches its halfway point.
As well as gathering at the famous cottage, educators will take part in a rally in the Scottish capital, to be addressed by EIS general secretary Andrea Bradley.
It comes amid an increasingly entrenched dispute over pay, with unions claiming that the Scottish Government and councils "have little or no interest" in finding the funding required to resolve the matter.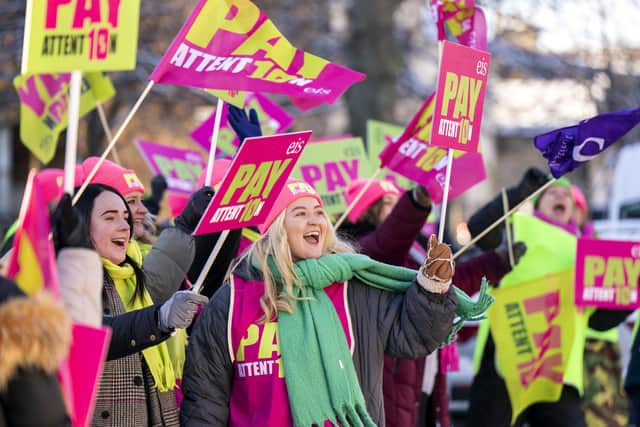 The current offer on the table would see most teachers receive a 5 per cent pay increase, though some lower paid members of staff would get a 6.85 per cent rise.
Teachers have rejected this, with the EIS demanding a 10 per cent rise. However, Scottish First Minister Nicola Sturgeon has insisted there is a "gap" between what teachers are demanding and "what is affordable".
Ms Bradley, however, said that there "continues to be miscalculation in Scotland of the strength of our members' resolve" as well as a "misjudgement about the moral and financial unacceptability of another real-terms pay cut for education staff".
With the EIS having written to the National Education Union to express solidarity with teachers in England and Wales who have voted to take strike action, Ms Bradley said: "It is testament to the strength of feeling of teachers about what is increasingly perceived as Governments' real contempt for them, dressed up in warm words and sophistry, that in spite of the deliberately restrictive anti-trade union legislation that remains in force, that our respective unions were able to beat the ballot thresholds and achieve industrial action mandates."
She advised politicians south of the border against "seeking to divide teachers and support staff" in schools on the issue of pay, as she said that "the Scottish Government, for all its claims about its trade union-friendly credentials, is shamefully seeking to do this".
Scottish Education Secretary Shirley-Anne Somerville said: "Strikes in our schools are in no one's interest – including for pupils, parents and carers who have already had to deal with significant disruption over the past three years.
"I continue to urge teaching unions to reconsider current industrial action while talks are ongoing."
She said that four offers had been made to teachers via the Scottish Negotiating Committee for Teachers (SNCT) but these had been rejected.
However Ms Somerville said that the latest offer, if accepted, "would have meant a 21.8 per cent cumulative increase in teacher pay since 2018".
She insisted: "The union demands for a 10% increase for all teachers – even the highest paid – is not affordable within the Scottish Government's fixed budget and a more pragmatic approach is needed before we can reach a compromise.
"The Scottish Government values the hard work that our teaching workforce put in for our learners and we remain absolutely committed to ensuring they receive a fair pay deal.
"We remain in talks with unions and hope that these will continue to progress towards a compromise to ensure a sustainable deal for all involved."