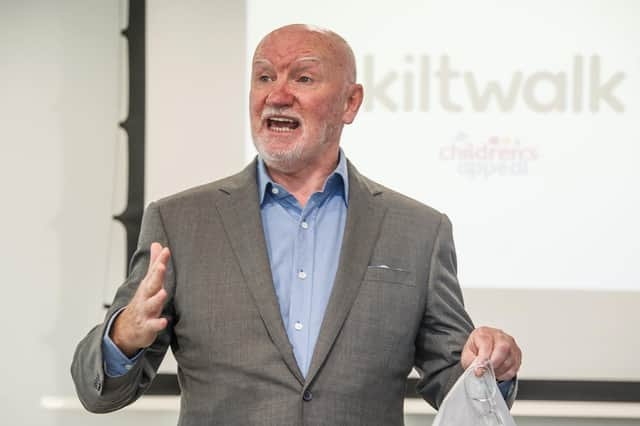 Sir Tom Hunter
A new report published today by Oxford Economics accused Westminster and Holyrood of not being bold enough on economy policy, and warned it was not "realistic" to expect either to transform things given the current approach.
Commissioned by "proactive venture philanthropy" group The Hunter Foundation, it called for increases in government borrowing to stimulate growth, more support for businesses, and significant tax cuts.
The report pointed to Scotland's economy lagging so far behind some other countries that it would need a business comparable in size with Google's total global output to bring its GDP per head of population up the level of Norway's.
Sir Tom Hunter, who is believed to be the first ever home-grown billionaire in Scotland, claimed it was time for "radical" policies.
He said: "It is for everyone in Scotland, from governments, policy makers and businesses to help solve the problem of poor economic growth that Scotland has faced for too many years.
"The report tells us Scotland would need to make changes equivalent in their impact to creating a business comparable in size with Google's total global output to bring its GDP per head up the level of Norway's.
"Moreover, we need far more focus in our economic investments not only to make significantly better gains but also to understand what's working and what's not.
"But that is only half the picture - we need to embed innovation in health and education and poverty reduction to free up finance to invest in growing our economy.
"I'm calling on governments, politicians of all parties, industry and interested parties to work together to pave the way for transformational measures that will give the Scottish economy the significant boost it needs.
"Let's use Covid-19 to reinvent what our future looks like."
Scotland's GDP per head has been about per cent lower than the UK as a whole for years because of poorer productivity, while Scotland's business birth rate came ninth out of 12 UK nations and regions in 2019.
The report forecasts that for the period from 2020 to 2035, Scottish real GDP growth will average just 1.3 per cent.
In terms of government support and intervention, the report also recommends an ambitious industrial policy, possibly centred around Scotland's renewables.
It suggests this could capitalise on the COP26 UN Climate Change Conference scheduled for Glasgow in November as well as supporting the Scottish government's commitment to net zero carbon emissions.
It says: "It is not implausible to suggest that there are business opportunities that resemble those that generated Silicon Valley, several decades ago".
Richard Holt of Oxford Economics added: "The findings of our report emphasise the scale of change and intervention that is needed to address Scotland's long-standing economic problems.
"Much is being done, but if political leaders want to close the gap with comparable nations, then they need to go beyond their present policy offers.
Responding to the report, Scottish Finance Secretary Kate Forbes claimed the SNP agreed Scotland needed 'radical' policies.
She said: "We have set out a National Infrastructure Mission, which will see capital investment increase dramatically in the coming years, as well as the Scottish National Investment Bank, to invest in growth businesses, increase support for business R&D, for entrepreneurs and to set out ambitious plans to transform Scotland's tech sector.
"Of course, our borrowing powers and our ability to invest, as well as our ability to attract skills and talent through migration, are restricted by Westminster, which is why the SNP will continue to argue for Scotland to have the full powers we need to build the kind of recovery and economy that we require.
"Despite the limitations on our powers we have already introduced the fairest, most progressive income tax in the UK, set the most ambitious climate change targets in the world supporting new low carbon industries, created the 'game-changing' Scottish Child Payment and provided certainty and stability to businesses by extending 100% non-domestic rates relief for retail, hospitality, leisure and aviation businesses for the whole of next financial year - longer than the 3 months offered by the Tories in England. And our manifesto will outline further ambitious policies to transform Scotland's economy.
"However, it is clear we could do so much more as an independent country with everyone working together, using the full range of economic levers, to transform our economy."
Scottish Labour finance spokesperson Daniel Johnson said: "These findings are hardly surprising given that Scots have witnessed a timid SNP refuse to use the powers held over tax that Holyrood has had since the 2016 Scotland Act.
"What's more important than ever is that we use the powers available for a Covid recovery. We have to encourage growth and increase revenues in order to strengthen public services so we don't have to choose again between fighting a virus and maintaining critical services.
"Removing the constitutional element of the Finance Committee makes sense, as do all the other suggestions that seek to improve transparency and scrutiny. They are worthy of further consideration in order for the Scottish Parliament to better hold the government to account and win back the trust of the people."
Lib Dem MP Christine Jardine said it was vital the recovery was now a number one priority.
She explained: "People are under huge pressure from the pandemic. With so many people out of work and worried about their livelihoods, we cannot afford to be dragged back to the arguments of the past.
"The next Parliament must put the recovery first. People have sacrificed so much. They deserve politicians with a needle-sharp focus on creating new green jobs and supporting business to grow."
Scottish Conservative economy spokesman Maurice Golden said: "The biggest threat to Scotland's economic growth is the nationalist's drive for another independence referendum. We must focus on our recovery rather than dragging us back to the politics of division.
"The Scottish Conservatives have bold and ambitious policies to support jobs and Scotland's economy. We would offer £500 grants to anyone who wishes to retrain and offer unlimited demand-led apprenticeships, as well as massively accelerating infrastructure investment."
If you haven't already, please consider supporting our trusted, fact-checked journalism by taking out a digital subscription.