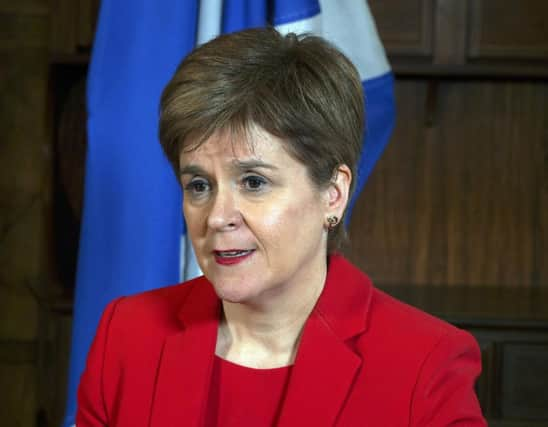 Scots will be legally required to stay at home for the duration of January, under restrictions similar to the first lockdown in March.
Schools will remain closed until February as part of the measures, which are an attempt to curb the spread of the new coronavirus strain.
Here's everything you need to know about the announcement.
She described the new, faster-spreading strain as a "massive blow".
Ms Sturgeon said the variant, thought to be up to 70 per cent more transmissible, had "picked up pace" in Scotland and it may add as much as 0.7 to the R number (infection rate).
The new variant counts for almost half of all new cases in Scotland, she said.
The First Minister explained that in order to vaccinate people, the virus must be slowed down - which is why the government is introducing new measures.
Ms Sturgeon said Scotland's NHS services are coping at present, but there is a real risk of them becoming "overwhelmed" without further intervention.
Island authorities in Scotland will remain in Level 3, while there will be additional Level 4 restrictions for everywhere else, including Skye.
The new rules will be in place for the whole of January - but Ms Sturgeon did not rule out keeping them in place for longer.
Here's everything that will change:
The First Minister said the "fundamental advice" for everyone in Scotland is to "stay at home"
The order is the same as the one in March, and will become law from Tuesday 5 January.
From then, Scots will only be able to leave the house for essential purposes, like caring, shopping and exercise.
Anyone who can work from home must do so, Nicola Sturgeon said, and businesses "must take this as seriously as March" by allowing employees to work from home where possible.
Nicola Sturgeon announced that schools in Scotland will now be closed for most pupils until 1 February, with the decision being reviewed on 18 January.
Instead, pupils will learn remotely via online services.
The closures apply to nurseries, primary schools and secondary schools, but exclude children of key workers and vulnerable children.
Ms Sturgeon said it was the government's "priority" to reopen schools as quickly as possible, but community transmission across the country is currently too high.
Transmission will need to be reduced before schools can safely reopen again, she said.
Further non-essential services will close under the new measures, including ski centres, showrooms of larger retailers and clinics offering cosmetic and aesthetic procedures.
Grants are available for businesses required to close as a result of the restrictions, in addition to support through the UK-wide furlough scheme.
There is new guidance for people who are shielding.
If you were shielding, and you cannot work from home, the government advice is that you should not go into work at all.
The Chief Medical Officer will be writing to everyone who falls into this category, Ms Sturgeon said.
Unlike the March lockdown, the frequency of outdoor exercise will not be limited.
However, there are new rules for outdoor gatherings.
Now, a maximum of two people from up to 2 households will be able to meet outdoors, with children 11 years old and under exempt from that limit.
Children aged 12 to 17 must adhere to the two-person rule for outdoor exercise as well.
Strict travel restrictions will remain in place across Scotland, Nicola Sturgeon said.
From Tuesday 5 January, you will not be able to leave your home except for an essential purpose if you live in a Level 4 area.
If you do go out, you must stay as close to home as possible and stay away from crowded places.
No one is permitted to travel into or out of Scotland, unless it is for an essential purpose.
Places of worship will close during the lockdown period for all purposes, except broadcasting a service, funerals and weddings.
Funerals can still take place for up to 20 people, but wakes will not be allowed.
A maximum of five people will be able to attend weddings and civil partnerships.