The First Minister insists the "important description" is Bryson, 31, is a rapist. Shrewd observers will note that doesn't actually answer the question.
"She regards herself as a woman; I regard the individual as a rapist", Ms Sturgeon said after being repeatedly pushed on the issue at a Scottish Government press conference.
Her discomfort on the matter is palpable. Critics believe it cuts right to the heart of her Government's gender policy.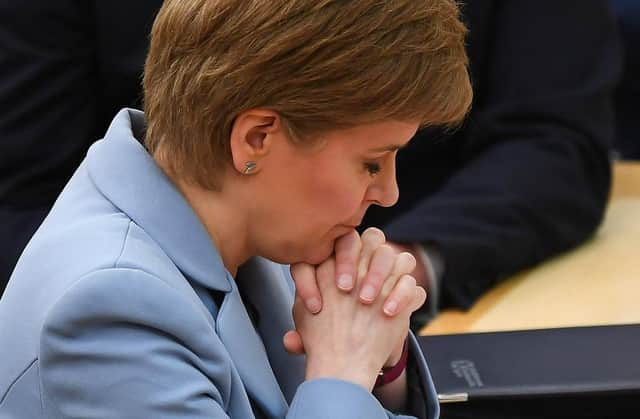 MSPs passed the Gender Recognition Reform (Scotland) Bill before Christmas. It aims to make it easier for transgender Scots to obtain a gender recognition certificate by removing the need for medical reports, instead relying on a process often referred to as "self-identification". It has since been blocked by the UK Government.
The legislation was controversial, with nine SNP MSPs defying the party whip and high-profile interventions from figures such as author JK Rowling. But it was still voted through Holyrood with a huge majority – a fact we'll come back to.
Controversy was further fuelled by the case of Bryson, who was convicted of two rapes while known as a man called Adam Graham. Bryson was initially held in segregation in a women's prison, but was later moved to the male estate following a huge backlash.
At first, ministers seemed content to simply leave the Scottish Prison Service to it. This quickly changed, however. While still insisting prison bosses had the final say, Ms Sturgeon used First Minister's Questions in Holyrood to make clear she did not think a rapist should be held in a women's prison. She later suggested Bryson was "almost certainly" faking being trans.
Ms Sturgeon has been keen to highlight the initial decision to house Bryson in the female estate had nothing to do with her gender legislation. The Bill has not been enacted, after all. But her excruciating reluctance to engage in questions over the rapist's gender has been a gift to critics of self-ID.
That includes those within the SNP's ranks. Divisions over gender have been increasingly visible in recent years.
Writing on social media, Joanna Cherry, the MP for Edinburgh South West, said it is time for the SNP to "eat some humble pie and sort this mess out before it does any more damage to the reputation of our party, Parliament and the cause of Scotland's independence". Jim Sillars, a former deputy leader of the SNP and now something of a thorn in the side of the party's leadership, said the gender reforms will be Ms Sturgeon's "poll tax".
At the weekend, education secretary Shirley-Anne Somerville said rebels should "question" whether they want to stay in the party at the next election. Ms Sturgeon sought to strike a more conciliatory tone as she took questions from journalists at a press conference in Edinburgh on Monday.
Asked if people should stand down from the SNP if they disagree with the Scottish Government's stance, she said they should not. The First Minister said that for every party in the democratic world, there is a general expectation that politicians will stand on its platform.
She continued: "Equally – in probably every party that is a democracy in every democracy in the world – there are individuals who can't accept the position on particular issues and vote accordingly. That is internal party democracy. It may be rare in the SNP, it is rare in the SNP, but nevertheless I think we should see it in that way."
Ms Sturgeon also confirmed it is still her intention to challenge the UK Government's decision to block her gender reforms.
So where does this leave us? Has this row caused lasting damage to the SNP and Ms Sturgeon, as some critics suggest?
A YouGov poll for the Sunday Times found support for the SNP and independence has dropped, while Ms Sturgeon's approval rating has also slipped. Sir John Curtice, professor of politics at Strathclyde University, said the "battering the Scottish Government has suffered, especially on the issue of transgender prisoners" could have played a part in this.
But opponents rubbing their hands with glee may be disappointed. Scotland remains deeply divided along constitutional lines. This governs how people vote above all else. Will those who support independence, but don't see eye-to-eye with the SNP's leadership on gender issues, switch allegiance? It feels unlikely.
And while the Tories have been putting the boot in, Scotland's other political parties are sitting this one out. As mentioned earlier, the gender recognition legislation passed with a huge majority in the Scottish Parliament. Labour, the Liberal Democrats and the Greens all supported it. Even a couple of Tory MSPs backed it. If the SNP is out of touch on this issue, so is most of Holyrood. Some readers may well believe that to be the case. But the point is, the SNP is not standing alone.
The ongoing row has undoubtedly damaged Ms Sturgeon. Frequently cited as one of the best political communicators in the UK, she has floundered in television interviews and in the Holyrood chamber. One exchange, in which she was repeatedly asked if all trans women are women, has been viewed millions of times online.
But whether that damage lasts is a different question. There remains no clear successor to Ms Sturgeon. No credible candidate is waiting in the wings, impatient to grab the spotlight.
It is also worth noting the next election is, in all likelihood, quite a long time away. It's a terrible cliche, but a week really is a long time in politics. A year or more? You might as well be talking about a different century.