Keith Brown, who served as infrastructure secretary with responsibility for ferry services while the contract was awarded to Ferguson Marine, was asked by the public audit committee convener, Richard Leonard, to clarify his involvement and knowledge of the ferries contract. In a letter, Mr Brown confirmed he received a written submission from officials recommending the award of the contract, but failed to answer whether the then-transport minister Derek Mackay had raised any concerns about the procurement with him.
He also claimed, despite reading ferry procurement body CMAL's concerns that "no further action was required from me" after the contract was awarded by Mr Mackay. Mr Brown's letter also suggests he took no direct interest in the contract or CMAL's concerns.
Scottish Conservative transport spokesperson Graham Simpson demanded a public inquiry into the fiasco. He said the answers showed Mr Brown had "completely refused to accept any share of the blame" and was deflecting the issue on to Mr Mackay. Mr Simpson said: "The Scottish public are sick and tired of watching the SNP dodge responsibility and pass the buck on this fiasco. Whoever ultimately bears responsibility for this contract, it's clear that the cover-up and dodgy dealings over Ferguson's go right to Nicola Sturgeon and John Swinney at the top."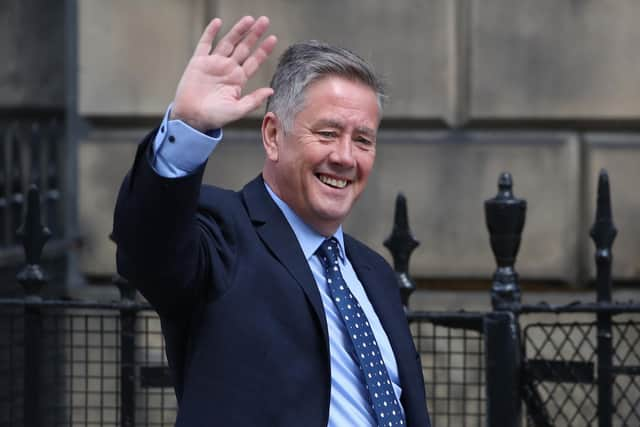 Morag McNeill, the chair of the ferry procurement body CMAL, clarified to the committee the 'mandatory minimum requirement' for a full builder's refund guarantee was not needed at the time bids were submitted. She said the phrase referred instead to a letter from a bank setting out the evidence for being able to provide such a guarantee. The guarantee, she said, was only required prior to work starting.
Her letter also states all bidders were asked if they were willing to provide either a parent company or a bank guarantee for the contract. Ms McNeill said all bidders, including Fergusons, "answered this question affirmatively".
Also published by the committee is the letter from Mr Mackay to local MSP for the shipyard, Stuart McMillan. The letter, which states there is a "preference" for a refund guarantee, also sets out the reasons why it is required. The document states: "Ship owners are usually reluctant to take ownership of parts of a vessel which is not yet complete as this would have implications for the builder's responsibility and liability for satisfactory completion of the contract". Mr Mackay adds: "It is fairly common for buyers of ships to insist that each staged payment is protected by a refund guarantee."
Want to hear more from The Scotsman's politics team? Check out the latest episode of our political podcast, The Steamie.