Scotland ferries fiasco: Embattled ferries delayed again for a further six months amid bonus row
Two ferries being built at the state-owned Ferguson Marine shipyard have been delayed again, the company has confirmed.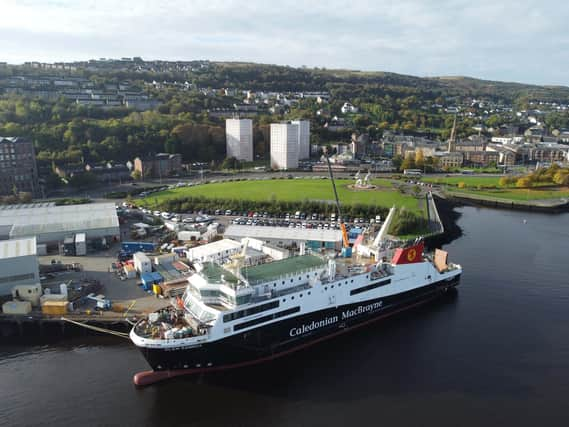 Hull 801, the Glen Sannox, and the unnamed hull 802, were set to enter service in May this year and March next year respectively.
However, the ships – which are more than six years late and around £300m over budget – have been delayed once again until Autumn this year for 801 and the end of summer 2024 for 802.
The delay came amid a row over bonus payments made to six senior members of staff at the yard during the 2021/22 financial year, totalling more than £80,000.
John Swinney labelled the payments "reprehensible" and said the government did not know they had been paid, adding "arrangements" had been made to ensure the situation would not repeat.
In an update to the Scottish Parliament, the chief executive of Ferguson Marine Port Glasgow, David Tydeman, said "design gaps and build errors" dating back several years continued to be found on the 801, resulting in a "cascade effect" for 802.
He said: "Regrettably, we continue to find design gaps and build errors, some dating back over many years, and whilst we are dealing with them successfully as they arise, we are progressing more slowly than planned.
"We have raised a request to our client – Scottish Ministers – that they extend our 'no later than' delivery dates for the two ships to the end of 2023 and 2024 respectively, to ensure our contracts remain valid.
"We have also set out that we will continue with our best endeavours to deliver earlier – Glen Sannox as soon as possible in the Autumn of '23 and Hull 802 before late Summer '24."
Making the announcement to Parliament on Thursday, Mr Swinney said he had made his disappointment at the further delay to the vessels "very clear" to Mr Tydeman.
He also confirmed a further £6 million requested by the yard would be paid out in this financial year, with due diligence work on whether the yard will receive all of its requested more than £80m in additional funding yet to be completed.
Any further financial needs at the yard beyond this, which has been in public hands since 2019, the deputy first minister said, will be assessed by the government and its ferry procurement arm Caledonian Maritime Assets Limited (CMAL).
"No further delay in the delivery of these vessels is welcome and I fully share what I expect will be members' disappointment at this announcement," Mr Swinney said.
"However, the challenges and legacy issues being faced by the team at Fergusons cannot be underestimated and, after the appointment last February of the new chief executive, substantial progress has been made in facing these.
"I understand and appreciate why it is so vital that new vessels are introduced into the ferry network, but we must ensure that any vessel introduced is able to provide our island communities with the confidence that it will perform in service and improve the network.
"We stand firm in our commitment that these vessels will be completed."
Scottish Tory transport spokesman Graham Simpson said the situation was a "disgrace", adding: "More delays, more costs and islanders left in the lurch."
He added: "The scale of incompetence shown by SNP ministers throughout this scandal is breath-taking.
"This will be one of the most enduring and shameful legacies of Nicola Sturgeon's time in office – so to hear SNP MSPs clap John Swinney at the end of his sorry statement was truly astounding."
Neil Bibby, the Labour transport spokesman, said "this is a scandal manufactured by SNP ministers and they all have their fingerprints on it", before calling for an independent inquiry into the handling of the contract.
Mr Swinney said there had been two committee inquiries already into Ferguson Marine – one of which by the Public Audit Committee is yet to report – and it would be "premature" for him to say more.
The deputy first minister also raised concerns about the potential legality of a 'direct award' of a key contract to Ferguson Marine. The yard view the government's small vessel replacement plan as the cornerstone of its future, with discussions ongoing about whether the shipyard can avoid a competitive tender process.
Comments
 0 comments
Want to join the conversation? Please or to comment on this article.