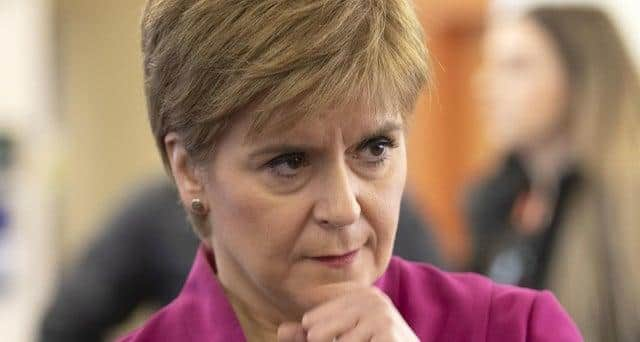 Nicola Sturgeon says Scotland still faces "hard Brexit"
The First Minister warned that the UK Government appears to have broken "major promises" on taking control of UK fishing waters after a five-and-a-half year transition period was agreed for the EU fleet to fish UK waters.
But the claims were dismissed by Scottish Secretary Alister Jack who insisted that the UK will again become a "sovereign coastal state" as a result of the fisheries agreement. He also hailed the broader free trade deal as "great news" for business.
The Scottish First Minister said Scots had voted "overwhelmingly" to Remain in the EU in the 2016 referendum and warned Scotland's still faces a harsh economic impact, despite the free trade agreement reached just a week before the Brexit transition period ends.
"A deal is better than no deal," Ms Sturgeon said.
"But, just because, at the eleventh hour, the UK Government has decided to abandon the idea of a no-deal outcome, it should not distract from the fact that they have chosen a hard Brexit, stripping away so many of the benefits of EU membership.
"And while we do not yet have full details on the nature of the deal, it appears major promises made by the UK Government on fisheries have been broken and the extent of these broken promises will become apparent to all very soon.
"People in Scotland voted overwhelmingly to remain in the EU, but their views have been ignored.
"This is a far harder Brexit than could have been imagined when the EU referendum took place, damaging and disrupting this nation's economy and society at the worst possible time."
The Scottish Government is working to mitigate the looming impact of EU departure when the transition ends.
But the First Minister added: "We cannot avert every negative outcome.
"We know that businesses are already struggling under the burden of COVID-19, and are now faced with the need to prepare for this hard Brexit in little more than a week's time. "
But Mr Jack insisted that deal will protect flagship Scottish products such as whisky from costly tariffs.
He added: "The UK's deal with the EU is great news for Scotland's businesses. There are huge opportunities ahead – not just with this exceptional access to the EU market, but also in new markets right around the world.
"We have an agreement on fisheries which will ensure that our fishermen, and our coastal communities, will flourish outside of the EU's unfair Common Fisheries Policy. The UK will once more be a sovereign coastal state.
"The deal protects famous Scottish products such as whisky, Arbroath Smokies and Orkney cheddar."
He urged Scottish businesses to now prepare themselves for the end of the transition period on January 1. He insisted the UK Government has been "preparing intensively".
He added: "The United Kingdom will always be a welcoming, outwards-facing nation. Our European neighbours are our friends, and that will not change. EU citizens will continue to be an important part of many of Scotland's communities. This is a historic moment for us all. There are enormous opportunities ahead of us, and we all need to make the most of them."
A message from the Editor:Thank you for reading this article. We're more reliant on your support than ever as the shift in consumer habits brought about by Coronavirus impacts our advertisers.
If you haven't already, please consider supporting our trusted, fact-checked journalism by taking out a digital subscription.