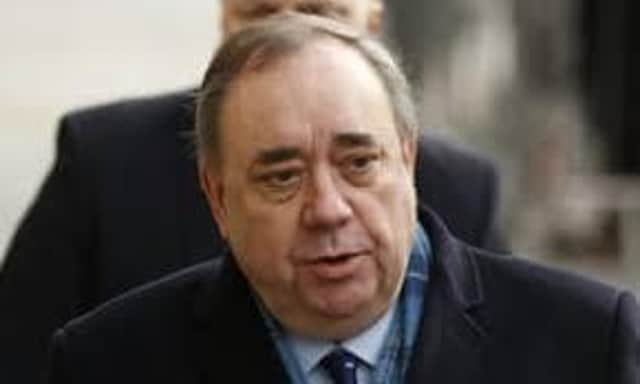 The women in the Alex Salmond trial have released a statement about their experiences.
In a joint statement, the women say they were "devastated" by the verdict and "traumatised" by the court process. They also criticised Mr Salmond's defence counsel, Gordon Jackson QC, who, they say, described "demeaning, intimidating and humiliating" behaviour as 'trivial'.
The statement – in full below – comes as it was revealed by the Sunday Times Scotland, that Mr Jackson revealed the names of two of the women while in a conversation on the Edinburgh to Glasgow train, during the first week of the trial, despite their entitlement to anonymity.
He also, reportedly, referred to Mr Salmond as a "sex pest" and an "objectionable bully". Caught on camera by a fellow passenger during the first week of the trial, Mr Jackson said he thought the former First Minister's behaviour with the women was "no' right, but it's no' war crimes. Inappropriate arsehole, stupid… but sexual?" He then went on to name two of the women "who say it is sexual".
Today Rape Crisis Scotland, said that there needed to be an "immediate investigation" into Mr Jackson's conduct.
"Protecting the anonymity of all people who report sexual crimes is of critical importance and is one of few reassurances that can be offered as part of an otherwise daunting and intimidating process," they said. "For this to be undermined by such a senior lawyer in a public place in such a high-profile trial is horrifying and completely unacceptable.
"Jackson is Dean of the Faculty of Advocates and we cannot see how this behaviour – caught on film – is in keeping with the Faculty of Advocate's own guidance on conduct. There should be an immediate investigation.
"One of the most chilling aspects of this is Jackson's statement about his strategy for the cross examination of one of the women in the trial: "All I need to do is put a smell on her." This statement alone confirms the fears of many, many survivors who do not report for fear of what would be done to them in court. Trials should be based on evidence, not on smears and attacks on character. We need an urgent overhaul of how these cases are dealt with."
In their statement the women complainants reference Mr Jackson's defence in court. They write: "The behaviours that Alex Salmond and his defence team admitted to in evidence were not and are not trivial.
"We want to send a strong and indisputable message that such behaviours should not be tolerated – by any person, in any position, under any circumstances."
The Sunday Times said it approached both Mr Salmond and Mr Jackson for comment about his train remarks. Roddy Dunlop, vice-dean of the Faulty of Advocates said: "The Dean and the Faculty take this extremely seriously, and if, after sight of a full transcript or access to a recording of what is said to have transpired, he considers there is any wrongdoing on his part, he will self-refer to the Scottish Legal Complaints Commission."
Sandy Brindley, Chief Executive of Rape Crisis Scotland said the women's statement was "powerful and important" which would "resonate with many people in Scotland and beyond." She added: "More than a statement it is an urgent call for an examination of our attitudes towards sexual harassment in Scotland, a call for the end to the minimisation and trivialisation and a call for change."
"For too long these behaviours have been tolerated and accommodated and this cannot stand any longer. Enough."
The women's letter in full:
The jury has delivered a majority verdict on the charges brought against the former First Minister.
We are devastated by the verdict. However it is our fervent hope that as a society we can move forward in our understanding of sexual harassment and sexual assault.
In defending Alex Salmond, Gordon Jackson quoted Woman H and said his client should have been a 'better man'.  
He said behaviour which others described as demeaning, intimidating and humiliating, was 'trivial'.
The behaviours that Alex Salmond and his defence team admitted to in evidence were not and are not trivial.
Today we want to send a strong and indisputable message that such behaviours should not be tolerated – by any person, in any position, under any circumstances. 
This has been a traumatic process however we thank Police Scotland and the Crown Office and Procurator Fiscal Service for taking our experiences seriously and for allowing our voices to be heard.
Many of us did speak up at the time of our incidents but were faced with procedures that could not deal with complaints against such a powerful figure.
Others were silenced by fear of repercussions.
It was our hope, as individuals, that through coming forward at this time we could achieve justice and enact change.
We remain firm in our belief that coming forward to report our experiences and concerns was the right thing to do.
But it is clear we alone cannot achieve the change we seek..
The outcome of this trial will pose many questions and be cause for much debate.
But as politicians, commentators and society reflect on this case, we would ask you to consider whether behaviour which is so often merely described as 'inappropriate' or is tolerated by society, is acceptable towards your daughters, granddaughters, sisters, wives, friends, and colleagues.
Many of them will already have suffered such conduct. Often in silence.
We would also request that as you debate, you conduct it respectfully and stay mindful of the many women in Scotland who may have had traumatic experiences and are considering whether or not Scotland is a country in which they can come forward to seek help and support.
This is more important now than ever before.
All people should feel safe, valued and equal in society and their workplace and it is imperative to ensure robust complaint structures are in place.
We should all take strength in calling out bullying, sexual harassment and sexual assault wherever it takes place.
And we should all seek to create an environment in which people can challenge and report these behaviours without hesitation or fear of retribution.
Some say that women's fight for respect has gone 'too far'. We argue it has far to go.
For too long, behaviour which should be condemned has been accepted and excused.
For too long perpetrators in positions of power have been shielded by their ability to influence and intimidate.  
For too long women's complaints have been dismissed or swept under the carpet.  
And for too long, women have been let down by organisational structures which should exist to protect them, not put them in situations which endanger their welfare.
To those who have spoken out in support – thank you, we see you.
While we are devastated by the verdict, we will not let it define us.
We hope through shining a light on our experiences, it will serve to protect and empower women in the future.
Be brave, be loud, be heard.
Woman A, Woman B, Woman C, Woman D, Woman F, Woman, G, Woman H, Woman J, Woman K
The Rape Crisis Scotland helpline 08088 01 03 02 is open from 6pm - midnight for anyone affected, or email [email protected]