Russell Brand: In Plain Sight: Scottish stand-up Daniel Sloss says female comics set up group to warn each other about Brand
Daniel Sloss speaks out about allegations against 48 year-old Russell Brand
A leading Scottish comedian has claimed female performers in the industry set up groups online to warn each other about Russell Brand.
Daniel Sloss, from Fife, said there were "many stories" concerning "different incidents" involving 48-year-old Brand over a period of years, which he described as being of "varying degrees of severity".
Brand has been accused of rape, sexual assaults and emotional abuse during a seven-year period at the height of his fame.
Four women, including one who was just 16 at the time, have alleged sexual assaults occurred between 2006 and 2013, when Brand was working for BBC Radio 2 and Channel 4, as well as starring in major Hollywood films.
The comedian and actor also faces allegations of controlling, abusive and predatory behaviour, following a joint investigation by The Sunday Times, The Times and Channel 4 Dispatches.
Brand vehemently denies the allegations and, in a video posted online, stated all of his relationships had been "consensual", before accusing the media of a "co-ordinated attack".
Sloss was one of the interviewees in the Dispatches programme, 'Russell Brand: In Plain Sight' that aired on Saturday evening. He said he "couldn't not say something" after being approached by producers, and claimed the allegations concerning Brand were widespread in the industry.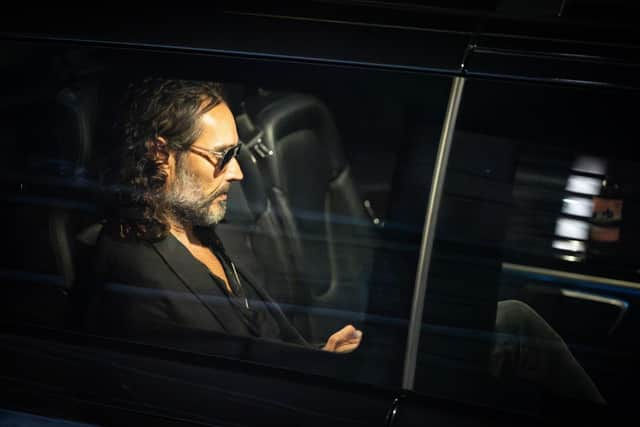 "There were many stories," he told the programme. "It wasn't just coming from one person or one group of people. It was different incidents over different years, and of varying degrees of severity.
"I've stood in artist's bars with agents, promoters, channel commissioners, and I'm hearing these allegations and rumours about Russell in the same room these people are in. And then, later on, he would be in a movie, on a television show, he would be hosting something. He was still being employed."
Sloss added: "I know that there are groups set up by female comedians where they warn each other of comedians, and agents, people in the industry who to avoid, and I know for many, many years that women have been warning each other about Russell."
He also claimed some performers were asked to remove material referencing Brand from their routines, explaining: "I know there are comedians who have made references in jokes to Russell's alleged crimes, and have either been asked or told to not do those jokes anymore. Hearing that is intimidating, it's scary. You don't know where these people are coming from and how high up it goes.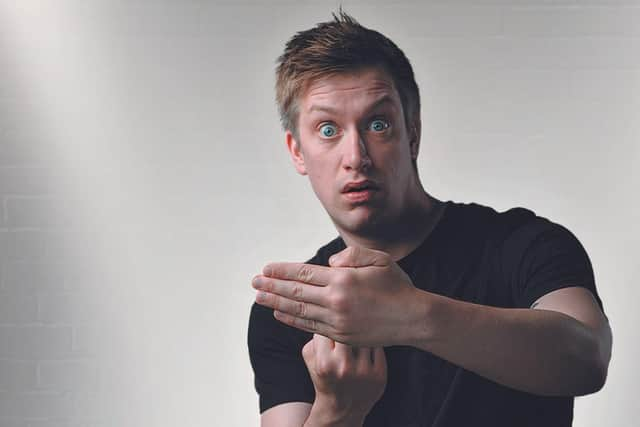 "Questions that should have been asked about Russell before he was employed for certain things, I do not believe they were asked. You do look at people who are in higher positions of authority in this industry and think to yourself 'well, there is more you could have done'.
The allegations made against Brand, who performed regularly at the Edinburgh Festival during his early career, include one woman who claims she was sexually assaulted during a three-month relationship with him when she was 16 and still at school.
The woman described Brand's behaviour towards her as "grooming" as he would allegedly provide her with scripts on how to deceive her parents into allowing her to visit him.
In 2020, the woman contacted Brand's literary agent at the time, who was also the co-founder of talent agency Tavistock Wood. A statement by Tavistock Wood said: "Russell Brand categorically and vehemently denied the allegation made in 2020, but we now believe we were horribly misled by him. TW has terminated all professional ties to Brand."
Another woman alleges Brand raped her at his Los Angeles home, while a third claims the comedian sexually assaulted her while she worked with him in Los Angeles and threatened to take legal action if she told anyone of the allegation. A fourth woman claims she was sexually assaulted by Brand and alleges he was physically and emotionally abusive towards her.
The programme also heard from Helen Berger, Brand's former PA, who recalled a time the comic was in Edinburgh to perform. While in a bar, she said, Brand began showing images of naked women he had on his mobile phone. "As he's going through these pictures, he gets to a picture of somebody I knew," Ms Berger said. "It did something to me, it made me feel really sick to my stomach."
Following the allegations, a charity that aims to end violence against women has cut ties with Brand, who had supported its cause. The Trevi Women & Children's Charity announced on Instagram it had ended its association with Brand and his charity, the Stay Free Foundation.
In the statement, published on Instagram, it said: "Russell became aware of our charity in 2022 after hearing about some of the incredible mothers we have helped to become drug free over the years. He wanted to support our cause and raise money through his Stay Free Foundation."
The charity said it had been "deeply saddened and upset" following the allegations against Brand, adding: "We have ended our association with Russell Brand and the Stay Free Foundation."
In his video statement, posted online ahead of the publication of the claims, Brand said he was facing a "litany of extremely egregious and aggressive attacks".
He continued: "These allegations pertain to the time when I was working in the mainstream, when I was in the newspapers all the time, when I was in the movies and as I have written about extensively in my books, I was very, very promiscuous.
"Now during that time of promiscuity the relationships I had were absolutely, always consensual. I was always transparent about that then, almost too transparent, and I am being transparent about it now as well.
"To see that transparency metastasised into something criminal, that I absolutely deny, makes me question, is there another agenda at play?"
Comments
Want to join the conversation? Please or to comment on this article.