Routine coronavirus testing to be rolled out to more industries
Routine workplace testing to find asymptomatic cases of coronavirus is to be rolled out to more industries, the Scottish Government's senior public health adviser has told MSPs.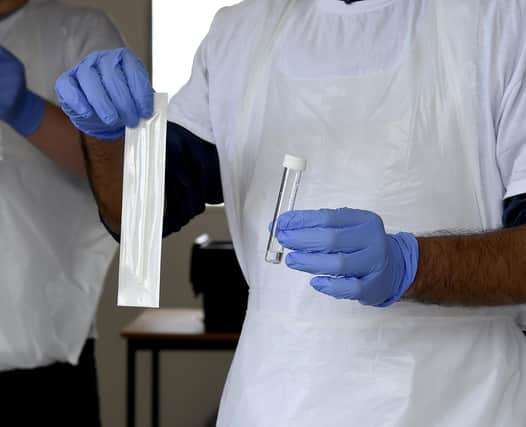 Professor Jason Leitch said that lateral flow tests would be used in more workplaces as time goes on, but refused to put a date on when that would begin. Care homes and now schools are already subject to regular testing of people without symptoms of the virus.
Speaking at the Scottish Government's Covid-19 Committee, Prof Leitch also admitted that the drop in cases in Scotland – and across the UK - had slowed, but added that as vaccinations are rolled out, the number of positive cases may still remain higher, but that the less serious consequences of a vaccinated person contracting the illness would mean that hospitals would not be overwhelmed.
He said: "The last week has given us cause for reflection. I think there are multiple reasons, none of which are definitive, if we won't know until we get beyond this moment, but you're right, it does appear that all four UK countries have stalled, or lowered, the decline. Everybody has got to around 100 per 100,000, and it's kind of stopped there."
He added: "As we move through the stages of the pandemic positivity will still matter, but no matter quite so much because the consequences of that will be less. That's what vaccination does."
However, Prof Leitch said that the Scottish Government's policy was still to suppress cases to as low a level as possible and said that vaccinating lower age groups who are "engaging with society", unlike care home residents who are isolated, would have a greater effect on community transmission .
He said: "Can you drive the prevalence down to as low level as you can in order to get domestic normality kids back to school, people back to see the families. Yes, I still believe that is the correct strategy to use."
Committee member Mark Ruskell asked whether further asymptomatic testing would be rolled out.
He said: "It's just not really clear where this is going. We don't seem to have a strategy in occupational workplace testing."
Prof Leitch said: "There may be an increase of focus on local authority based asymptomatic tests. And that may be one place, it may be geographic related, or on specific workplace based testing. I think the next phase of the testing strategy will have to address this in a more meaningful way."
He pointed to the roll out of testing in care homes and schools, however, he admitted that the current lateral flow tests are complicated and pointed to emerging technology in the form of saliva tests.
The committee also heard that how Scotland will be divided when the country returns to a levels system of lockdown easing is still undecided.
Dominic Munro, director for the Scottish Government's Covid-19 Exit Strategy, said in certain situations very small areas could be in a different lockdown to other parts of a local authority.
"What we want to do is have a careful look before we go back into more geographically variable levels to see what the right and the best approach is, unfortunately, there is no perfect solution to this."
A message from the Editor:
Thank you for reading this article. We're more reliant on your support than ever as the shift in consumer habits brought about by Coronavirus impacts our advertisers.
If you haven't already, please consider supporting our trusted, fact-checked journalism by taking out a digital subscription.