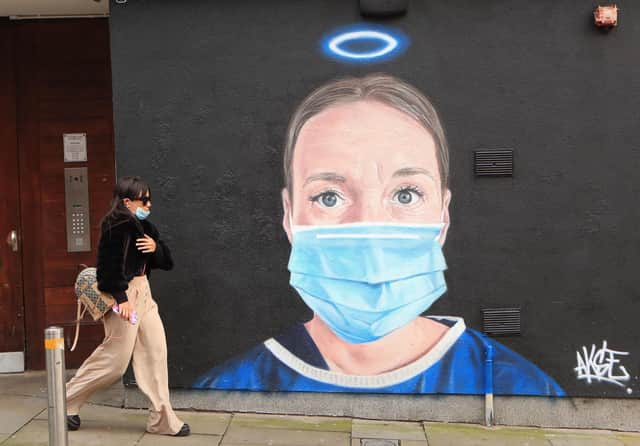 The Chancellor today went one step further than his previous plans, announcing a significant expansion of the Job Support Scheme that will see the UK Government pay the wages of staff unable to work during the winter.
Last week Mr Sunak unveiled his replacement for the furlough scheme in a sombre address where admitted "no Chancellor" could save every job.
The scheme will now be expanded to see the UK Government also pay two thirds of employees' salaries for firms legally required to shut for some period over the winter.
Cash grants for businesses required to close in local lockdowns will also be increased to up to £3,000 per month.
Mr Sunak said: "Throughout the crisis, the driving force of our economic policy has not changed.
"I have always said that we will do whatever is necessary to protect jobs and livelihoods as the situation evolves.
"The expansion of the Job Support Scheme will provide a safety net for businesses across the UK who are required to temporarily close their doors, giving them the right support at the right time."
Eligible businesses will enjoy the UK Government paying two thirds of each employees' salary, up to a maximum of £2,100 a month.
Payments to business will be made in arrears via a HMRC claims service.
A Treasury source said: "Obviously costings will depend on how things develop, across different sectors and areas of the country.
"But under most scenarios we're looking at hundreds of millions a month."
The measures are designed to protect businesses like pubs or restaurants forced to shut under temporary local lockdowns during the winter.
Leaders of the devolved nations and MPs from all opposition parties had repeatedly called for more substantial support when new restrictions are imposed.
The measures go alongside the furlough replacement, that sees the UK Government pay 77 per cent of normal pay to staff working just 33 per cent of their hours.
It comes with tighter virus rules expected to be announced across England next week.
Under the scheme, employers will not be required to contribute towards wages and will only need to cover NICS and pension contributions.
Businesses will only be eligible to claim the grant while they are subject to restrictions and employees must be off work for a minimum of seven consecutive days.
Starting from 1 November, the grant will be available for six months, with a review held in January.
Scotland, Wales and Northern Ireland will also be handed a £1.3 billion increase to their guaranteed funding for 2020/21.
However, Labour's shadow chancellor Anneliese Dodds accused Mr Sunak of "forcing businesses to flip a coin over who stays and who goes".
She said: "The fact the Chancellor is having to tear up his Winter Economic Plan before the autumn is out demonstrates the chaos and incompetence at the heart of government.
"Even at this late stage, he still has no plan to support sectors that are currently unable to operate at full capacity.
"None of this was inevitable if the Chancellor had just taken his fingers out of ears and listened to the warnings from Labour and others.
"Businesses and families don't have the luxury of going at Rishi Sunak's pace when millions of jobs and livelihoods are on the line."
The Resolution Foundation warned the changes came too late for many who would now have lost their jobs.
Chief executive Torsten Bell said: "It has been clear for some time that this form of a more sectorally and geographically-targeted furlough scheme would be required to see us through a difficult winter.
"The delay in putting it in place will have come at a high price in jobs lost.
"Economic policy now needs to keep pace with the spread of this virus, if we are to suppress both the disease and the rise in unemployment that is now underway."
Lib Dem Treasury spokesman and Edinburgh West MP Christine Jardine also claimed the move came too late.
She said: "Losing a third of your income overnight if you work in hospitality could push many people over the financial edge.
"Of course the Government must support those it tells to close, but help shouldn't be limited to just some parts of the UK – it's needed right across the country.
"People are struggling in every area and the economy as a whole is on the ropes. Business needs certainty and a clear strategy - not chop and change, knee-jerk reactions."
The SNP claimed the measures don't go far enough at a time other support schemes are being scrapped.
SNP shadow chancellor Alison Thewliss MP said: "Any measures brought forward to help jobs and businesses are welcome, but it's clear that the partial furlough plans announced by the Chancellor for areas affected by further restrictions don't go far enough to address the impending mass job losses as a result of Tory cuts to national financial schemes in just a matter of weeks.
"Thousands have already lost their jobs unnecessarily, many good businesses have already gone under, and the devolved governments have been hindered in responding to this unprecedented crisis.
"It is crucial that Scottish ministers have absolute discretion in deciding on public health grounds alone when to bring in restrictions in Scotland, and not have to wait for Westminster approval before financial support is made available."
The Federation of Small Businesses welcomed the announcement, but demanded a more "comprehensive rescue package".
National chairman Mike Cherry said: "These new measures will bring some hope to those businesses which are still bearing the brunt of restrictions, six months on from the first lockdown, and are likely soon to have further restrictions expanded to include them.
"We now need to look at what comes next in terms of further evolution of support mechanisms, especially for those who will not directly benefit from today's announcement."