It has long been an accepted view in Westminster that divided parties do not win elections, a point usually made by a faction blaming another for an election loss.
As well as unity, another important factor of successful electoral politics is messaging, and ensuring no news is created that isn't intentional. An announcement signed off by the leader? Good. Repeating 'Get Brexit Done' until it infiltrates the public consciousness? Better. A former leader visiting a state not recognised by China that could spark an international incident? Less ideal.
It is here where the Conservatives are, a broad church at each others' throats, with Downing Street forced to insist Liz Truss's visit to Taiwan was as a backbencher, and does not represent official Government position.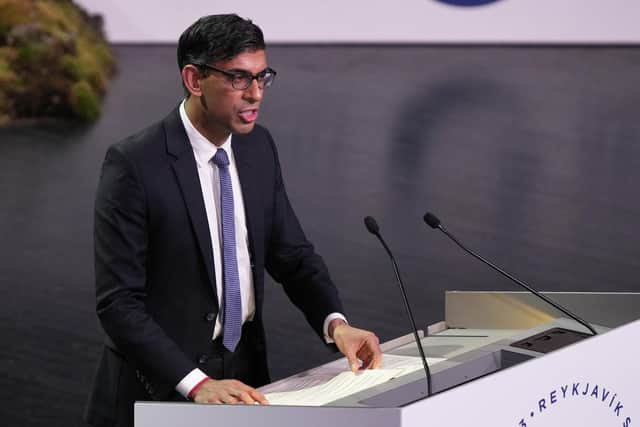 At a time where Rishi Sunak is jetting off to Japan for the G7, or meeting with the Ukrainian president, stunts like this draw the eye, distracting from a leadership keen to stress the Conservatives are getting on with the job.
Under Mr Sunak's predecessor Boris Johnson, such a rogue move would be unthinkable, with dissenters over Brexit deselected and forced to leave politics. Under Mr Sunak, his position is not strong enough to allow repercussions.
The view among his own MPs is they are out of Government at the next election unless they act now, so why wait? The Prime Minister thinks differently, telling MPs there is a "narrow window" to success. But the problem is, they don't believe it.
What's more, there is a growing unhappiness about Mr Sunak's approach on Brexit, after ditching the "sunset clause" in the Retained EU Law Bill that would have automatically struck out reams of EU law at the end of the year.
A passionate Brexiteer, the move was met with derision and accusations of betrayal by the Tory right. Mr Sunak has brought pragmatism, but senior figures in the party want the world, something promised to them by Mr Johnson.
It is why the party is now gripped by so many freelancers, MPs with perhaps more of a future than Ms Truss going out to bat for themselves and their future. A whole host of these found their way to the National Conservatism conference, including his home secretary Suella Braverman.
Organised by a right-wing US think-tank, it saw Ms Braverman make what many MPs saw as a thinly-veiled leadership bid, launching a personal blueprint to take on the "radical left".
The event also saw Jacob Rees-Mogg suggest Government's new voter ID rules were an attempt to "gerrymander" the electoral system, an astonishing admission as he was in the Government defending them when they were first proposed. There is no benefit to the party to this claim, it simply undermines them, which may be the point.
This, along with Tory MP Danny Kruger saying a conventional family was "the only basis for a safe and functioning society", also drew the eye, an incendiary statement that Downing Street has to distance itself from.
The departure of Mr Johnson has left a deeply divided Tory party, one side flirting with populism, and the other trying to return to the one nation Conservatism that worked for David Cameron. That horse may have bolted.