Rishi Sunak strikes sombre tone as he enters Downing St amid rubble of Liz Truss's Jenga tower
It is almost inconceivable to think that more than eight decades have passed since the world first glimpsed Elektro, one of the earliest humanoid robots blessed with an extraordinary skill set.
Standing seven feet tall and clad in a sleek aluminium skin, he could walk by voice command, count on his fingers, and deploy a vocabulary of around 700 words. For those unimpressed by such workmanlike gifts, he also boasted a suite of first-rate party tricks, such as his ability to smoke unfiltered fags and blow up balloons.
Watching Liz Truss's final goodbye on the steps of Downing Street on Tuesday morning, it was hard not to wonder if the Conservative party membership missed a trick this summer by not busting out the WD40 and badgering the 1922 Committee to include him on the leadership ballot. Instead, they plumped for another robot destined for the scrapheap - or, to give it its proper name, the Tory backbenches.
In a mercifully brief speech that could have passed for the opening address of a premiership, as opposed to a farewell to it, Ms Truss allayed any lingering doubts of those in her party who may have questioned whether they had made the wrong decision by bundling her in jackets and rushing her out the door.
Some had expected a self-pitying monologue akin to an android bemoaning its planned obsolescence. Maybe her Thatcherite cosplay would even reach its apogee with a tear or two for dramatic effect?
No. There was none of that. Instead, the shortest serving prime minister in British history stood at her toppling Jenga tower lectern, and continued to insist that she was right all along. She even mustered the gall to talk of how her government had acted "urgently and decisively" to help hardworking families. Yes, the same hardworking families who, already fearful of the long winter, face even steeper challenges thanks to her recklessness.
There was no contrition and certainly no apologies. The only regret Ms Truss expressed was at being unable to return to the smouldering remains of the British economy with a mallet to finish the job she had started.
It was a defiant and obstinate valedictory speech which made clear that even though this turkey was clucking off back to Norfolk, it would continue to give her beleaguered party indigestion. In a pre-emptive attack on Rishi Sunak's incoming administration, she stressed the need for "lower taxes" and said she was "more convinced than ever we need to be bold."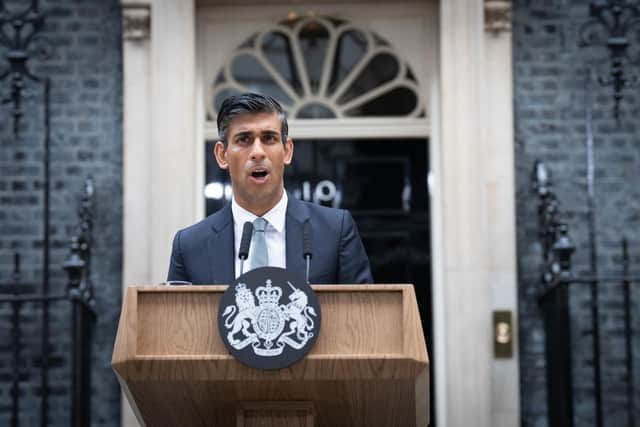 But this is Liz Truss after all, so naturally, there was a fleeting moment of unintentional comedy to soften the hard edges. Just as Boris Johnson raised eyebrows when he used his departure speech to quote the Roman dictator, Cincinnatus, a paucity of imagination forced Ms Truss to thumb through the same classicist's playbook for an oratorical flourish to enliven her lumpen prose.
It eventually arrived, though not before the three attempts Ms Truss required to correctly pronounce the name of Seneca the Younger, the Roman philosopher renowned for withering satires and blood-drenched tragedies.
After a glib coda in which she spoke of "brighter days" to come, it was done, it was over, and she was off, destined for her rightful place as the answer to a pub quiz tiebreaker sometime in the late 2060s. Minutes later, a removal van appeared outside Downing Street, ready to gather the possessions of yet another disgraced Conservative prime minister. The firm's name, Bishop's Move, seemed fitting for a party that seems incapable of going forward.
With that, the gears and levers of British power crunched and clicked as they slipped into now familiar protocols. Gleaming black cars went to and from Buckingham Palace. Breaking news channels deployed helicopters to hover listlessly over central London. Nicholas Witchell stood sentinel outside the palace gates, reduced to rhapsodising about the "choreography of vehicles" like a teenage boy who has discovered Beat poetry.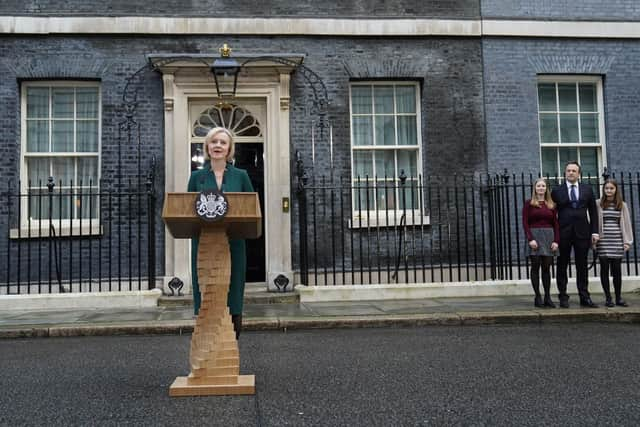 As one prime minister resigned before King Charles, another was appointed. The morning's rituals almost seemed like a routine occurrence, given the extraordinary events at Westminster in recent months. Yet such sporadic moments of symbolism were outnumbered by hours of not very much at all.
At ten to twelve, thankfully, the main event got underway, as Mr Sunak walked into Downing Street for the opening statement of his premiership. The moment was carefully stage managed, with no supporters on hand to clap him in, and Ms Truss's lectern had been replaced with a more austere and inconspicuous design.
Such visual cues presaged an speech that aimed for, and mostly hit, a distinctly solemn tone, in spite of the 42 year-old's stilted delivery. He promised his government would have integrity, professionalism, and accountability, and vowed to win the public's trust.
He referred, too obliquely perhaps, to how "some mistakes were made" by his predecessor, and promised to fix them. But with that came a warning. The price of economic stability, he explained, would mean "difficult decisions to come" - a sign of spending cuts and tax rises.
Well judged it may have been, but Mr Sunak's speech was not without controversy. He insisted that the mandate secured in 2019 was "not the sole property of any one individual," and instead "belongs to and unites all of us."
It was a line designed to rule out any prospects of an early general election, but Labour, the SNP, the Lib Dems, and some in Mr Sunak's own party will continue to argue that such a position is morally indefensible.
As he entered 10 Downing Street to cheers, the third prime minister in seven weeks began one of the most arduous tasks facing any leader in modern British history. The country now finds itself in the extraordinary position of having someone in charge who, on first appearances at least, appears willing, even capable, of treating the job with the seriousness it demands.
It can't possibly last, can it?
Comments
 0 comments
Want to join the conversation? Please or to comment on this article.