In his first major speech of 2023, the Prime Minister promised to deliver "peace of mind" to the public while refusing to say when that would be.
Speaking at a time the NHS is under severe pressure and amid ongoing strike action, Mr Sunak said detailing when his plans would be delivered by would be "irresponsible".
Speaking in Stratford, east London, he said: "I want to make five promises to you today – five pledges to deliver peace of mind, five foundations on which to build a better future for our children and grandchildren.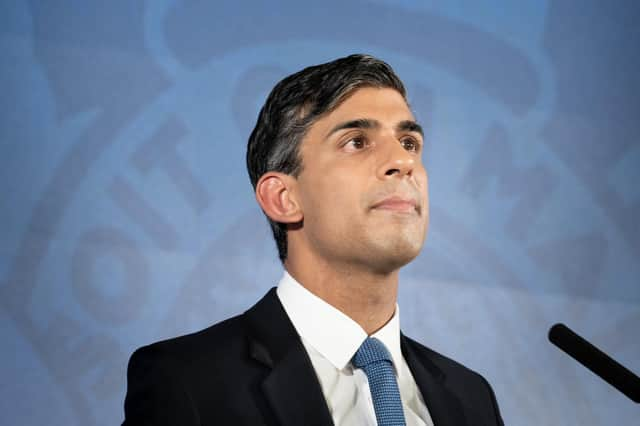 "First, we will halve inflation this year to ease the cost of living and give people financial security. Second, we will grow the economy, creating better-paid jobs and opportunity right across the country.
"Third, we will make sure our national debt is falling so that we can secure the future of public services."
And amid warnings from senior doctors the NHS is on a knife edge, the Prime Minister said "NHS waiting lists will fall and people will get the care they need more quickly".
The UK Government has blamed high numbers of flu cases, Covid-19 and Strep A fears for the particular pressures the NHS faced over Christmas, even as health leaders have warned the problems are long-standing and cannot solely be pinned on the pandemic.
The Prime Minister insisted his administration was taking "urgent action" to solve the waiting times in the NHS.
He said: "Let me first address two issues that I know are at the forefront of everyone's minds. I know there are challenges in A&E. People are understandable anxious when they see ambulances queueing outside hospitals
"You should know that we are taking urgent action, increasing bed capacity by 7,000 more hospital beds and more people cared for at home, providing new funding to discharge people into social care in the community, freeing up beds.
"And the NHS is working urgently on future plans for A&E and ambulances."
Mr Sunak admitted "something has to change" with the NHS, but insisted that did not mean structural reform.
He said: "We will always protect the founding principles of an NHS free at the point of use. But what it does mean is an NHS where patients are in control with as much choice as possible, where we're comfortable with the NHS using more independent capacity, if that's what it takes to get patients quicker and better care.
"We all share the same objective when it comes to the NHS, to continue providing high quality responsive health care for generations to come. And that's what we're going to deliver. Our vision for change will revitalise every aspect of our lives, better jobs, stronger communities, world class education, an NHS built around patients."
The Prime Minister also claimed creating NHS "hubs" in the community would help cut waiting lists and free up hospitals to focus on urgent care.
Challenged on why why he was focusing on cutting waiting lists when urgent care was encountering issues, Mr Sunak said "we need to do both".
On boats, Mr Sunak insisted new legislation this year would tackle illegal Channel crossings, but declined to say when they would stop.
The Prime Minister explained he had intentionally decided not to set out specific timeframes for his five pledges.
He said: "I've deliberately not put a specific month on each of them because I don't think that's responsible or the right thing to do with with goals that are so complicated, where many of the forces that will impact our ability to hit them are out of my control as well.
"But what I am being very clear about is what I am prioritising, what I am keen to deliver for the country in terms that I think are easy to understand and unambiguous.
"I fully expect the country to hold me and the Government to account for how much effort we're putting in to working on those priorities, which are their priorities."
Mr Sunak enters the new year with the next general election, due to take place before January 2025, on the horizon.
After months of turmoil in the Conservative Party, Mr Sunak came to office promising to deliver stability. But his party is still lagging behind Sir Keir Starmer's Labour in the polls, as inflation continues to hit households and concerns about the challenges in the NHS grow.
Mr Sunak said his promises reflected "the people's priorities". "They are your Government's priorities, and we will either have achieved them or not," he said.
"No tricks, no ambiguity – we're either delivering for you or we're not.
"We will rebuild trust in politics through action or not at all. So, I ask you to judge us on the effort we put in and the results we achieve."
Labour claimed the five promises "are all things that were happening anyway", adding it would be either difficult not to achieve them, or they were aimed at fixing problems directly caused by the Government.
A spokesman added: "The do-nothing Prime Minister is too weak to stand up to his party or vested interests. That means that from housing and planning laws to closing tax avoidance loopholes, he can't take the big decisions to put the country first.
"For weeks this speech was hyped up as his big vision – now he's delivered it, the country is entitled to ask: is that it?"
The SNP's Westminster leader, Stephen Flynn, labelled the speech an "advert for why Scotland needs independence".
He said: "This speech was an opportunity for Rishi Sunak to fix the broken Britain that Westminster has created – to mend a broken relationship with the EU, to pay public sector workers what they are worth and to protect those who need help the most. He did none of those things.
"Instead, the Prime Minister made five flimsy promises, whilst people in Scotland are paying the price of five Tory prime ministers over the last 13 years."