Rishi Sunak remains under pressure after Zahawi sacking
Rishi Sunak still faces questions about his own knowledge of Nadhim Zahawi's tax affairs, after he moved to sack the Tory chairman.
The Prime Minister fired the Conservative Party chairman early on Sunday morning, shortly after an ethics inquiry into Mr Zahawi found that he had committed a "serious breach" in the handling of his tax affairs.
The Prime Minister's independent adviser on ministers' interests, Sir Laurie Magnus, rapidly concluded his investigation after serious questions emerged for the former chancellor, whose multimillion-pound settlement with HM Revenue & Customs included paying a penalty.
Supporters of the Prime Minister welcomed the decision to sack Mr Zahawi, as well as his decision to allow "due process" to take effect.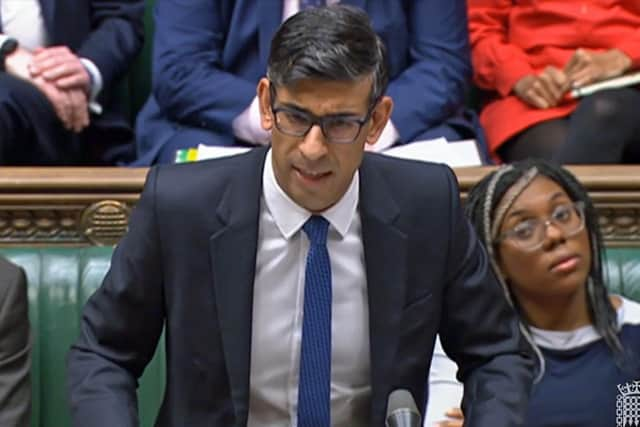 But allies of Mr Zahawi claimed that the MP had lost his job after being given only limited time to make his case, with the Telegraph citing claims suggesting he was only given a 30-minute meeting with the independent adviser to defend himself.
The Stratford-on-Avon MP did not comment explicitly on the row in his letter to the Prime Minister following his sacking, instead taking aim at the media as he complained "about the conduct from some of the fourth estate in recent weeks".
For Mr Sunak, who came to office promising "integrity", the row continues to raise questions.
Both Labour's deputy leader Angela Rayner and party chairwoman Anneliese Dodds have written to Mr Sunak to ask him what he knew about the investigation into Mr Zahawi's tax affairs and when.
Urging the Prime Minister to "come clean", Ms Rayner said that the "hopelessly weak Prime Minister has been dragged kicking and screaming into doing what he should have done long ago".
A minister said she thought Prime Minister Rishi Sunak followed a "fair" process when deciding to sack former Conservative Party chairman Nadhim Zahawi.
Helen Whately, a health minister, told Times Radio: "What the Prime Minister put in place was his independent ethics adviser, Sir Laurie Magnus, to look into the facts of the case.
"So he was under pressure to go straight to it and people were saying he should have moved faster but actually he followed a fair process.
"Sir Laurie Magnus looked into it, he set out in his letter very clearly what did or didn't happen and that was the basis on which the Prime Minister removed Nadhim Zahawi from office."
Asked whether she thought Mr Zahawi "got a fair hearing", Ms Whately said: "I would say so, yes."
Meanwhile, deputy prime minister Dominic Raab remains under investigation by senior lawyer Adam Tolley KC over bullying complaints. He has denied all allegations.
It comes as former Conservative chancellor George Osborne warned that Mr Sunak needed to "do something pretty quickly" to rescue his premiership from the kinds of scandals that dogged his predecessor Boris Johnson.
"And at the moment, he is being pulled down by a series of scandals which do not directly involve him, are kind of hangovers, if you like, of the Johnson era," he told the The Andrew Neil Show on Channel 4.
Sir Laurie's four-page report, dated January 29, said the technical details of the HMRC investigation were outside his scope.
Instead, he considered Mr Zahawi's "handling of the matter in light of his responsibilities as a minister".
In that regard, he found that the Tory chairman had shown "insufficient regard for the general principles of the Ministerial Code and the requirements in particular, under the seven Principles of Public Life, to be honest, open and an exemplary leader through his own behaviour".
Among the findings, he notes "omissions" from Mr Zahawi that amount to a "serious failure" to meet the standards of the Ministerial Code.
He said: "In the appointments process for the governments formed in September 2022 and October 2022, Mr Zahawi failed to disclose relevant information – in this case the nature of the investigation and its outcome in a penalty – at the time of his appointment, including to Cabinet Office officials who support that process.
"Without knowledge of that information, the Cabinet Office was not in a position to inform the appointing Prime Minister."