Rishi Sunak in no hurry to decide as Dominic Raab's fate hangs in the balance over bullying claims
Rishi Sunak in is no hurry to decide on Dominic Raab's fate as he considers a report into allegations the Deputy Prime Minister bullied officials.
The report was handed to the Prime Minister on Thursday morning and despite promises of a swift response, several hours passed with no word from Downing Street on Mr Raab's fate.
Stressing the need for time to consider the report, Number 10 insisted Mr Sunak's previous expression of having "full confidence" in Mr Raab "still stands".
Downing Street would not indicate when the report will be published, but insisted a resolution would be sought "as swiftly as possible".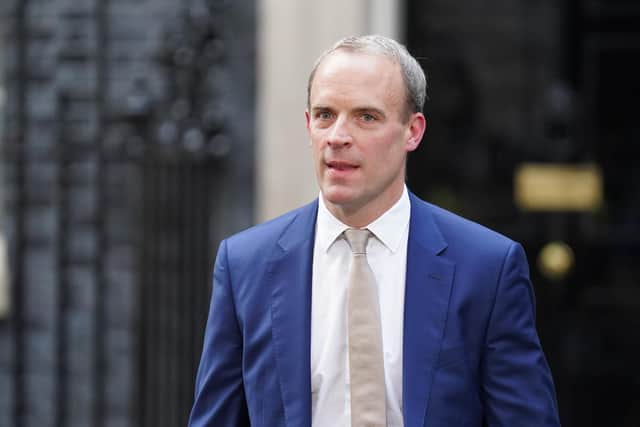 A spokesperson said: "The Prime Minister has received the report from Adam Tolley, the independent investigator. He received the findings this morning – he is considering those findings.
"He does have full confidence in the (Deputy) Prime Minister – that still stands. Obviously he is carefully considering the findings of the report."
Mr Raab was investigated over eight formal complaints about his behaviour as foreign secretary, Brexit secretary and during his first stint as justice secretary.
While there was no formal role for Mr Sunak's ethics tsar Sir Laurie Magnus in the investigation, the Prime Minister could consult him before delivering his verdict on Mr Raab – although such conversations are usually kept private.
Sir Laurie had not been appointed as the independent adviser on ministers' interests when the investigation into Mr Raab was launched. The Deputy Prime Minister has insisted he believes "heart and soul" he is not a bully, but defended his "forthright" approach to his work.
Mr Sunak is the ultimate arbiter on issues around ministerial conduct and the final decision on his close ally Mr Raab will rest with him. One person involved in the process described the review as "devastating", while a senior Government official said Mr Raab was "toast".
Elsewhere it was reported senior Ministry of Justice officials could quit if Mr Raab, who is also justice secretary, is cleared of the allegations. It emerged on Wednesday the minister had forked out for his own legal team to defend himself against the allegations.
In the register, Mr Raab's entry notes read: "The minister has engaged lawyers at his own expense in relation to the investigation being conducted by Adam Tolley KC."
Mr Tolley was appointed in November to lead the investigation into Mr Raab's conduct, but it is not known when the Deputy PM first engaged legal representation.
It came as the former Conservative Party chairman Sir Jake Berry hit out at the "outdated" system for dealing with complaints in Westminster, which allowed Mr Raab to keep working while under investigation.
He said: "It does seem to me quite wrong that when people are under these kinds of investigations of this type that they continue in their job."
Liberal Democrat chief whip Wendy Chamberlain said: "People will be fed up with this dither and delay from Rishi Sunak. It feels like almost every week there is an issue with sleaze and scandal where Rishi Sunak is either implicated in himself or too weak to get to grips with it.
"People are crying out for a Government that will just get on with tackling the issue's that matter, not focused on saving their own skin."
Comments
 0 comments
Want to join the conversation? Please or to comment on this article.