Speaking at the Tory conference in Manchester on Monday, the Chancellor insisted that putting the economy back on a "sustainable footing" was the priority.
Mr Sunak suggested that getting the economy back on track after the prime of the Covid-19 pandemic could see tax rises.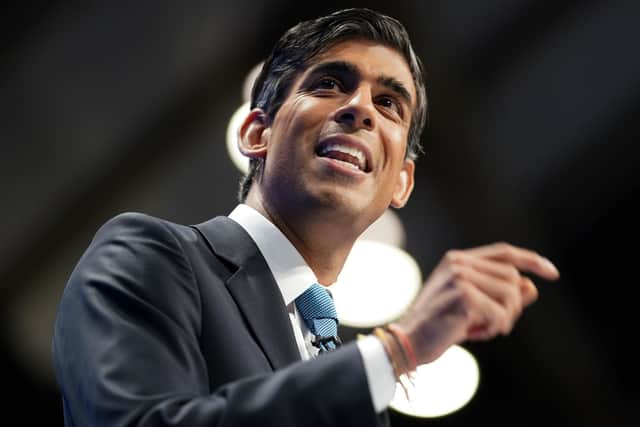 He said: "There can be no prosperous future unless it is built on the foundation of strong public finances.
"And I have to be blunt with you – our recovery comes with a cost.
"Our national debt is almost 100 per cent of GDP. So we need to fix our public finances because strong public finances don't happen by accident.
"Whilst I know tax rises are unpopular, some will even say un-Conservative, I'll tell you what is un-Conservative – unfunded pledges, reckless borrowing and soaring debt.
"Anyone who tells you that you can borrow more today and tomorrow will simply sort itself out just doesn't care about the future.
"Yes, I want tax cuts. But in order to do that, our public finances must be put back on a sustainable footing."
Mr Sunak was speaking just weeks after imposing a 1.25 per cent rise in national insurance contributions to pay for the NHS and social care.
The move broke a Conservative Party manifesto pledge and enraged Tory MPs and the membership.
On Sunday the Prime Minister had refused to entirely rule out increasing taxes again, saying he wouldn't do it "if I can possibly avoid it".
Mr Sunak said he believed borrowing more money for future generations to pay for was "immoral".
He said: "I believe that mindless ideology is dangerous. I'm a pragmatist. I care about what works, not about the purity of any dogma.
"I believe in fiscal responsibility. Just borrowing more money and stacking up bills for future generations to pay is not just economically irresponsible, it is immoral.
"Because it's not the state's money, it's your money.
"I believe that the only sustainable route out of poverty comes from having a good job. It's not just the pounds it puts in your pocket, it's the sense of worth and self-confidence it gives you."
Mr Sunak also defended Brexit amid the ongoing fuel crisis, saying it would deliver benefits "long term".
He said: "I remember over five years ago being told that if I backed Brexit, my political career would be over before it had even begun.
"Well, I put my principles first and I always will. I was proud to back Brexit, proud to back Leave.
"That's because, despite the challenges, in the long term I believed the agility, flexibility and freedom provided by Brexit would be more valuable in a 21st-century global economy than just proximity to a market.
"That in the long term a renewed culture of enterprise, willingness to take risks and be imaginative would inspire changes in the way we do things at home."
He added: "Even if you can't see it yet, I assure you the future is here. Last year alone the UK attracted more venture capital investment to our start-ups than France and Germany combined."
Mr Sunak also announced plans to create 2,000 "elite AI scholarships".
The Chancellor said: "If artificial intelligence was to contribute just the average productivity increase of those three technologies, that would be worth around £200 billion a year to our economy.
"So, today, I am announcing that we will create 2,000 elite AI scholarships for disadvantaged young people and double the number of Turing AI World-Leading Research Fellows, helping to ensure that the most exciting industries and opportunities are open to all parts of our society."
Mr Sunak also confirmed the government's "plan for jobs" would be extended into next year.
He said: "The Kickstart scheme, extra support through the youth offer, the job entry targeted support scheme, and our apprenticeship incentives – all [will be] extended because we believe in the awesome power of opportunity.
"And we are going to make sure that no young person in our country is left without it."
Kickstart subsidises job placements for young people on Universal Credit and was due to end in December, but will now be extended to March 2022.
The Confederation of British Industry (CBI) backed Mr Sunak's plan, but said higher investment and growth was needed to improve productivity.
CBI president Tony Danker said: "The Chancellor's emphasis on equipping young people for the world of work, from the Kickstart scheme to new AI scholarships, as well as helping people retrain for the jobs of the future, is the right approach.
"The only way to achieve the high-wage, high-skill economy we all want is to unlock productivity through higher investment and growth."
But SNP shadow chancellor Alison Thewliss accused Mr Sunak of failing "on every level" and offering nothing in his speech.
She said: "It was loaded with soundbites, but empty on substance to tackle the Tory-made cost of living crisis facing households across the UK.
"There was nothing to address the significant number of households being plunged into poverty due to the impending cut to Universal Credit, nothing on the impact of the premature move to scrap the furlough scheme, nothing on the impact of regressive Tory tax hikes, nothing to rule out another decade of Tory austerity, and nothing on the meaningful investment needed to secure a strong and fair recovery from the pandemic.
"His move to strip away £6 billion of support through the Universal Credit uplift – straight from the pockets of some of the lowest-income families across the UK – and attempt to cover it up with £1bn announced so far is a classic Tory con-trick.
"The grim reality is that this deliberate political choice will push struggling people over the brink."