Rishi Sunak accused of protecting tax loophole after dismissing criticism as 'this non dom thing'
Prime Minister Rishi Sunak has been accused of protecting a tax loophole after dismissing criticism as "this non dom thing".
He was urged to scrap "beloved non-dom status" on Wednesday at an increasingly personal Prime Minister's Questions (PMQs) in which Labour leader Sir Keir Starmer made frequent references to Mr Sunak's wealth.
Sir Keir branded the Prime Minister "Mr 24 tax rises" and claimed Mr Sunak did not understand the public's struggle with the cost of living. But there were also attacks on Sir Keir about his own special pensions tax arrangement from his time as the director of public prosecutions
Mr Sunak's wife Akshata Murty previously benefited from non-dom tax status, which means an individual only has to pay tax on money earned in the UK, but not on foreign income.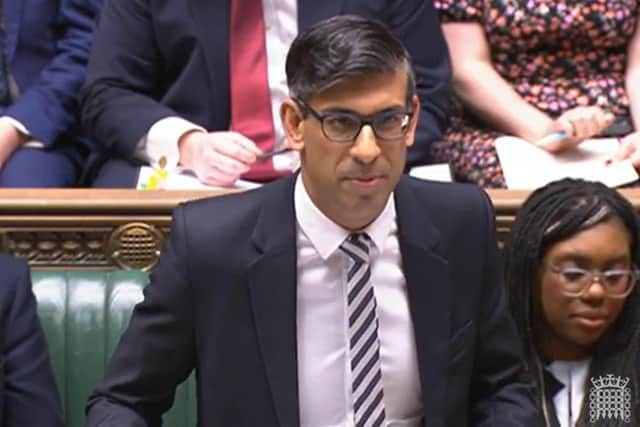 At PMQs, Sir Keir said: "This is Mr 24 tax rises. I've never heard anything so out of touch as the answer that he has just given, and it's not just his refusal to take any responsibility for the damage they've done – the crashed economy, the hit to living standards. It's also he refuses to take the action that's needed."
Mr Sunak, roared on by his own MPs, defended the Government's record, pointing to the number of people in work, lower inequality and lower poverty numbers.
He added: "He talks about this non-dom thing. I think he's already spent the money that he claims he'd raise on five different things because it's the same old Labour Party. They're always running out of other people's money."
The comment prompted sighs from the Labour bench, with Sir Keir urging the PM to be honest. He said: "It means that at every possible opportunity he has voted to put taxes up on working people while at the same time taking every possible opportunity to protect a tax avoidance scheme that helped his own finances."
Sir Keir continued to claim Mr Sunak lived "in a bubble", adding the Prime Minister was "so out of touch that he looks at a petrol pump and a debit card like they've just arrived from Mars".
The exchanges came during a confrontational Commons session that also saw the Prime Minister refuse to apologise for the UK's role in historical slavery, as well as rejecting a call from Labour MP Bell Ribeiro-Addy to commit to reparations.
Replying to the Streatham MP, Mr Sunak said: "I think our focus should now be on doing is, of course, understanding our history and all its parts, not running away from it, but right now making sure that we have a society which is inclusive and tolerant of people from all backgrounds.
"That's something that we on this side of the House are committed to doing and will continue to deliver. But trying to unpick our history is not the right way forward and it's not something that we will focus our energies on."
Speaking ahead of the third reading of the controversial "Stop the Boats" Bill, Stephen Flynn used his questions to ask the Prime Minister to outline a "safe and legal route" available to a child refugee seeking to flee Sudan to arrive in the UK.
After Mr Sunak failed to address the question directly, the SNP Westminster leader claimed it was confirmation there was "no safe legal route".
Addressing the Prime Minister, it was notable Mr Flynn's predecessor Ian Blackford was not in the chamber. The absence followed the accusation Mr Flynn had given him false assurances about the SNP's auditors.
Elsewhere, Andrew Bridgen was kicked out of the Conservative Party after comparing Covid vaccines to the Holocaust.
Now sitting as an independent, Mr Brigden made the comments earlier this year, claiming a "consultant cardiologist" told him Covid jabs were "causing serious harms", adding the vaccine programme was "the biggest crime against humanity since the Holocaust".
He was suspended from the parliamentary party in January, and ejected from the Conservatives earlier this month.
A party spokesman said: "Mr Bridgen was expelled from the Conservative Party on April 12 following the recommendation of a disciplinary panel. He has 28 days from this date to appeal."
Mr Bridgen says he plans to stand again as an MP, adding: "My expulsion from the Conservative Party under false pretences only confirms the culture of corruption, collusion and cover-ups, which plagues our political system."
Comments
 0 comments
Want to join the conversation? Please or to comment on this article.