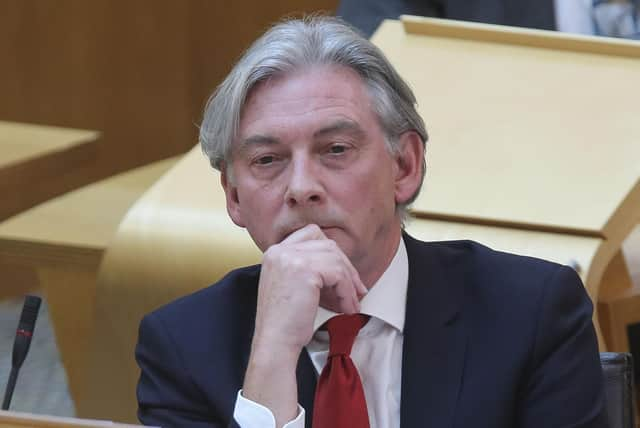 Richard Leonard insisted he will lead his party into next year's Holyrood campaign and criticised his opponents "who had never supported my leadership" for starting an "internal war" just eight months from an election.
He also made a veiled threat to the MSPs that their attempt to force him to quit could result in deselection, as the party needed "new blood" in the Scottish Parliament.
The divisions within Labour, which have been simmering since Mr Leonard was elected in 2017, blew wide open last night when his justice spokesperson, James Kelly, quit his frontbench role. His move was quickly supported by MSPs Daniel Johnson and Jenny Marra, as well as former MP Ged Killen, who had supported Mr Leonard to become leader. MSP Mark Griffin, who has handled the social security brief for Scottish Labour in Holyrood, also resigned from his role.
The MSPs said polls which had shown the party slump to just 14 per cent of public support, with 53 per cent of voters responding "don't know" when asked if he was performing well, underlined the need for Mr Leonard to quit.
Mr Kelly revealed a delegation of MSPs had approached Mr Leonard three weeks ago to ask him to resign, and said it was "unacceptable" that after three years "more than half of the public have no opinion" on Mr Leonard, while Mr Griffin said the opinion polls, as well as recent dire election results, "pointed to an extinction level" event at next year's elections for the party.
Yet other Scottish Labour MSPs, including Rhoda Grant and Neil Findlay backed Mr Leonard to remain in post - with Mr Findlay accusing his Holyrood colleagues of "treachery".
Speaking to STV this afternoon, Mr Leonard said he was "not happy" the resignations and calls for him to go came on a day when Labour had "won the battle for a National Care Service to be on the political agenda", after the idea was adopted by Nicola Sturgeon in her latest Programme for Government.
He said the demands for him to quit were an attempt to "distract the Labour Party from what we should be talking about", and added: "We want to be an outward facing party, and any one who thinks we will make progress through internal bickering is wholly mistaken.
"I was elected just under three years ago with a clear mandate from the membership of the Scottish Labour party to lead Labour into next May's Scottish Parliament elections, and that's exactly what I intend to do."
Asked why the last two elections – May's European vote and the General Election in December – had been so disastrous for Scottish Labour, he said there were a "a whole range of circumstances" that affected his party's fortunes. "One I think ended up being a referendum on Brexit and the other ended up being a referendum on whether we wanted a second referendum on independence or not.
"There was a squeezing out of our message, but look things have moved on. With this pandemic I think people are resetting their dials. They are understanding that the priorities that we face in the coming months and the coming years are not about the constitutional future of Scotland, the real priority is about whether people are going to have jobs or not, whether our young people are going to have a future, how we treat our old people to give them dignity in old age, including those who live in our residential care homes. They're the big questions people want us to tackle.
"We have moved the agenda on significantly. When we get to May of next year I do not intend to fail. I'll be fighting for every vote and for every seat. My ambition is to see a significant increase in the number of Labour MSPs returned to the Scottish Parliament."
He added: "I think we need to see some new blood in here. One of the things the last few days have taught me is we need to see an injection of new voices, a more diverse profile of people. We want some new candidates coming through so that the Scottish Labour party is represented by people who understand just what a privilege it is to be a Labour member of the Scottish Parliament."
Asked if he believed those who had spoken out against him had forgotten that and what should happen to them, he said: "Well I think perhaps they have.
"It will be for the membership to decide and people will take a view about whether their decision to mount an internal war at this time is serving the best interests of the Labour party, and serving the best interests of the people we are seeking to represent.
"There is a selection process which the Labour party undertakes. We are about to enter a selection process to see who is on our regional lists, and party members will have to make a decision about whether they want to return people who have got some faith in the party's ability to win votes and win seats next year, or whether they want to see people returned who perhaps don't share that view.
"I want to see people with optimism, enthusiasm and some new energy coming in to the Parliament."
Mr Leonard said he would "absolutely fight on" if there was a direct challenge to his leadership. "I believe that I do have the confidence and the faith and the support of members of the Scottish Labour Party across the country," he said. "And so I am keen to demonstrate that I am in tune with them, that it's Labour that's promoting the people's priorities, and we are winning those arguments."
Earlier, North East Scotland MSP Jenny Marra said that if the party did "not change course now, we risk catastrophe", adding, "Richard is a stalwart of our party but he cannot lead us. That's the unavoidable truth and change is our best hope."
Edinburgh Southern MSP Daniel Johnson, said: "It is not easy speaking out but my colleagues Jenny Marra and James Kelly have done the right thing. It is time to recognise the situation we are in and for Richard to step down." He said he had attempted to raise concerns and make "constructive suggestions" over Labour's future, but "these have gone unheeded and there has been no change in approach or performance".
He added: "Continuing like this will be disastrous for our party and is why I no longer have confidence in Richard Leonard's leadership."
Former Scottish Labour MP MP Ged Killen, who lost his seat after Labour was reduced to just one MP in the December General Election, said while Mr Leonard was an "honest, decent man", under his leadership "things have gone from bad to significantly worse. Every party member I speak to is in despair. He must now do the decent thing and resign."
Labour is currently third in the opinion polls in Scotland, behind both the SNP and the Tories. In the European elections in May 2019 the party slumped to fifth north of the border, polling less than 10% of the vote.
Mr Kelly told Mr Leonard that recent polling put Labour at an "unacceptably low" level adding that the leader had "negative ratings even among our own supporters". In his resignation letter he said: "Such poll ratings would produce a catastrophic result from which our party would struggle to recover."
Mr Kelly said he had seen "no evidence" of a plan to reverse the party's fortunes, telling the leader: "The situation has been apparent for some time and you have failed to turn things round."
He continued: "I have no confidence in your ability to shape the party's message, strategy and organisation. I know that this is a view shared by other parliamentarians, party members and indeed many members of the public."
Mr Leonard, who was close to former Labour leader Jeremy Corbyn, was elected as Scottish Labour leader in 2017, defeating Anas Sarwar, after his predecessor, Kezia Dugdale, stepped down.
Highlands and Islands MSP Rhoda Grant, who sits on Scottish Labour's frontbench, gave her support to the under-fire leader, saying Mr Leonard had been elected to the post with the "overwhelming backing of members and affiliated unions".
She added: "The crisis facing our country requires bold thinking and it requires a united Scottish Labour Party, under the leadership of Richard Leonard, fighting for the real change we need."
Neil Findlay, who stepped down from Mr Leonard's frontbench as campaign manager after Labour's disastrous European election performance, and who is not standing for re-election next year, said the demands for the leader to go were "treachery with a snarl".
Meanwhile UK Labour leader Sir Keir Starmer, has refused to be dragged into the row. A spokesman for him said: "This is a matter for Scottish Labour but Keir and Richard have a very good working relationship and they are both focused on next year's Scottish elections where we are determined to take on the SNP and challenge them on their domestic record."
Sir Keir last spoke to Mr Leonard last week, the spokesman added.
A message from the Editor:
Thank you for reading this story on our website. While I have your attention, I also have an important request to make of you.
The dramatic events of 2020 are having a major impact on many of our advertisers - and consequently the revenue we receive. We are now more reliant than ever on you taking out a digital subscription to support our journalism.
By supporting us, we are able to support you in providing trusted, fact-checked content for this website.