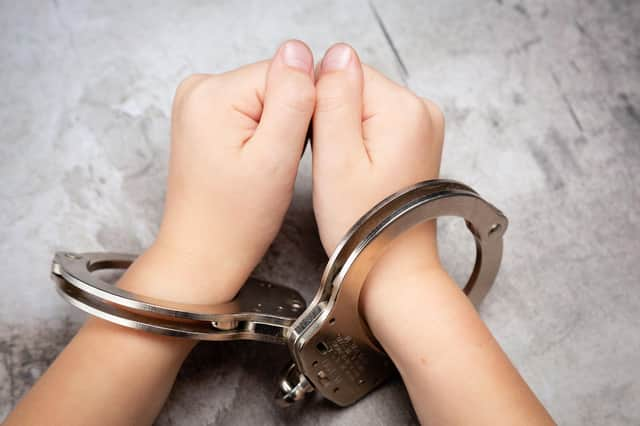 Some 95 children aged 13 or under were among those held overnight in police cells, with the figure rising sharply to 827 among those aged 14 or 15. It includes three children who were aged 11 - below the age threshold for criminal prosecution.
Detention figures obtained via freedom of information legislation show 5,996 children were detained overnight between 2018 and 2020. Many of those held were arrested in connection with minor offences, such as shoplifting.
The Children and Young People's Centre for Justice (CYCJ) said the "shocking" practice highlighted "obvious failures" around how children are being treated by Scotland's criminal justice system.
The Children and Young People's Commissioner Scotland (CYPCS) said it was "deeply concerned." It is to urgently raise the issue with an independent advisory group set up to scrutinise Police Scotland's use of emergency powers.
The UN Convention on the Rights of the Child (UNCRC) states that the deprivation of a child's liberty should only be a "last resort," and for the shortest appropriate period of time. MSPs voted unanimously this month to incorporate the convention into domestic law.
Police Scotland said children were only detained overnight in its custody in "exceptional circumstances," but admitted the numbers involved were "higher than we would wish."
The figures show that over the three year period, the number of children being held overnight was rising before the coronavirus pandemic. In 2018, some 301 children aged 11 to 15 were detained, rising to 373 in 2019. The figure dropped to 248 last year.
The totals jump sharply when those aged 16 or 17 - classed as children under the Criminal Justice (Scotland) Act 2016 - are included. Some 1,892 in that age group were held in 2018, increasing to 1,895 in 2019, then falling to 1,287 last year.
Out of all those detained, close to half (2,979) of children were held overnight for between eight and 24 hours. A further 1,518 children were in custody for more than 24 hours.
Claire Lightowler, director of the CYCJ, said: "This evidence highlights that children are not being responded to appropriately across the justice system with obvious failures to take their status as a child into consideration.
"Children should only be in police custody when there is no other place of safety available and where it is absolutely necessary for them to be deprived of their liberty."
Lightowler said that given the CYCJ's own research found children were being strip searched in custody, there was a "fundamental problem."
"There is a need for a significant programme of work to ensure children's rights are being upheld when they come into contact with the police," she added.
Dr Tracy Kirk, a law lecturer and children's rights academic at Glasgow Caledonian University, said children's rights had been "breached."
"These statistics suggest the need for a culture change within Police Scotland to ensure those under 18 are treated as children first and foremost," she said. "The UNCRC incorporation bill places additional duties upon public authorities to act in a manner which upholds the rights of children."
The most common crimes in connection with the detentions were abusive behaviour or assault, but included minor offences, such as possession of false ID, or being found with alcohol in a sports ground. Some 125 children were arrested in connection with shoplifting. Four children failed to comply with coronavirus regulations.
The figures do not specify whether children were arrested in connection with those offences in isolation, or if other alleged crimes were a factor.
Greater Glasgow saw the most detentions (1,302), followed by Lanarkshire (786), and Edinburgh (507). The fewest were in Dumfries and Galloway (139).
Nick Hobbs, head of advice and investigations at the CYPCS, said: "When police deprive children of their liberty it must only be a measure of last resort, must take place for the shortest possible time and should always be in an age-appropriate facility.
"We intend to seek further information from Police Scotland including by raising directly with the independent advisory group."
The figures also prompted cross-party alarm. Neil Bibby, Scottish Labour's justice spokesman, said if statutory services lacked resources to accommodate children, the Scottish Government should "urgently establish why."
His Scottish Conservative counterpart, Liam Kerr, said that while he was confident police would observe due process, the "sheer scale" of children being detained overnight was "surprising and cause for some concern."
Liam McArthur from the Scottish Lib Dems described the practice of "locking up 11-year-olds" as "using a sledgehammer to crack a nut," while the Scottish Greens' John Finnie highlighted changes in the law which ought to mean fewer arrested people are detained by police.
Police Scotland's assistant chief constable, Kenny MacDonald, said children were only held in custody "in the most serious of cases," with public safety paramount in the decision. In those "exceptional circumstances" where local authority accommodation was unavailable or "not suitable," he said an ongoing review ensured children's time in custody was "necessary and proportionate."
He added: "The availability of places of safety is subject to regular discussion with local authority partners and the number of children requiring to be held in police custody has decreased over the preceding three years.
"However it remains higher than we would wish."
A SNP spokesman said: "Children are only kept in police custody as a last resort. In terms of current operational practice, Police Scotland attempts to ensure that all children and young people are kept in custody for as short a time as possible.
"When very minor crimes are committed, it is common for children not to be taken to a custody centre at all but rather taken home and, if deemed necessary, cautioned and charged in front of their parents or carers."
A message from the editor:
Thank you for reading this article. We're more reliant on your support than ever as the shift in consumer habits brought about by coronavirus impacts our advertisers. If you haven't already, please consider supporting our trusted, fact-checked journalism by taking out a digital subscription.