Restaurants and pubs fear 'hot-spots' claim may drive away customers
Nicola Sturgeon has been urged to produce the evidence that pubs and restaurants may be "hot spots" for coronavirus amid industry fears that customers may be discouraged from returning.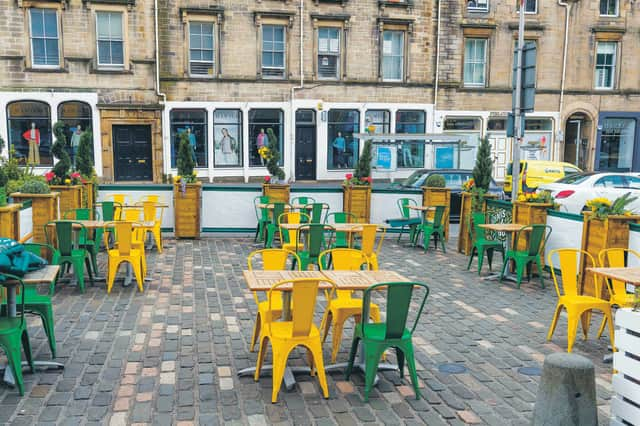 Hospitality chiefs say they have been "picked out" and left in limbo after the reopening of beer gardens was delayed as Scotland moved into Phase 2 of lockdown exit last week. The First Minister revealed that she has commissioned fresh work from her scientific advisers into "emerging evidence" that pubs, restaurants, cafés and even gyms could be "super spreading" environments for the virus.
There are now concerns that the planned return of indoor pubs on 15 July, as part of the tourism and hospitality sector reopening, may be in doubt, with the advisers due to report back by 2 July. Many establishments have racked up costs in stock, paying legal fees, and introducing physical distancing measures ahead of the thwarted return of outside spaces and fear a repeat.
Emma McClarkin, chief executive of the British Beer & Pub Association, said: "The lack of any clarity from the First Minister on Thursday was a bitter blow for many in our sector.
"On top of that, the labelling of the hospitality sector as 'hot spots' at a time when consumer confidence is already low is concerning. Our industry is working round the clock to ensure all our pubs are safe when they reopen.
"We understand and agree that the Scottish Government must follow the scientific advice and we won't open our pubs until it is safe to do so, but would ask that the government shares that advice with us.
"A lot of pub operators feel like they've been marched-up the hill of reopening, only to be told to wait at the top for two weeks. Either way, we cannot be in the same situation on 2 July – government must work with industry to ensure that we avoid further confusion and unnecessary spend by pubs already operating on the edge."
The Scottish Government produced guidance yesterday to prepare the country's tourism and hospitality sector for a scheduled return on 15 July, but the new evidence about "hot spots" for the virus was not covered. It emerged last week Scotland's economy shrunk by 19 per cent in April as a result of the coronavirus lockdown. As cases of the virus continue to fall there is growing pressure to get the economy restarted.
A review of the 2-metre distancing rule unveiled by Sturgeon was welcomed by industry leaders who say many establishments will not be viable unless this is eased.
Paul Waterson, of the Scottish Licensed Trade Association, said the industry was unaware of evidence that pubs may be "hot spots" for transmission.
"I think we were a bit surprised to hear the First Minister say that and then not refer to the massive steps we are taking to make places comfortable and safe," he said.
"Unless customers feel safe and unless they feel comfortable then they simply won't come back into our places unless we've taken very stringent steps. We know the problems associated with indoors anywhere, but to hear pubs and bars picked out and not given any credit was a bit disappointing."
He insisted the industry understands the "very difficult" position faced by ministers managing the public health crisis, but that many pub bosses don't know where they stand.
"Not only did we not get an opening date, but we were told there would be a review in two weeks. What happens in that review again? You've got to get your business ready, get supplies in get staff ready and all the rest of it."
The review has cast doubt on the 15 July date for return of hospitality, depending on the outcome of the fresh research, said Waterson
Andrew McRae, Scotland policy chair, with the Federation of Small Businesses added: "The implications of the various announcements made by the First Minister on Thursday aren't clear. We must obviously avoid the situation where firms in certain sectors believe they're going to be allowed to re-open, and then their hopes are dashed."
Sturgeon has pointed to the fact that no firm date has been set for the return of pubs and beer gardens in England and warned that there may be "real issues" in pubs and restaurants.
"Scotland is not somehow an outlier here," she said.
Comments
 0 comments
Want to join the conversation? Please or to comment on this article.