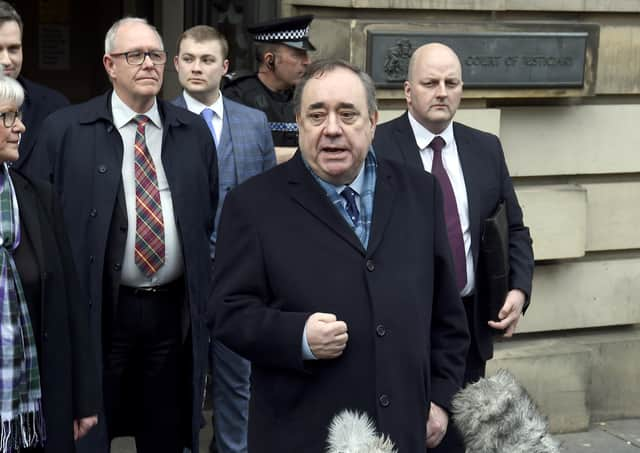 Alex Salmond was cleared at the High Court of sexually assaulting nine women while First Minister. Picture: Lisa Ferguson
The case against the former party leader was even described as a "stitch-up" by one former SNP staffer, who gave evidence on Mr Salmond's behalf.
Former justice secretary Kenny MacAskill accused some party members of "instigating" the case against Mr Salmond and said the full extent of this would come to light.
Edinburgh South West MP Joanna Cherry, the party's justice and home affairs spokeswoman at Westminster, said an independent inquiry into the SNP's handling of internal complaints against Mr Salmond was now required.
It could mark a spell of unwelcome infighting for Nicola Sturgeon, who is leading the national response to coronavirus, but also faces a Scottish Parliament election campaign a year from now.
Mr MacAskill said he was "delighted" that Mr Salmond had been cleared of all charges. "I'm glad he's been vindicated," the East Lothian MP said.
"There are individuals who went beyond simply doing what you would expect, which is to co-operate with the police, but actually went to a stage of seeking to instigate matters and that frankly is entirely unacceptable.
"They are the ones, I think, who should do the honourable thing and resign."
He added: "There were issues that he [Salmond] sought to produce as part of his defence, which I believe will come out, which show that there were actions that were not acceptable from sections within the SNP. I think individuals have to consider their positions.
"We're talking about a very small number of people. The overwhelming majority of SNP members have been oblivious to what has been happening. But there have been the actions of a few that have been frankly unacceptable and they should do the honourable thing and step down."
Mr MacAskill, justice secretary under Mr Salmond, said he wanted to see the former leader now rejoin the SNP.
"I would be delighted if Alex was to rejoin the SNP," he said.
"I believe SNP members would welcome him back and rightly so."
Ms Cherry also welcomed the verdict and insisted the evidence presented against Mr Salmond did not square with "those of us who know him, and indeed many of the thousands of people who have met him over the years".
She added: "I am pleased that, having heard all the evidence, the jury has found him to be innocent of the charges laid.
"This verdict of acquittal is the culmination of two very lengthy investigations by the Scottish Government and Police Scotland and two court cases. In both cases, Mr Salmond has been vindicated and serious questions now arise about the background to these cases, especially given the considerable sums of public money which have been expended."
Ms Cherry, herself an advocate and former specialist sex crimes prosecutor, said women who make complaints in such cases must have this fully investigated.
But she said: "I also support due process and the principle of innocent until proven guilty.
"Some of the evidence that has come to light both in the judicial review and at this trial raise very serious questions over the process that was employed within the Scottish Government to investigate the alleged complaints against Mr Salmond and I am sorry to say some of the evidence also raises serious question marks over how these complaints were handled by the SNP."
She continued: "There should be an independent inquiry into how the SNP dealt with these allegations and an inquiry into our internal complaints procedure, with which many members have expressed significant dissatisfaction."
The Edinburgh MP, who released the statement after the jury announced its verdict, added: "I am sure the complaints manager [and] chief executive would welcome the opportunity of an independent review to assist them in developing a proper system for the management of complaints."
An inquiry by the SNP would come on top of a separate Parliamentary inquiry into the handling of the case by the Scottish Government. That inquiry is being chaired by Nationalist MSP Linda Fabiani.
Mr Salmond himself made it clear that he will be demanding answers relating to evidence, which was not produced at trial, of text exchanges between some of the women making complaints against him about the case.
Former SNP new media strategist Kirk Torrance had given evidence on behalf of Mr Salmond's defence at the trial. He welcomed the outcome yesterday and hit out at the way the charges were brought.
"I was proud to give evidence at the High Court in support of @Alex Salmond," said Mr Torrance, who no longer works for the SNP. "I am glad the jury saw through what was obviously a machiavellian stitch-up. It was wonderful to see Alex, the #statesman, smile again and hear his dignified remarks following his complete #vindication."
Angus MacNeil, the Western Isles MP and a long-term supporter of Mr Salmond, also hinted at a political comeback for the ex-leader.
"Glad that Alex Salmond found not guilty," he said. "A man with much more to contribute to Scotland's cause."