Record £1.9m bill for Scottish Government special advisers (Spads) labelled 'morally indefensible'
​Opposition parties at Holyrood have hit out at the record wage bill for the Scottish Government's special advisers (Spads) during Nicola Sturgeon's last year as first minister.
A written answer to a parliamentary question revealed just over £1.9 million was spent on 18 special advisers in 2022/23, including national insurance and pension contributions.
Spads are civil servants who are politically appointed and do not need to obey the civil service rules on neutrality. The figure for 2022/23 is around a third higher than the previous year and the largest since devolution.
Humza Yousaf's final line-up of Spads is yet to be confirmed, but many have continued from Ms Sturgeon's administration.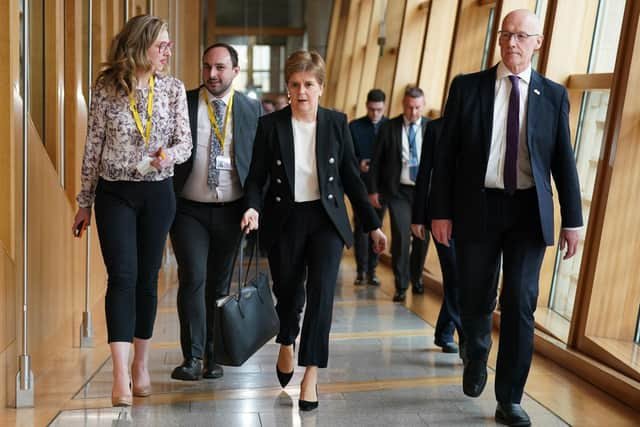 Scottish Labour finance spokesman Michael Marra said: "At a time when thousands of Scots are struggling to make ends meet and parents are being forced to skip meals, the fact that the bill for Government Spads is soaring is morally indefensible.
"This attempt to bury bad news ahead of a bank holiday weekend has backfired spectacularly. This is symbolic of the SNP Government's skewed priorities, cutting funding for vital sectors while bolstering the ranks of spin doctors and apparatchiks."
Scottish Conservative chairman Craig Hoy said: "People will be appalled that the cost of employing SNP spin doctors has surged by a third in the space of a year, to a whopping £2m of taxpayers' cash. This is living proof that the SNP prioritises spin over substance at every turn."
The Scottish Government said special advisers provided important support to ministers on the development and presentation of policy. A spokesman said: "The pay framework for special advisers is set by the Cabinet Office. The annual review for special advisers takes account of the pay award for staff within the Scottish Government main bargaining unit."
Comments
 0 comments
Want to join the conversation? Please or to comment on this article.