RECAP: Jeremy Hunt increases the windfall tax on oil and gas giants | Triple lock pension and living wage update | Labour says UK economy put into "doom loop"
Jeremy Hunt promised to "tackle the cost-of-living crisis" and "rebuild our economy" as he set out plans for tax rises and spending cuts.
Mr Hunt has increased the windfall tax on oil and gas giants from 25% to 35% and imposed a 45% levy on electricity generators to raise an estimated £14 billion next year.
Households will face increased energy bills, high inflation and tax hikes as the country is hit by recession.
Chancellor Jeremy Hunt told MPs he was having to make difficult decisions to ensure a "shallower downturn", but the economy was still expected to shrink 1.4% in 2023.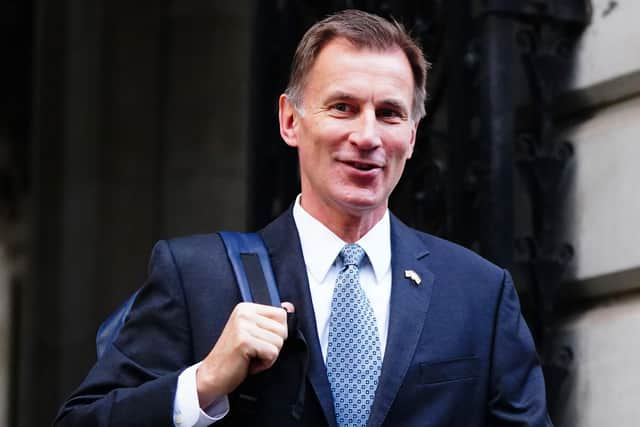 The Office for Budget Responsibility (OBR) forecast the UK's inflation rate to be 9.1% this year and 7.4% next year, contributing to the squeeze on living standards.
The cap on average household energy bills will increase from £2,500 to £3,000 from April.
But Mr Hunt said "this still means an average of £500 support for every household", while there would also be additional cost-of-living payments for people on means-tested benefits, pensioner households and those on disability benefit.
Mr Hunt was setting out a package of around £30 billion of spending cuts and £24 billion in tax rises over the next five years.
His package is in stark contrast to his predecessor Kwasi Kwarteng's ill-fated plan for £45 billion of tax cuts, less than two months ago, which spooked the markets, pushed up the cost of borrowing and contributed to the downfall of Liz Truss's short-lived administration.
Autumn Budget LIVE as chancellor to unveil spending cuts and tax rises
Show new updates
Good morning, and welcome to our live blog. Does it feel like a mere two months ago a similar blog launched ahead of Kwaki Kwarteng's mini budget. We'll have the latest from the budget today.
Chancellor Jeremy Hunt has been urged not to hike fuel duty in his autumn budget.
The RAC told him that increased pump prices could push inflation even higher.
Analysis by the motoring services company found there is an "extremely strong link" between the two.
The Treasury cut fuel duty by 5p per litre in March.
Fears have been raised that increasing the windfall tax on oil and gas giants could actually benefit firms already pocketing record profits, cost the public purse and drive more climate-damaging drilling in the North Sea.
In a video produced by the Treasury, Chancellor Jeremy Hunt said: "Today we are having to take some difficult decisions to restore stability, bring inflation down and balance the nation's books.
"So this is our plan to build a stronger economy, protect public services and make sure we look after our most vulnerable."
In the Government's promotional video for the autumn statement, Prime Minister Rishi Sunak said: "Today's statement will help deliver the long-term stability this country needs."
Chancellor Jeremy Hunt said it would create a "stronger, fairer United Kingdom".
Business Secretary Grant Shapps said it would "support the most vulnerable with rising energy costs and asking energy companies to pay their fair share".
Education Secretary Gillian Keegan said investment would focus on "skills and ensuring the British people have access to greater opportunities".
Health Secretary Steve Barclay said it would "deliver on our promise of a stronger NHS and tackling the Covid backlogs".
Home Secretary Suella Braverman said the Government would "make our streets safer, support our security services and control migration".
Pat McFadden, shadow chief secretary to the Treasury, said the UK was stuck in a "Conservative doom loop of emergency statements" and the Chancellor should begin his autumn statement today by "taking responsibility".
Mr McFadden said to Sky News: "I think he should acknowledge their responsibility for what's happened. I don't think he should pretend the mini-budget was just a bad dream."
The Labour MP said the Chancellor may have to "overcompensate" for the mistakes of Kwasi Kwarteng's mini-budget and would be "desperate to blame global factors" for the UK's poor economic outlook.
He said Labour's green prosperity plan would have to be funded "in part by borrowing", adding that there was a difference between "borrowing for unfunded tax cuts" and for "investments that will have a return for the future of the country".
Torsten Bell, chief executive of the Resolution Foundation think tank, said he was expecting some "pretty bad economic news" as the Chancellor prepares to deliver his autumn statement today.
Mr Bell told Sky News the UK faced a "grim economic outlook", with the economy growing very slowly and "possibly ending this Parliament as weak as it began". He added that this would be "much weaker than we were previously expecting".
The head of the economic think tank said that he expected unemployment to rise, "which is the opposite of what we've been seeing in the recent past".
Mr Bell added that tax rises would largely hit middle and higher-income households, but that lower-income households were seeing "the highest inflation rate right now and finding the cost-of-living crisis hardest to deal with".
Frances O'Grady, general secretary of the Trades Union Congress (TUC), warned against the dangers of austerity.
Speaking on BBC Radio 4's Today programme ahead of the Chancellor's autumn statement, she said that tough spending cuts are "never easy for working people".
Ms O'Grady said that George Osborne's austerity plan had "failed", amid expectations that Jeremy Hunt will preside over similarly painful cuts.
"We have been suffering weak growth as a country ever since, because it was killing the golden goose.
"If you are starving the NHS, our education and skills system, of funding that has an impact on the economy because we need a healthy workforce, we need educated, skilled and trained workers.
"Now we really need big investment in green infrastructure and our public services, if we're going to grow."