Soapbox
@scotlibdems: "Willie Rennie and Ed Davey have today used a campaign stop in Edinburgh to warn that vaccine passports are undercover ID cards."
Both party leaders urged the Scottish Government to suspend plans for so-called vaccine passports until MSPs can reconvene and scrutinise the plan after the election.
Civil rights campaign groups such as Big Brother Watch, Liberty, the Joint Council for the Welfare of Immigrants (JCWI) and Privacy International have also set out their opposition to the measures.
Caption This
Do you have a good caption for this photo of Nicola Sturgeon? Let us know in the comments.
#FakeNews?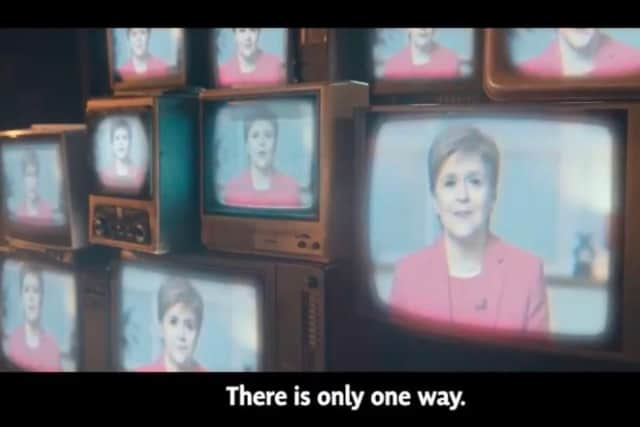 Announcing his party's plan to tackle school holiday hunger with a summer meals club, Anas Sarwar claimed that one in four Scottish children lives in poverty. That figure is accurate. According to the Scottish Government, 26 per cent of children live in poverty relative to the rest of society, while 23 per cent live in absolute poverty.
Official statistics show that relative and absolute child poverty fell between 1994, when the collection of data began, and 2012. Since then, however, relative child poverty has gradually increased, while absolute child poverty has remained largely unchanged.
Campaign Trail
•Alex Salmond received some bittersweet news on Wedesday, in the form of a newly-published Ipsos Mori poll. Sweet because the pollsters suggested his "supermajority for independence" at Holyrood could well be on the cards. And bitter because that supermajority would likely be formed by the SNP and…..the Scottish Greens - whose projected list vote share has surged to 12 per cent over recent weeks. Alba, meanwhile, is languishing on just three per cent in the list race, and could well struggle to return a single MSP.
•In some better news for Alba, STV has confirmed to The Scotsman that, while Mr Salmond would not appear at its upcoming leaders' debate, he had been offered a one-on-one interview with Colin Mackay as part of a special series for the Scotland Tonight programme. Patrick Harvie, Nicola Sturgeon, Anas Sarwar and Douglas Ross have also been offered interviews with Mr Mackay, while Willie Rennie's sit-down with the presenter has already aired.
•Meanwhile, All For Unity, which was been snubbed by STV schedulers entirely, launched its manifesto today with a call for regions of Scotland to be allowed to "opt out" of independence if the Yes campaign were to win a future referendum. George Galloway also said a second Scottish referendum should only take place if a majority of Scots vote for pro-independence parties.
•In other news, a dramatic new party political broadcast from the SNP was branded "creepy" by some viewers on Tuesday evening, who likened the image of the First Minister beamed onto walls and television screens during the advert to that of Big Brother in George Orwell's 1984. This column suspects Ms Sturgeon won't mind, since the TV ratings were no doubt doubleplusgood.
Battleground
•Winning Party (2016): SNP
•Second place: Scottish Conservatives
This region of Scotland has been a dependable SNP stronghold for decades. So much so that the party, which won the now-defunct Holyrood seat of Angus three consecutive times, went on to snap up both of the new seats that were carved out of it; Angus South, and Angus North and Mearns.
In 2011, the SNP stormed to victory in the latter with 54 per cent of the votes, but then seemed to stumble in 2016. The party's Mairi Gougeon (née Evans) won the seat, but saw her vote share contract by more than nine percentage points. At the same time, Scottish Tory Alex Johnstone's share surged by almost 12.
The result of the last contest leaves Ms Gougeon defending a majority of around 2,500 - hardly skin-of-your-teeth stuff, but not enormous either. If the Tories want to defy the polls and pull off an election upset, they could do worse than starting with seats like Angus North and Mearns.
A message from the Editor:
Thank you for reading this article. We're more reliant on your support than ever as the shift in consumer habits brought about by coronavirus impacts our advertisers.
If you haven't already, please consider supporting our trusted, fact-checked journalism by taking out a digital subscription.