Soapbox
In this section, we look at a prominent tweet, Facebook or Instagram post from today
@Douglas4Moray: "Today we've announced plans for the biggest housebuilding drive since devolution. We have set more ambitious goals than the SNP but if we have a Scottish Parliament 100% focussed on rebuilding Scotland, our targets can be met. Let's build up, not break up Scotland."
Douglas Ross pledged to build 8,000 new houses for social tenants every year over the course of the next Parliament.
At 40,000 homes in total, the ambitious plans actually exceed the numbers called for by the Chartered Institute of Housing, Shelter and Crisis, which joined forces ahead of the election to demand 37,000 new social rent properties by 2026.
Caption This
Do you have a good caption for this absolutely non-menacing photo of Scottish Labour leader Anas Sarwar? Let us know in the comments.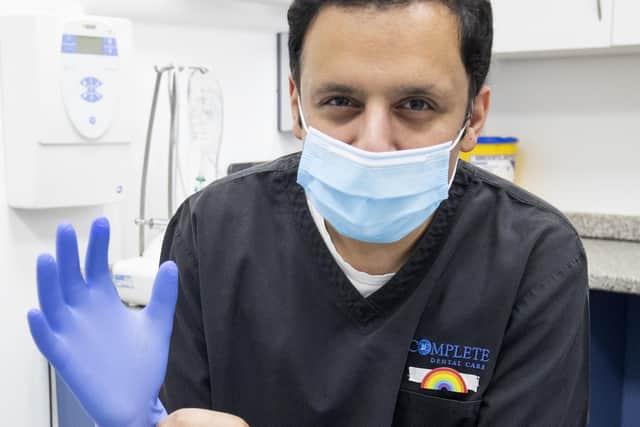 #FakeNews?
Is it fake news or not? We expose a political comment or claim to proper scrutiny
Labour's Anas Sarwar has accused the First Minister of rehashing her own unfulfilled policies as election pledges, after she vowed to establish three fast-track cancer diagnosis centres by the summer at a key campaign event.
Mr Sarwar's attack is not without merit. Late last year Ms Sturgeon's government said it would set up two of the very same cancer units by spring 2021. Neither have materialised.
Campaign Trail
We summarise key developments on the campaign trail from today
• At a coronavirus briefing on Tuesday, Ms Sturgeon admitted she has a terrible singing voice and cannot hold a tune. All the same, the First Minister was never likely to be heard crooning 'Haste Ye Back' to George Kerevan, Craig Berry and Irshad Ahmed after all three announced they had joined the growing list of SNP veterans ditching her party to join Alba.
•But Alex Salmond's party faces PR issues of its own. Alba was blindsided when Commonwealth Games boxing gold medallist Alex Arthur – unveiled as a candidate for the party on Monday – was accused of racism on Twitter. Mr Arthur told followers on the social media site that "I actually have Romanian friends" and apologised separately after a tweet from January emerged in which he claimed "over-fed" Romanian beggars in Edinburgh were "not hungry".
•Meanwhile, voters could be forgiven for any possible confusion over four new parties in Scottish politics – Renew, Reclaim, Reform and Restore.
While the Pro-EU Renew Party aims to win votes from political moderates, Reclaim is the new political outfit of actor and anti-woke crusader Laurence Fox.
On the other hand, Reform is pro-Brexit and anti-Scottish independence – but Restore Scotland is both pro-Brexit and pro-Scottish independence.
So, here is a handy guide for voters – only vote Restore if you want to reclaim Scotland – and likewise, do not vote Renew unless you want reform. Choose Reclaim if you back a Scottish renewal, and pick Reform if reclamation is your thing. All clear? Good.
Battleground
We look at a minority seat or constituency battleground each day. Today it is:
Winning party (2016): Scottish Conservatives
Something of a Frankenstein's constituency, Aberdeenshire West was born in 2011, when officials stitched together chunks of two abolished seats – West Aberdeenshire and Kincardine, and Gordon (famously Alex Salmond's old Holyrood stomping ground).
Although the region was long thought of as part of an "Orange Wall" of Lib Dem support, the newly-formed seat was snapped up by the SNP at the 2011 Scottish Parliament election.
Then in 2016, Alexander Burnett won the seat for the Scottish Tories.
The Eton-educated heir to the Barony of Kilduthie is sitting on a majority of just 900 votes and will need to see off a strong challenge from the SNP's former head of communications Fergus Mutch.
A message from the Editor:
Thank you for reading this article. We're more reliant on your support than ever as the shift in consumer habits brought about by coronavirus impacts our advertisers.
If you haven't already, please consider supporting our trusted, fact-checked journalism by taking out a digital subscription.