Soapbox
@theSNP: "Mental health is one of the most important public health issues facing us today and that is why, even before Covid, we have had made it a priority."
On Thursday the SNP unveiled its new pledge to raise spending on mental health treatment by a minimum of 25 per cent if re-elected.
The party will also promise voters a £10 billion programme on investment in NHS facilities and the establishment of a National Care Service.
In a speech, Nicola Sturgeon said the plans aimed to be both "practical" and unashamedly optimistic".
Caption This
Do you have a good caption for this photo of these Patrick Harvies at the launch of the Green Party's manifesto?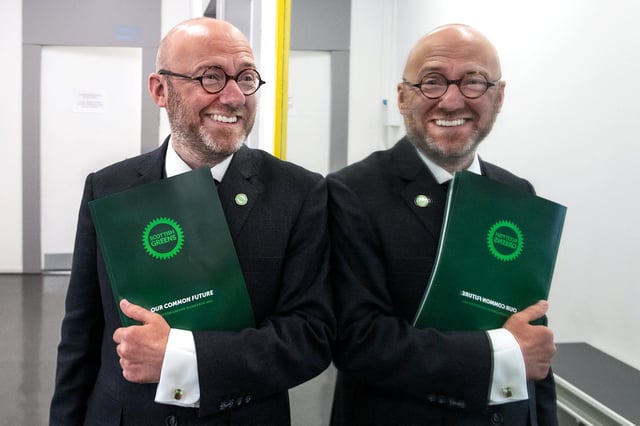 Scottish Greens co-leaders Patrick Harvie and Lorna Slater launched the Scottish Greens Scottish election manifesto during an election event held at SWG3 Studio Warehouse.
Let us know in the comments.
#FakeNews?
On Wednesday the Scottish Conservatives claimed the Scottish Greens' manifesto is "more obsessed about independence than climate change". But just two pages of the 96-page document are dedicated to the subject of independence. In fact, the party actually uses more space to discuss health reforms than constitutional issues.
Across the entire manifesto, the term "independence" is only mentioned on 11 occasions. The term "climate change" is referenced more than ten times as often.
By contrast, the Scottish Conservatives' manifesto mentions "independence" 39 separate times.
Campaign Trail
•During an in-person appearance on LBC's flagship radio show, Alex Salmond told Iain Dale that he wanted to "stay on the positives" during the campaign, accusing rivals of attacking his party because they had something to worry about. Mr Salmond appears to have changed tack since Wednesday, when he excoriated the current crop of MSPs, including dozens of ex-colleagues, as a "Parliament of numpties". Strong stuff.
•During the LBC interview, the former first minister also revealed that, prior to accepting a show on Kremlin-backed Russia Today, he had been offered one on ITV. Mr Salmond said he turned down the proposal because it was made on the condition that he "enter the jungle" on I'm A Celebrity...Get Me Out Of Here!.
•Meanwhile, a widely-touted speech by All For Unity's George Galloway failed to materialise on Thursday. Briefing the media ahead of the event, the party said Mr Galloway would meet voters and make a "barnstorming speech" from the historic New Lanark that would be streamed live across his social media accounts. Instead, the 66-year-old tweeted a photo of himself posing nonchalantly at the Unesco World Heritage Site, along with the caption: "Campaigning Huh?"
Battleground
•Second Place (2016): Scottish Conservatives
Originally a Labour seat at Holyrood, the party have long since trailed the SNP and their main contenders, the Scottish Conservatives, in Edinburgh Pentlands.
The constituency is locked in a battle of the Gordons, as current SNP MSP, Gordon MacDonald, defends his 2,500 vote majority from the Tories' Gordon Lindhurst.
Come polling day, Mr MacDonald's position may well be safe as things stand – but an increased vote share for Mr Lindhurst could be a sign of stronger results elsewhere for the Tories.
A message from the Editor:
Thank you for reading this article. We're more reliant on your support than ever as the shift in consumer habits brought about by coronavirus impacts our advertisers.
If you haven't already, please consider supporting our trusted, fact-checked journalism by taking out a digital subscription.