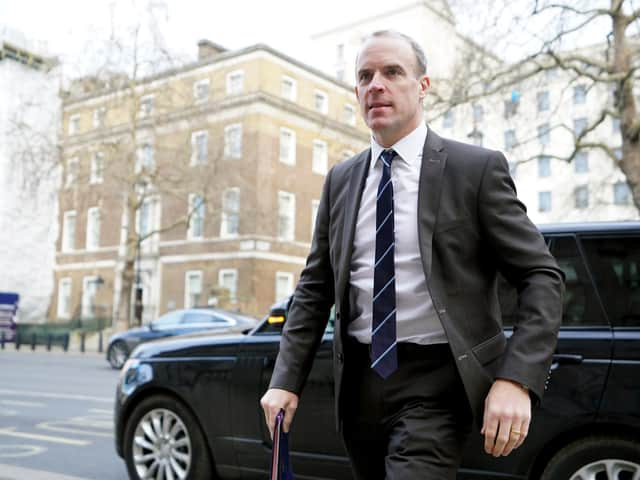 Rishi Sunak is being urged to reveal whether he knew of the numerous complaints before appointing him as Deputy Prime Minister.
Downing Street have only been able to rule out the Prime Minister being aware of "formal complaints" when confronted with claims he'd been told about concerns.
The issue came to a head at Prime Minister's Questions, where the Labour leader accused Mr Sunak of being "too weak" to act.
Sir Keir accused the Conservatives of having an "addiction to sleaze and scandal" as Downing Street also struggled with allegations surrounding Boris Johnson and Nadhim Zahawi.
The Labour leader claimed Mr Sunak ignored reports about the tax dispute involving the now-sacked Tory chairman and had done similar about Mr Raab's conduct.
Sir Keir highlighted reports suggesting "some of the complainants were physically sick, one says they were left suicidal".
He asked: "How would he feel if one of his friends or relatives was being forced to work for a bully simply because the man at the top was too weak to do anything about it?".
Mr Sunak answered: "When I was made aware of formal complaints I appointed a leading independent KC to conduct an investigation, because I take action when these things happen."
Sat next to the Prime Minister in the Commons, Mr Raab shook his head and muttered as the Labour leader questioned his appointment.
However, at a press briefing for journalists shortly after, No 10 failed to deny the Prime Minister had been made aware of "informal complaints".
His press secretary said: "The PM was not aware of any formal complaints at the time of appointing Dominic Raab.
"I don't know what your definition of informal complaints is. The PET (propriety and ethics team in the Cabinet Office) processes are very clear.
"The appointments and usual processes were followed and we were not aware of any formal complaints."
Mr Raab has always denied bullying but there are questions over why Mr Sunak appointed him despite the allegations being made in public beforehand.
The Prime Minister's press secretary said: "Obviously he does occasionally look at news websites but it's not something he does every morning with every newspaper, no."
Three permanent secretaries who led officials working under Mr Raab at the Foreign Office, Ministry of Justice and Brexit department are thought to have spoken to the inquiry into his behaviour.
Dave Penman, leader of the FDA union, which represents senior officials, said Mr Raab should be suspended to protect other members of staff while the investigation is conducted.
He said: "If that was any other employee, if that was a permanent secretary in the civil service, they would in all likelihood be suspended from their job while the investigation took place"
"That's not to pre-judge the investigation, that's to say if there are serious allegations of bullying and extensive allegations like this, that one of the considerations is how do you protect employees from that sort of behaviour? While it's being determined you would normally suspend someone, given the seriousness and extent of those accusations."
Senior Conservative MP Sir Bernard Jenkin backed Mr Sunak for not suspending Mr Raab while under investigation, saying he was "entitled to due process whatever the hullabaloo".
Sir Bernard said Mr Raab was a "demanding person to work with" but that officials should be prepared to work in very challenging situations.
"To an extent, if you're at the top of the Civil Service or working closely with ministers, if you can't stand the heat, get out of the kitchen – to an extent," he told BBC Radio 4's World At One.
His comments came a day after senior Tory Jacob Rees-Mogg warned people against being "too snowflakey" about bullying allegations as he defended Mr Raab.
The Liberal Democrats called on the Prime Minister to publish the advice given to him by the Cabinet Office when he appointed Mr Raab in October.
Deputy party leader Daisy Cooper said: "The public deserves to know the truth about what he knew and when, including the full disclosure of any advice given to him by the Cabinet Office."