Polling by Survation, commissioned by the strategic advisory firm True North, showed the SNP on 43 per cent of the vote in a Westminster election once undecideds were removed.
However, this rose to 45 per cent when voters were specifically asked to imagine the next election was a de facto referendum.
Meanwhile, the previous spike in support for independence registered in the aftermath of last year's Supreme Court judgment on a second referendum appears to have slumped.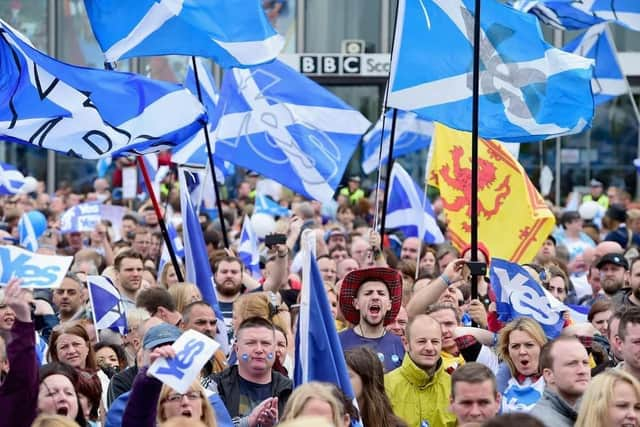 Survation found 46 per cent would vote Yes and 54 per cent No, once undecideds were removed.
Polling expert Professor Sir John Curtice, of the University of Strathclyde, said: "Following on from polling conducted shortly before Christmas that pointed in the same direction, today's poll suggests that the spike in support for independence registered after the Supreme Court judgement on indyref2 has proven to be temporary. At 46 per cent, support for Yes in today's poll is little different from the 47 per cent figure Survation obtained when they previously addressed the issue last August.
"Meanwhile, the poll suggests that, at 43 per cent, support for the SNP would be well below the 50 per cent mark that Nicola Sturgeon would like to surpass at the next general election – though it also suggests that, at present, fewer than half would vote for pro-independence parties in a Holyrood ballot too.
"However, there is no evidence in the poll that fighting the next election as a 'de facto' referendum would reduce the level of SNP support. Rather, slightly more voters (45 per cent) say that they would vote for the SNP in that circumstance. In truth, if the SNP are going to win over 50 per cent of the vote in either kind of election, the party will need first to persuade more people of the case for independence."
Ms Sturgeon announced plans to fight the next general election as a de facto referendum last year. The decision to push ahead with the proposal came after the Supreme Court ruled Holyrood does not have the power to legislate for another independence vote.
However, some within the SNP have raised concerns about the plans, and it is not clear how they would work in practice. The party is holding a special conference in March to debate the matter.
Survation polled 1,002 Scots above the age of 16 between January 10 and 12.
True North is run by former senior figures in the SNP. Fergus Mutch, a managing partner, was the party's head of communications and research in Holyrood until 2020. Geoff Aberdein, another managing partner, spent seven years as an adviser to former first minister Alex Salmond.
SNP depute leader Keith Brown said: "In less than two months the SNP will, following a fair and democratic process, set out its clear plan to respect and advance the right of the people of Scotland to choose our own future.
"Both Labour and the Tories are now hard Brexit parties – committed to keeping Scotland out of both the EU and the huge single market which means the economy and living standards are being hit hard."