The poll from The Scotsman/Savanta ComRes, the first in a new series ahead of next year's Scottish Parliament election, also suggests the SNP are on track for a commanding majority at the Holyrood poll in May next year and could win every constituency seat bar one.
The survey interviewed 1,013 Scottish adults aged 16 or over online between the dates of December 11 and 15.
The most striking feature is a return to record high levels of support for independence after polls began to settle at lower numbers following the record high of 58 per cent recorded in a separate survey in October.
With don't knows excluded, 58 per cent of voters intend to vote Yes with 42 per cent voting No. This drops to 52 per cent and 38 per cent when don't knows are included.
The poll also states 40 per cent of voters believe a second independence referendum should happen within the next two years, with 15 per cent saying five years should pass and 6 per cent calling for a decade's wait before another poll.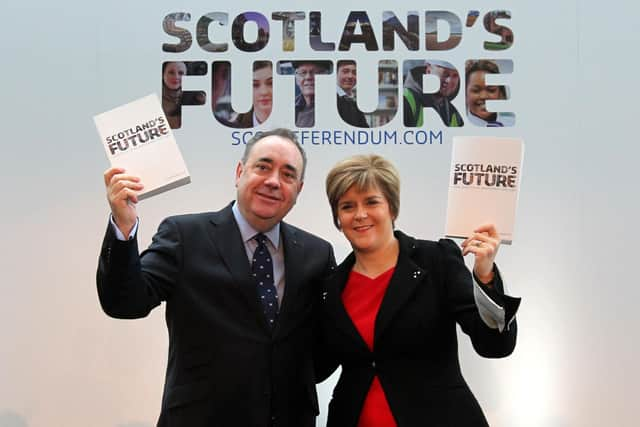 Just 12 per cent of voters believe a referendum should be held in more than ten years, with 16 per cent stating no referendum should take place at all.
Independence is also just sixth on the list of most important priorities for Scottish voters, with the economy top, Brexit second, followed by health issues, jobs, and education.
The support for independence is reflected in the Holyrood voting intention numbers, with the SNP set to bring home a majority with more than twice the number of voters intending to back Nicola Sturgeon's party.
In total, 55 per cent of Scottish voters are planning to back the party in their constituency, with 42 per cent backing the incumbents in the regional list vote.
The unionist vote is also split relatively equally between the Scottish Conservatives and Scottish Labour, with the parties due to see 20 and 16 per cent support in the constituency vote.
The numbers are almost identical in the list vote, with 20 per cent again backing Douglas Ross's party and 17 per cent backing Richard Leonard's party.
In their strongest showing since a YouGov poll in March 2017, the Scottish Greens are commanding the support of 12 per cent of Scottish voters in the regional list vote.
The Scottish Liberal Democrats are stable at six and seven points for the constituency and regional list vote respectively.
Projections suggest results on these lines would see the SNP return 71 MSPs, with the Scottish Conservatives down eight seats on 23 MSPs and Scottish Labour down five seats on 19 MSPs.
The Scottish Greens would see their representation almost double from six to 11 MSPs, with the Scottish Liberal Democrats staying with five MSPs.
Such a result would also see an overwhelming majority in favour of independence elected to the Scottish Parliament.
Chris Hopkins, associate director at Savanta ComRes, said: "I think the voting intentions are obviously the most striking parts of this poll, with the SNP on course for an unprecedented second majority government in Holyrood under a system designed to limit such executive power.
"With the SNP's likely hegemony in Scotland showing very little sign of abating, all evidence points at this stage towards Scotland voting Yes if they were granted another independence referendum and, on this evidence, it may not be that close."
The SNP is also viewed as the most trustworthy party on several key issues, including traditionally strong Conservative areas such as the economy, jobs and education.
More than twice the number of voters believe the SNP are the right party to improve healthcare, education and the economy in Scotland instead of the Conservatives or Labour.
The Scottish Conservatives are also the least trusted to keep their promises, with more than half of voters saying 'keeps their promises' does not apply to the unionists.
It paints a picture of an uphill battle for the opposition in Scotland ahead of attempting to unseat Ms Sturgeon and the SNP.
This is further shown by the fact that despite the impact of Covid-19 and controversy around whether restrictions are sufficient or too strict to effectively tackle the virus, the First Minister is still viewed the most favourably by voters.
Ms Sturgeon's net approval ratings are by far the highest among Scottish leaders at 28 per cent net favourability, with the Scottish Government also seeing strong support at 17 per cent.
However, Mr Ross, the new leader of the Scottish Conservatives, is at -9 per cent, with Mr Leonard as Scottish Labour leader the worst from the main parties at -18 per cent.
Both leaders are also struggling to cut through to the public, with almost one in three voters responding 'don't know' when asked to what extent they felt favourably or unfavourably about the respective party heads.
The impact of Boris Johnson's personality and leadership of the UK Conservatives is also likely to impact the popularity of the party's Scottish, with the Prime Minister's approval languishing at -44 per cent.
In total, his approval ratings are 72 points below those of Ms Sturgeon.
Labour leader Sir Keir Starmer's favourability is higher than his Scottish counterpart, with the poll indicating a net favourability of just under 1 per cent.
Mr Hopkins said this could be viewed as a ray of hope for an otherwise struggling Scottish Labour party.
He said: "Despite trailing to the Conservatives in both Holyrood voting intentions, there do appear to be some positives for Labour in this poll. It seems Scots trust Labour to understand the issues, but feel they're lacking leadership, good policies and still seem more divided than the Conservatives.
"Keir Starmer's reasonable favourability [compared to Leonard, Ross and Johnson] is going to need to be harnessed quickly for Labour to take advantage."
A message from the Editor:
Thank you for reading this article. We're more reliant on your support than ever as the shift in consumer habits brought about by coronavirus impacts our advertisers.
If you haven't already, please consider supporting our trusted, fact-checked journalism by taking out a digital subscription.