Poll: Scotland's problem is with London, not Britain, says former Labour prime minister Gordon Brown
The UK's last Labour prime minister's think-tank is hosting a rally on Thursday.
Scotland's constitutional distress is due to London and more specifically Whitehall and Westminster rather than the United Kingdom as an entity, former Labour prime minister Gordon Brown has claimed.
Mr Brown, who has masterminded Labour leader Sir Keir Starmer's plans for constitutional reform should the party win the next general election, will argue for constitutional change in both Scotland the UK at an event in Edinburgh on Thursday.
Writing exclusively in The Scotsman, the former prime minister pointed at polling which showed two-thirds of Scots felt they did not hold "common bonds" with Londoners, but did with northern parts of England.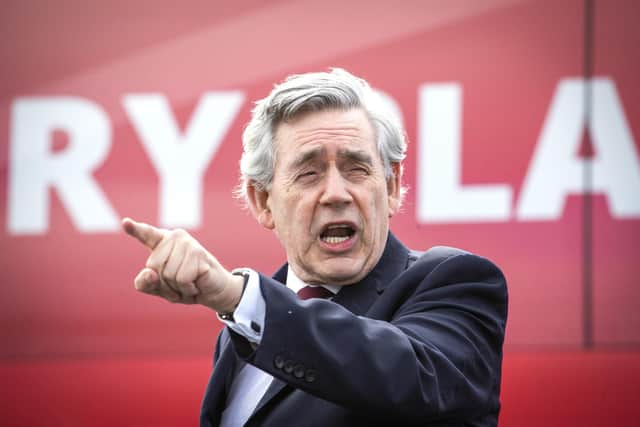 The FocalData poll, undertaken by Mr Brown's think-tank Our Scottish Future, surveyed 1,011 people and was carried out between May 9 and 15. Only 17 per cent of Scots said they felt "common bonds" with Londoners, compared to 65 per cent who said they did not, it found.
This pulled down the figure for "English people in general" – with 33 per cent saying they had a common bond, against 52 per cent who said they did not.
On the same question, Scots said 'yes' by large margins when it came to Geordies (58 per cent), the Welsh (57 per cent) and Liverpudlians (46 per cent).
It comes ahead of an event later this week that will include Welsh First Minister Mark Drakeford, Greater Manchester mayor Andy Burnham and Scottish Labour leader Anas Sarwar.
In a piece for this newspaper, Mr Brown said the figures in the polling demonstrated the strength of the "similar values" held across the UK, and said the picture painted by the SNP of a more liberal Scotland versus a conservative England was "out of tune with the times".
Pointing at the polling around London in particular, Mr Brown said: "Scotland's problem isn't with the vast majority of the English people. The problem is with London, more accurately with the over-concentration of power in Whitehall and Westminster.
"We desperately need the new modern institutions, reflective of the values we hold, which ensure power is shared across Britain, not handed down from on high. We need Westminster and Whitehall to show more respect to people who, as another survey shows, feel neglected, forgotten, ignored, and patronised as second-class citizens."
Mr Brown's plans for the future constitutional arrangements of the UK were unveiled at the end of last year and included proposals such as replacing the House of Lords with a senate of nations and regions – plans Labour said they would consult on.
The commission also recommended further decentralisation of powers and, as debates rage over Holyrood's deposit return scheme and gender reform Bill, the former prime minister said he believed "unity does not require uniformity".
He said: "Most of us too now want to see a new Britain emerging that understands that unity does not require uniformity, and that sees diversity not as a threat, but as a multinational state's USP.
"For years Scotland has been demanding change, but the SNP have suggested that independence is the only 'change' game in town. Now there is another route to change that is an alternative to the SNP's policy of total separation."
The SNP's deputy leader, Keith Brown, attacked Labour and said independence would leave Scotland as a "partnership of equals" with the rest of the UK rather than "suffering from ever-tightening Westminster control".
He said: "Scotland was ignored by Westminster when we were forced out of the EU. And Keir Starmer and Gordon Brown's Labour Party are as determined as the Tories to impose a hard Brexit on Scotland, which means lower living standards and higher food prices.
"Independent European countries that are like Scotland are both fairer and wealthier than the UK. So with all our talent and resources, why not Scotland?
"Keir Starmer has done absolutely nothing to protect Scotland from the Tories, but with independence we can get rid of Tory governments Scotland doesn't vote for, for good."
Want to hear more from The Scotsman's politics team? Check out the latest episode of our political podcast, The Steamie.
Comments
 0 comments
Want to join the conversation? Please or to comment on this article.