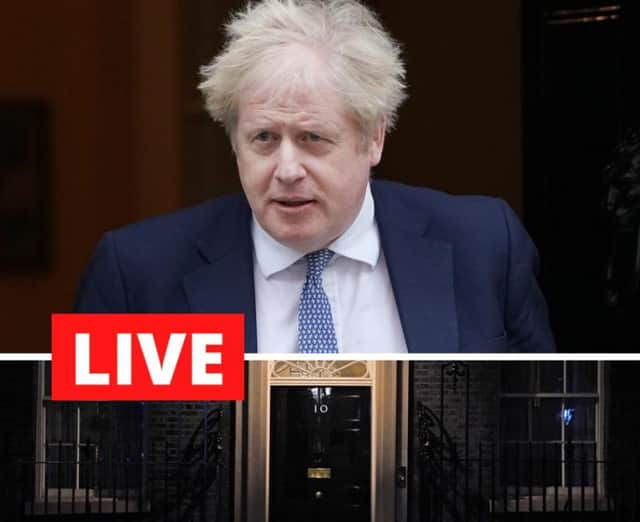 Boris Johnson's administration was plunged into further turmoil after four of his closest aides resigned
In a torrid day for the PM, his chief of staff, principal private secretary, director of communications and policy chief quit Downing Street within hours of one another.
Munira Mirza, the former director of the No 10 policy unit and one of Mr Johnson's most loyal and longstanding advisers, walked out after attacking the Prime Minister's use of a "scurrilous" Jimmy Savile smear against Labour leader Sir Keir Starmer.
There also appeared to be division within the Treasury over the Savile comments as Chancellor Rishi Sunak admitted he would not have used the jibe, while one of his ministers later defended Mr Johnson suggesting it was a "perfectly reasonable remark".
Meanwhile, Northern Ireland First Minister Paul Givan has announced his resignation from Stormont's powersharing Executive.
The move by the Lagan Valley MLA is part of the DUP's escalating protest strategy against Brexit's Northern Ireland Protocol.
Politics LIVE: Pressure mounts on Boris Johnson after mass Downing Street resignations
Show new updates
Communities Secretary Michael Gove has backed Boris Johnson to carry on in Downing Street following the resignations of a series of key aides.
Speaking to reporters during a visit to Sunderland, Mr Gove said: "I believe that the best thing for the country is for the Prime Minister to continue. I think he is doing a great job.
"Ultimately what happens in Westminster will interest those who are watchers of politics, but what really matters in a week's or in a month's or in a year's time is are we bringing investment, jobs, and a brighter future for the people of Sunderland?
"That's what I'm here to do in partnership with all the political parties in Sunderland."
Boris Johnson has rallied Downing Street staff following the departure of four senior aides, telling them "change is good", his official spokesman said.
The spokesman confirmed that the Prime Minister used the line from Disney's The Lion King when he addressed staff in the Cabinet Room on Friday.
"He reflected on the privilege of working in No 10 in order to deliver for the British people and reiterated his and No 10's commitment to serving the public by keeping people safe, improving lives and spreading opportunity," the spokesman said.
"As he reiterated to the team today, there is an important job to do, the public expects us to be focused on it, whether it is the situation in Ukraine, recovering from the pandemic or, as the Chancellor was setting out yesterday, on issues such as cost of living."
Downing Street faces another tough period following the resignation of several of Boris Johnson's closest aides, a Conservative MSP has said.
However Craig Hoy also claimed the string of exits shows things are going to change in Number 10.
Four close aides to the Prime Minister quit within hours of one another on Thursday, leaving him without key members of his inner circle.
One of them was Mr Johnson's longstanding adviser Munira Mirza, director of the Number 10 policy unit, who said the PM had "let himself down" with his "scurrilous" comment about Jimmy Savile to Labour leader Sir Keir Starmer.
Mr Hoy told BBC Radio Scotland's Good Morning Scotland programme on Friday: "I think it's going to be another tough period for Downing Street and for the Prime Minister.
"I recognise that this doesn't look good.
"It does show that things are going to change in Downing Street, that people are leaving.
"But I think that is putting perhaps a positive spin on the situation."
DUP Sir Jeffrey Donaldson has said it would be difficult for his party to form a new Stormont Executive after the Assembly election if issues related to the Northern Ireland Protocol are not resolved.
He told BBC Radio Ulster: "I've withdrawn the First Minister on the basis that the protocol issues have not been addressed despite clear commitments and promises given by the Prime Minister that they would be addressed, and clearly if the protocol issues are not resolved by the time of the election then, of course, it is difficult for us to form a government because of the instability that the protocol creates.
Will we see a no confidence vote?
The timing of the resignations after Ms Mirza's damaging departure prompted suggestions the announcement had been brought forward, with others stating pressure was mounting.
The departures piled fresh pressure on the Prime Minister as he battles to remain in charge, with 13 Conservative MPs publicly calling for his resignation over partygate.
More are believed to have done so privately but the number of letters to the chair of the 1922 Committee of backbench Tories has not yet hit the 54 required to trigger a no-confidence vote.
A Government minister has refused to say whether Boris Johnson was right to accuse Sir Keir Starmer of failing to prosecute Jimmy Savile for child sexual abuse.
No 10 policy chief Munira Mirza denounced the Prime Minister's "scurrilous" claims when she quit on Thursday, while Chancellor Rishi Sunak said he would not have made those remarks.
Asked on BBC Radio 4's Today programme whether he would have made the comments, energy minister Greg Hands said: "It is not my job to opine on these things. I am the energy minister.
"These are very serious matters in terms of child sexual abuse and what happened through the course of the Jimmy Savile events and the inquiry and so on.
"My job is the energy minister, that is a big job. In politics you don't have to have an opinion on everything."
Energy Minister Greg Hands has said the departure of No 10 policy chief Munira Mirza was different from the other resignations on Thursday.
In her letter of resignation, Ms Mirza criticised Mr Johnson's "scurrilous" attack on Sir Keir Starmer over his supposed failure when he was director of public prosecutions to charge Jimmy Savile.
Mr Hands told Sky News: "The resignation of Munira Mirza is a little bit different. She made clear her reasons for her resignation. The Prime Minister was equally clear that he disagreed with her.
"The Prime Minister was also clear on Wednesday that he was referring back to the public apology made by Sir Keir Stamer in 2013.
"These are all events that happened many, many years ago. The time is now to move on."
Tory MP Huw Merriman said Boris Johnson needed to improve or leave Downing Street for good.
In what appeared to be a slightly mixed-up warning to the Prime Minister, he said: "I'm deeply troubled by what's going on.
"We all know that if the Prime Minister doesn't ship up, then they have to shape out [sic], and that's exactly what happened when this Prime Minister took over.
"We know how it works. I'm sure the Prime Minister will be focused now on getting on with the job in hand, focusing on policy and regaining the public's trust."
The Daily Mail suggested the sudden exits of Mr Reynolds and Mr Rosenfield were part of a shake-up that had been planned for next week, but which were accelerated in the wake of Ms Mirza's exit.
The high-profile departures pile fresh pressure on the Prime Minister as he battles to remain in charge, with 13 Conservative MPs having publicly called for his resignation over the way he has handled the partying claims.
Good morning and welcome to our live blog covering all the major events from UK politics as they happen.
Boris Johnson's administration was plunged into further turmoil yesterday after four of his closest aides resigned, leaving the Prime Minister without key members of his inner circle.