Police Scotland is an institutionally racist and discriminatory organisation, the Chief Constable of the national police service has said, in a watershed moment for policing in the UK.
Sir Iain Livingstone told a Scottish Police Authority (SPA) meeting on Thursday that people from different backgrounds don't always get the service they deserve due to "deep-rooted barriers" and "institutional discrimination". He said admitting as much was the "right thing to do" and would serve as a "catalyst" for change.
It is the first statement of its kind from a police force in the UK. Sir Iain's comments came as the public inquiry into Sheku Bayoh, who died in police custody, continues to examine the circumstances of his death, the subsequent investigation and whether race was a factor.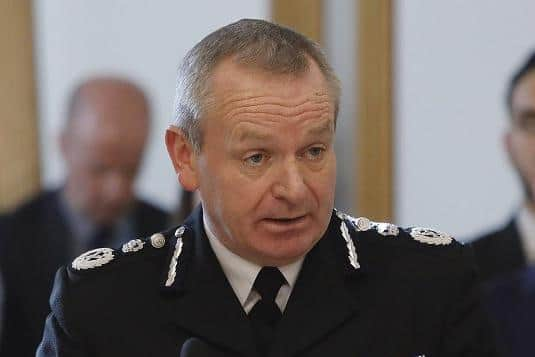 However, the former general secretary of the Scottish Police Federation (SPF), Calum Steele, attacked the chief constable's statement, accusing Sir Iain of failing to take personal responsibility for the culture of the police force.
Mr Steele warned officers would see the words of Sir Iain "thrown in their face" for the rest of the career, adding the "smell of institutional failure will haunt the police service for a generation".
The statement from the chief constable also follows the conclusions of a recent review, which found first-hand accounts of racism, sexism and homophobia by serving officers.
The admission also raises questions about what the chief constable did to mitigate or change the culture of Police Scotland during his time in charge, and will increase the pressure on his successor in the role.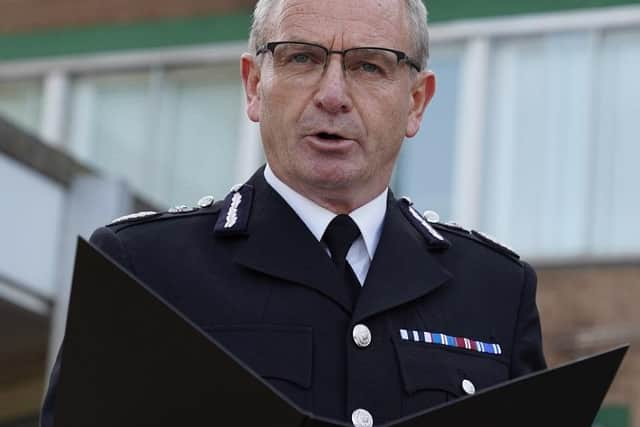 Sir Iain will step down from the role at the top of the country's police force on August 10 after five years in the position and despite being contracted to 2025.
He told the SPA meeting: "It is the right thing for me to do, as Chief Constable, to clearly state that institutional racism, sexism, misogyny and discrimination exist. Police Scotland is institutionally racist and discriminatory.
"Publicly acknowledging that these institutional issues exist in our organisations is essential to our absolute commitment to championing equality and becoming an anti-racist service.
"We know, I know, that people from different backgrounds or with different requirements don't always get the service that is their right. We know that for the same reasons our own officers and staff don't always have the experiences they deserve."
He added: "When an organisation doesn't have all the necessary policies, processes, practises and systems in place to ensure that doesn't happen, it is an institutional matter.
"A candid, clear assessment of institutional discrimination means recognising our absolute duty to provide just and effective policing for all, according to their specific needs and circumstances. It also requires identifying and removing the deep-rooted barriers to achieving this.
"Recognising institutional discrimination, institutional racism in my view is a statement of reality. The real challenge, the real test, is how are we working to address it."
Sir Iain expressed pride and confidence in police officers and Police Scotland as a whole despite his statement, saying this did not mean individual officers were racist or sexist.
Instead he said he wanted the admission to serve as a "catalyst to drive and embed progress" and that the success of Police Scotland would be measured by the experiences of officers, staff, and the public.
"Understanding and recognising institutional racism and all forms of institutional discrimination within Police Scotland can, and should be, in fact a source of confidence and optimism for officers and staff, for our organisation that collectively we can lead necessary change in our service, in policing, and indeed contribute to change across society," he said.
"Our progress, our commitment, I think should act as a challenge to other services, other agencies, organisations and institutions, whether in business, academia, political parties, media outlets, bodies across the public, private and third sectors, to look to themselves rigorously and honestly, as we have done, and join and support the mission to eradicate discrimination.
"Scotland as a whole must commit ourselves to that purpose. The police service of Scotland is committed to that purpose, so that we can ensure that our police service, your police service, and all our institutions are, together with the people of Scotland, committed to building fairness, equality, and justice."
However, the statement was viewed with disdain by Mr Steele, who lambasted it as an act of "extreme sabotage" and an admission of "failure of leadership".
He said: "The impact will devastate the gossamer-thin remnants of any morale in the police service and the smell of institutional failure will haunt the police service for a generation. The nuance applied by the chief constable that officers are overwhelmingly not racist, misogynistic, homophobic etc. will be quickly forgotten and ignored, and the wider taint will stick."
Mr Steele said many within the police had raised concerns about culture of some senior officers, most of which were ignored or not acted on. He said: "It is telling that there is absolutely no personal acceptance by the chief constable, a man who has incidentally held one of the top two jobs in Police Scotland for over a decade, that he or his wider leadership team are responsible for the institutional failings he now reports.
"His deputies have all been in high-profile positions in Scotland and the Metropolitan Police over the past decade – is he really expecting us to believe they hold no culpability?
"Policing in Scotland was already on its knees. Today it has been kicked into the gutter."
A spokesperson for the SPF said the representative body would work with senior officers to work to eliminate discriminatory processes "if" they exist.
They said: "SPF has heard the chief constable's statement and the rationale for making it. If there are processes, policies, attitudes or behaviours which amount to discrimination in relation to racism, sexism or misogyny, then we will work with the service to eradicate them."
Leadership within the police service was also criticised in a board paper compiled by deputy chief constable Fiona Taylor, who leads on professional standards at Police Scotland.
She said culture change within the organisation could not come about "solely through a communication campaign" and demanded a crackdown on so-called "canteen culture".
The papers state: "Policing is relentless and often puts our officers and staff in difficult and demanding situations; many will use humour, banter and 'canteen culture' as a way of coping with these stresses.
"However, when analysing grievances, exit interviews and survey/consultation feedback, it is clear issues persist. In order to rid itself of what has been described as 'canteen culture', people entrusted with positions of leadership must lead the desired culture change."
A mandatory training programme, Your Leadership Matters, is to be rolled out to 5,000 police sergeants, inspectors and police staff in coming months in a bid to improve workplace culture at Police Scotland, she said.
Speaking during First Minister's Questions at Holyrood, Humza Yousaf said: "There is no doubt that institutional racism exists in our society, and I want to take a moment just to say, as a person of colour, the statement from the chief constable is monumental, historic.
"I remember raising issues around racism in the police force, Strathclyde Police as it was back then, when I was stopped and searched over a dozen times as young boy, whether it was in my car, walking with my friends in the streets, in airports. So the acknowledgement from the chief constable is very welcome indeed."
Mr Yousaf stressed Sir Iain's comments were not an "inference on individual police officers, who we know put themselves in harm's way to protect us day in and day out".
The First Minister said acknowledging the problems of institutional racism and institutional misogyny within the force was the "first step that is required in order to then dismantle those institutional and structural barriers that exist". He said he was "committed to working with Police Scotland" on those issues.
Scottish Conservative leader Douglas Ross, whose wife is a serving police officer, called for urgent action to "overhaul how Police Scotland handles legitimate complaints from within the force".
Claiming the system was "not fit for purpose", Mr Ross said: "Nobody should feel fear when raising concerns. That's clearly unacceptable. Officers should be able to raise legitimate issues without suffering any consequences."
Scottish Labour justice spokesperson Pauline McNeill said the admission from Sir Iain was "stark", adding it "shows how much work still needs to be done to combat prejudice within our police force".
Maggie Chapman, the Scottish Green justice spokesperson, said the intervention was "important and unprecedented". She said there was "no place for racism, sexism, homophobia or any other form of prejudice" in the police force.
Former police officer and Liberal Democrat deputy leader, Wendy Chamberlain, said there were "profound problems" in Scottish police. She said: "Making these changes requires difficult reflections and responsible leadership, but that is vital if the service is to win the trust of staff and the wider public."