Police Scotland launches investigation into racist abuse and threats aimed at Humza Yousaf
Calls for review of content on UK video sharing platform after Scotsman investigation
Police are looking into a slew of extremist abuse aimed at Humza Yousaf after an investigation by The Scotsman into attacks against the First Minister on a UK video-sharing platform described as a hotbed for racist and conspiratorial propaganda.
Those targeting Mr Yousaf with abuse include a notorious US-based white nationalist broadcaster, who has called on Scotland's first Muslim leader to "go back" to Pakistan and accused him of trying to "infiltrate and destroy white Scottish culture and heritage".
Mr Yousaf told The Scotsman he expected "swift action" to remove the "vile" and "Islamophobic" content from the BitChute platform, and stressed such abuse and threats "will never stop me from doing the job I love".
Police Scotland are investigating the content after receiving a complaint from Mr Yousaf's office. Tech Against Terrorism, an organisation set up by the United Nations Counter Terrorism Executive Directorate to tackle online terrorist and extremist activity, and which counts BitChute among its members, told The Scotsman it had flagged the material in question to BitChute and recommended it undertake a "pro-active review of similar material relating to the First Minister on the platform".
The site, which has been widely criticised for hosting racist and anti-Semitic content, has seen an upsurge in videos attacking the First Minister and spreading disinformation concerning his victory in the SNP leadership election, with some of the platform's users making death threats against Muslims underneath videos criticising Mr Yousaf.
The content targeting the First Minister with abuse includes several videos featuring Lana Lokteff, a prominent white nationalist broadcaster in the US who runs Red Ice TV alongside her husband, Henrik Palmgren, a Swedish national. One expert in online extremist activity said Red Ice regularly hosts white supremacist and racist content, and was often cited by far-right ideologues as "the platform that furthered their radicalisation".
In one video, Lokteff said Mr Yousaf should stop wearing "a white man's suit" and "go back to Muslim Pakistan". Another video, filmed during the SNP leadership contest, saw her warn: "If cucked Scots vote for this traitor, well then, they deserve what's coming."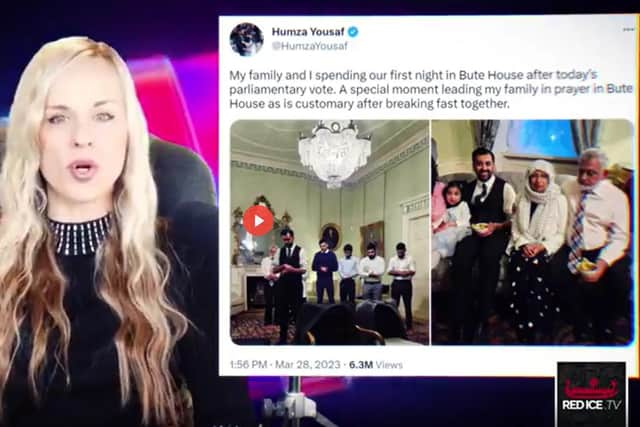 BitChute is based in the UK, and is subject to regulation by Ofcom. The watchdog's framework requires video-sharing platforms (VSPs) to protect the public from harmful material, including that which publicly incites violence or hatred directed against individuals or groups on account of their race, religion or ethnic origin.
However, several videos on the site concerning Mr Yousaf have drawn comments from users which explicitly call for or imply racially-motivated violence. One BitChute user wrote in a message below one such video: "**** Muslims. It time to kill all Muslims and send to hell."
Another video attracted a comment stating "Scotland's government (along with all Western governments) hate white people. The time for protest is over. You KNOW what has to be done." Both comments were removed after The Scotsman contacted BitChute, with the former video later removed altogether.
Dr Anna Meier, assistant professor of politics and international relations at the University of Nottingham, who specialises in the study of white supremacism and counter-terrorism policy, said it was predictable that Mr Yousaf was being targeted by far right actors, explaining such attacks were part of efforts to establish a "global threat" to an "idealised version of whiteness".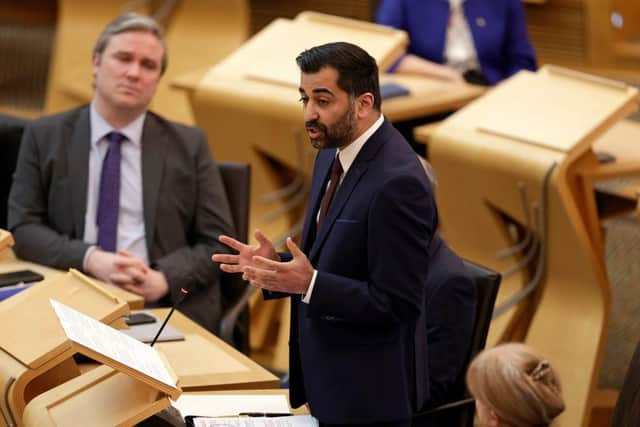 In one Red Ice video uploaded to BitChute – an excerpt from a programme hosted by Lokteff known as Western Warrior – she introduces Mr Yousaf to her viewers as "the lefty, Scottish hating Pakistani Muslim", and someone who "really hates" white Scottish men.
She goes on to add: "Scotland should be 100 per cent white, yet back home in his country, Pakistan, it's all Pakis running everything. If he hates white men so much, he's free to stop malarking in a white man's suit and go back to Muslim Pakistan. But he doesn't. His agenda is to infiltrate and destroy white Scottish culture and heritage."
The same video later shows a photograph of Mr Yousaf and his family in Bute House taken soon after he became First Minister. Lokteff describes them as "enjoying the fruits of a white society".
In another video uploaded by Red Ice's BitChute channel in March, Lokteff describes Mr Yousaf's policy agenda as "anti-whiteness" and "global homo". At one point, she states: "If cucked Scots vote for this traitor, well, they deserve what's coming."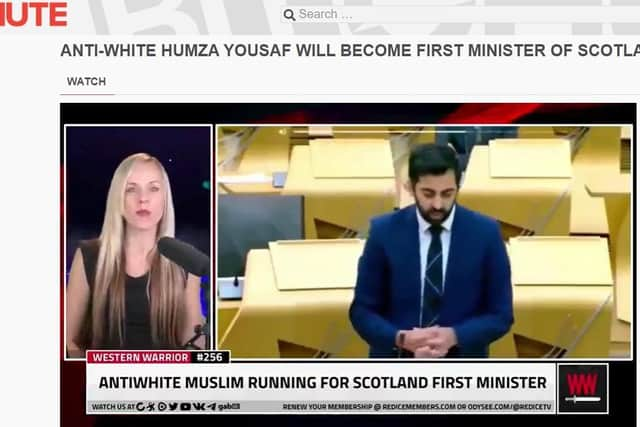 Until Friday, neither video required users to log in to view them on BitChute, or displayed warnings about their graphic content. Yesterday, a notice appeared stating they were now unavailable, and contained "incitement to hatred".
Red Ice's channel on BitChute, which has upwards of 51,000 subscribers, has been allowed to post more than 880 videos to the site. Cumulatively, they have attracted close to 5.6 million views, according to BitChute's own statistics.
Mr Yousaf said: "Unfortunately, the sad reality is that I am not shocked by these vile, racist and Islamophobic videos. Being the recipient of online abuse has become a regular feature of my life in public service. That doesn't mean we should simply accept it. It is important that we do everything we can to stamp it out. UK-based companies have a duty to protect the public from harmful content and I would expect to see swift action to remove posts like these.
"But I am absolutely clear that abuse and threats like this will never stop me from doing the job I love, or from speaking out for what I believe to be right. I know that the overwhelming majority of people in Scotland want to live in a country where all minority groups are not just protected, but accepted for who they are – and as First Minister I'm determined to use the office to help build a country where all of our citizens live a life free from hatred."
According to the Southern Poverty Law Centre, a US-based advocacy and civil rights group known for its legal cases against white supremacist groups, Red Ice was initially focused on the paranormal and conspiracy theories, but had been transformed under Lokteff and Palmgren into a "white nationalist propaganda outfit" that explores white nationalism, anti-Semitism, Holocaust denial and promotes "the myth of white genocide".
The monitoring group, Right Wing Watch, has described Lokteff as an "unabashed ethno-nationalist" and an advocate for immigration policies that would enforce a white supermajority in the US.
Morgan Moon, an investigative researcher for the New York-based Anti-Defamation League's Centre on Extremism, which monitors, exposes, and disrupts extremist activity, told The Scotsman that Red Ice "regularly hosts white supremacist, racist, anti-Semitic, and other far-right content, including Holocaust denial, content related to the Great Replacement conspiracy theory, and sympathetic coverage of white supremacist groups". She added the site was "often cited by far-right ideologues as the platform that furthered their radicalisation".
Dr Meier said Lokteff and Palmgren viewed themselves as "evangelists for and protectors of an extreme version of European whiteness", explaining: "It's extremely racist, Islamophobic, and queer/transphobic. They cover European countries regularly, if cursorily and randomly. Recently, they did a segment on Belgium and postcolonial narratives, for example.
"Going after Mr Yousaf when he became First Minister was therefore predictable. Aside from locating their idealised version of whiteness in Europe, they're trying to construct a global threat to that whiteness for a US audience, so any non-US story helps them do that. It especially helps them present Europe as a foil for the US."
Red Ice has been banned by several leading social media platforms in recent years after its content flouted various policies and guidelines. In 2019, Facebook barred its main page, as well as the page of Lokteff, after ruling the firm had violated its policy against "organised hate".
The same year, YouTube demonetised Red Ice's account, before removing its primary channel altogether as part of efforts to combat hate speech that violate its terms of service. At the time, it had over 333,000 subscribers.
However, BitChute is just one of a number of alternative sites where Red Ice's content remains widely shared. According to Ms Moon, Lokteff's firm is "particularly active" on Telegram, the encrypted instant messaging service, where it has posted over 6,500 messages. It also features on lesser known online platforms such as VK, Rumble and Gab.
Red Ice also remains active on Twitter, which has come under increasing criticism for the proliferation of disinformation and hate speech under Elon Musk's ownership. Red Ice's main account, which features a verified blue check mark, has upwards of 57,000 followers. Lokteff's profile, which is also verified, has more than 72,000 followers. She has repeatedly tweeted about Mr Yousaf, once describing him as someone who "enjoys trying to ruin a European country his ancestors did not build".
According to BitChute's own community guidelines, content prohibited on its platform includes material likely to incite hatred against a group of persons or a member of a group of persons based on their race, colour, ethnic or social origin or religion, as defined in the UK Communications Act 2003.
BitChute says that to identify material covered by the prohibition, it assesses whether it "qualifies for an exemption" under various categories, including press freedom, political discourse, and satire. "If the material does not qualify for an exemption, then we will take appropriate enforcement action," the site's guidance adds.
In October last year, Ofcom said that since VSP regulation had started, BitChute had "engaged constructively" with it, and improved measures, such as increasing the number of moderators it employs. But it pointed out "the nature of BitChute's platform raises the risk that users may seek to use it to upload videos containing harmful content".
However, it noted that under the regulatory regime, there was no requirement for platforms to "pro-actively remove or monitor content", meaning "the mere existence of harmful content on the platform would not mean that BitChute is failing to comply" with the regulations.
Dr Meier said the issue of whether Ofcom's regulatory framework was fit for purpose was the "wrong question" to focus on, and insisted "no regulatory framework is or is going to be".
She explained: "When it comes to the far right, the law is always going to be used partially and instrumentally. I'm far more interested in how we change transnational conversations, and domestic social structures, so as to make white supremacy unthinkable."
In a statement, Tech Against Terrorism said: "As part of our aim to tackle the terrorist use of the internet, we work with more than 100 platforms to remove thousands of unique pieces of terrorist content per month. We have flagged the material raised by The Scotsman to BitChute and recommended a pro-active review of similar material relating to the First Minister on the platform.
"We have a zero-tolerance approach to any platform that fails to uphold the law and their terms of service. We will not hesitate to suspend platforms from our membership programme who consistently fail to meet content moderation standards and regulations regarding online terrorist content."
An Ofcom spokesman said: "Under current laws, VSPs established in the UK are expected to take appropriate action where they are aware of content that violates their terms and conditions. The current requirements apply only to video content, and not to text comments or images attached to them – although these will likely be captured under the UK's future online safety regime.
"Unlike in our broadcasting work, our role is not to assess individual videos. Ofcom's job is to make sure platforms are taking effective action to address harmful content through implementing strong systems and processes, and we take compliance very seriously.
"We keep a close eye on emerging issues as well as a range of other information when considering compliance, and our monitoring teams are aware of these posts. We regularly discuss ongoing and emerging issues with services in our jurisdiction as part of our approach to supervising these platforms."
Ray Vahey, the founder and CEO of BitChute, said: "We are committed to regulatory compliance and urge organisations to report any potentially guideline-violating content directly. In addition, while we value the insights of the experts you've mentioned, it's crucial to also consider other viewpoints such as scholars like Nadine Strossen, who advocate for countering hate in our society by encouraging more speech instead of resorting to censorship."
A Police Scotland spokesman said: "We are aware of offensive material posted online and enquiries are being carried out."