PMQs: Rishi Sunak makes motor home quip during PMQs amid investigation into SNP's finances
Rishi Sunak faced tough questions on crime at Prime Minister's Questions on Wednesday, something he tried and failed to turn back on Sir Keir Starmer.
After time off for recess, the Prime Minister was fortunate that Speaker Lindsay Hoyle's office wrote to MPs warning them they cannot refer to live commissioner cases to avoid interfering with the process.
This meant Parliament's standards commissioner investigating his wife's shares in childcare firm Koru Kids was off the table, with MPs instead focusing on crime.
It came as the SNP leader Stephen Flynn was met with waves of heckles following the reported seizure of a campervan bought with SNP funds.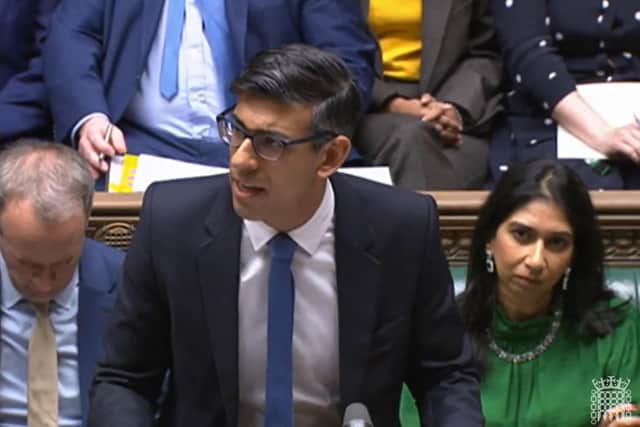 The Prime Minister was grilled on public services and crime, both of which he insisted his Government was strong on, despite the strikes over lack of funding that have been rife across Britain for months.
Asked about his party chair saying public services were in good shape, Mr Sunak doubled down on his comments. He said: "Because of the record investment that we're putting into public services like the NHS, we're now getting waiting lists down, because of the reforms that we've made to our education system, more children are studying in good and outstanding schools."
Mr Sunak also branded the Labour leader "Sir Softie", and raised historical comments from Emily Thornberry, the shadow attorney general questioning Sir Keir's record as chief prosecutor.
The Labour leader once again went in on crime, which while fruitful in terms of issues in how the justice department is wrong, is an interesting move when polling shows its not in the top three priorities for voters.
Sir Keir accused the Prime Minister of "letting violent criminals go free", and pointed to a people smuggler who threw boiling water at a police officer aviding jail.
He said: "Can't the Prime Minister see because they have lost control of the court service, because they have created the largest court backlog on record, he is letting violent criminals go free?"
After being questioned on his own record as chief prosecutor, Sir Keir cannily pointed to a comment from the home affairs committee at the time, which praises him for "improving the treatment of victims of sexual assault" and adds he would be "missed" upon leaving the CPS.
There was also a subtle dig at Mr Sunak's wealth, saying "either the Prime Minister doesn't use the same public services as the rest of us or he simply can't see the damage they have done to our country".
The SNP Westminster leader was heckled over the scandals around his own party, but shrugged it off admirably, saying he was "delighted to hear that they had an equally peaceful and relaxing Easter break as I did".
He once again used his questions to hit both Labour and the Tories, referencing the suggestion from Scottish Tory leader Douglas Ross that people vote Labour in some seats to stop the Tories.
Mr Flynn told the Commons: "We will take no lectures from a party which has not had a mandate to govern in Scotland since 1955. You went through three prime ministers in the course of just a matter of months.
"You crashed the economy, you sent mortgage rates soaring, you have taken energy support away from families most in need. Now the Prime Minister has been fined … not once, but twice."
He added: "The leader of the Scottish Conservatives believes that the people of Scotland should return Labour Party members of Parliament to this House rather than Scottish National Party members, so isn't the message to the people of Scotland quite clear: don't give the Tories what they want."
Comments
 0 comments
Want to join the conversation? Please or to comment on this article.