PMQs: RECAP as Liz Truss tells MPs "I am a fighter not a quitter"
Liz Truss will square off against the Labour leader and other Opposition leaders in Prime Minister's Questions for the first time since her new Chancellor Jeremy Hunt ripped up her plan for tax cuts
The Prime Minister faces disquiet from Tory MPs over plans for public spending cuts across all departments, after Mr Hunt warned of decisions of "eye-watering difficulty" to plug the Government's multibillion-pound financial black hole.
Sir Keir Starmer, Ian Blackford and others will grill the PM on her latest plans following the economic fallout around her mini budget.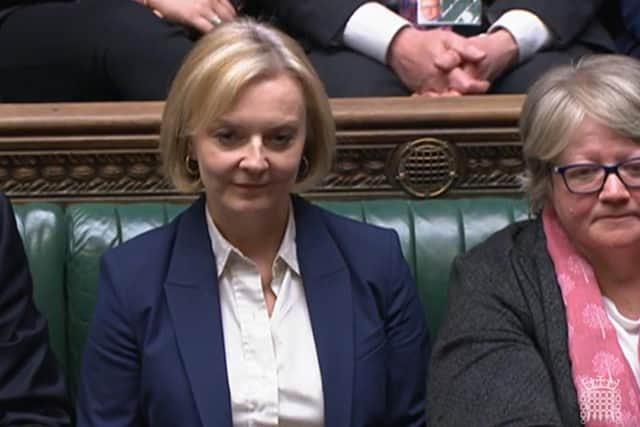 The Prime Minister could be quizzed on the cost of living crisis, her tax cut U-turn and pensions, following an admission from Downing Street that Ms Truss could ditch the key manifesto commitment to increase state pensions in line with inflation sparked a swift backlash.
You can follow live updates in our live blog.
PMQS: Live updates as Liz Truss faces MPs for the first time since tax cuts U-turn
Show new updates
Good morning and welcome to our live blog on a busy day in UK politics.
Lizz Truss preparing for a major clash with Sir Keir Starmer and other Westminster leaders and MPs for the first time since being forced to junk her entire economic strategy.
She will face MPs for the first time since her new Chancellor Jeremy Hunt ripped up her plan for tax cuts and increased public borrowing in a bid to reassure markets spooked by the ill-fated mini-budget.
James Cleverly said Liz Truss had been "very comfortable" at the despatch box at previous PMQs.
Asked how he thinks she will manage the clash with Sir Keir Starmer on Wednesday, the Foreign Secretary told ITV's Good Morning Britain: "The Prime Minister's Questions that she's done thus far, I think she's actually demonstrated that she's very much on top of her brief, and she is very comfortable at the despatch box."
Put to him that the PM sent Commons Leader Penny Mordaunt in her place to answer an urgent question on Monday, he said: "As I said, if you look back at the footage of the previous PMQs, you will see that the Prime Minister is very comfortable at the despatch box.
"The reason she wasn't at the UQ… by convention, the Prime Minister does not address UQs because she will have had important things in her diary, that is the natural and normal way of doing things."
More than half of voters think Liz Truss should resign as Prime Minister and 80% blame the Government for the rising cost of living, a new poll has found.
In the poll conducted over the weekend, 53% of people told Ipsos that Ms Truss should quit and only 20% would oppose her resignation.
In the months before he resigned, Boris Johnson recorded similar figures, ranging between 50% and 59% of people saying he should go over the course of 2022.
We'll also be having a live feed of PMQs
One to keep an eye on later today...
Tory MPs have been told a Labour vote in the Commons seeking to ban fracking is being treated as a "confidence motion" in Liz Truss's embattled Government.
Conservative deputy chief whip Craig Whittaker warned his MPs that Wednesday afternoon's vote is a "100% hard" three-line whip.
The dozens of Conservatives who oppose fracking face being kicked out of the parliamentary party if they do not back the Government's controversial end to the moratorium in England.
Mr Whittaker wrote to Tory MPs, saying: "This is not a motion on fracking. *This is a confidence motion in the Government.*
"We cannot, under any circumstances, let the Labour Party take control of the order paper and put through their own legislation and whatever other bits of legislation they desire.
Liz Truss is in the chamber for her 3rd PMQs in her 44th day as PM...
Could we be seeing fireworks in the chamber today?