PMQs: Ian Blackford joins 100 MPs to press for basic income
A Universal Basic Income (UBI) would ensure "no one is left behind", the SNP's Westminster leader Ian Blackford has said as he joined more than 100 MPs from across parties to call on the government to "put cash in people's pockets".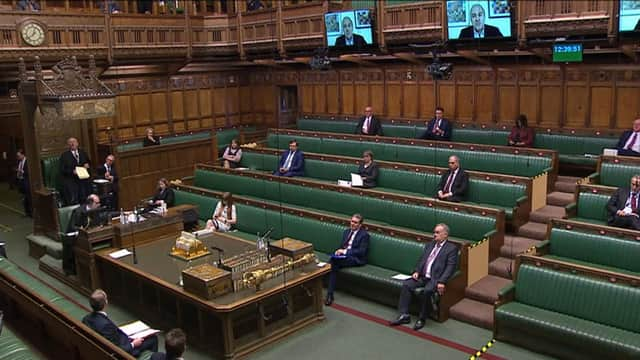 In a letter to the Financial Times, 110 MPs including the former shadow Chancellor John McDonnell, the acting leader of the Liberal Democrats Sir Ed Davey, and MPs from Plaid Cymru, the Alliance Party, the SDLP and the Greens, all said a UBI was the only way to prevent unemployed workers from falling into destitution.
At Prime Minister's Questions, Mr Blackford told Foreign Secretary Dominic Raab - standing in for Boris Johnson as he recovers from coronavirus - that "thousands" of businesses and individuals have found themselves with "no income, with no support and no end in sight, all because of arbitrary cut-off dates and bureaucratic barriers imposed by the UK Government" on its wage guarantee schemes.
Speaking via video link from his Ross, Skye and Lochaber constituency, Mr Blackford warned "people are being left behind" and insisted a universal scheme would "put cash in people's pockets" and help the economic recovery.
The SNP MP asked: "Can the First Secretary of State give us a straight answer today - does he support this proposal or does he reject it?"
Mr Raab replied: "I do not agree with his point on universal income."
He said Chancellor Rishi Sunak's measures were "second to none in the world" to support workers, adding: "We need to have a very focused approach, providing the resources we need to those who need it most and a universal income without being based on need wouldn't provide that."