PMQs: How did the SNP's Stephen Flynn, Rishi Sunak and Sir Keir Starmer perform as Brexit deal and Met Police review take centre stage?
Rishi Sunak experienced a mixed Prime Minister's Questions on Wednesday as he faced questions on Brexit and crime.
Following the Casey review, which found the Metropolitan Police was misogynistic, homophobic and institutionally racist, the Prime Minister struggled to explain how his actions would make things better, or to say he accepted the report in full.
With MPs set to vote on the Stormont break on Wednesday afternoon, Mr Sunak also faced questions on Brexit, from the SNP Westminster leader Stephen Flynn, who pointed out whatever changes he makes, the deal is still bad for Scotland.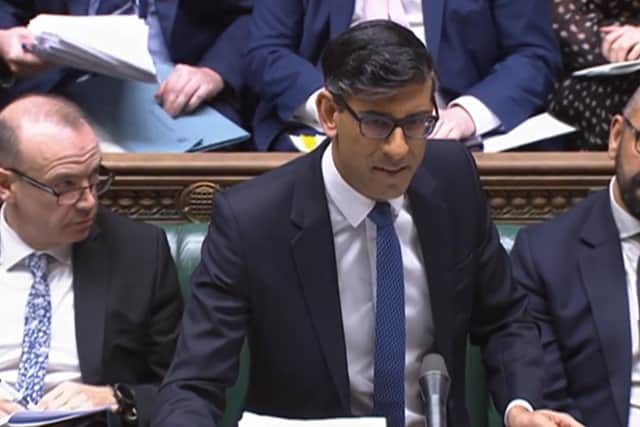 Mr Sunak floundered when grilled over the Met Police, seeking to pin the blame on Sadiq Khan, the London mayor, rather than offer clear solutions on how to fix the problem. It saw him deflect rather than answer, with no easy responses on how a police force became a haven for bigots.
Asked about rape charges being at just 1.6 per cent, Mr Sunak claimed action was already being taken, but refused to say he accepted the report's findings, less than 24 hours after his home secretary Suella Braverman dismissed the charge of institutional racism.
He said: "What Louise Casey also says is that primary public accountability of the Met sits with the mayor of London. She described that relationship between the mayor and the Met as, in her words, dysfunctional."
As former head of the Crown Prosecution Service, Sir Keir was in his element, asking questions about police reform he knew Mr Sunak would not have answers for.Speaking about rape cases as Tory MPs shouted over him, the Labour leader said: "People are fed up to the back teeth with a Government that never takes responsibility and just tries to blame everyone. They can shout if they are proud of the fact that over 98 per cent of rapists are never put before [court]… if they want to shout about that, that's their record, let them shout about it. You should be ashamed of yourselves."
He also saved his best line until last, after the Prime Minister accused Labour of being soft on crime. Referencing the Prime Minister's video not wearing a seatbelt, he said: "The only criminal investigation he's ever been involved in, is the one that found him guilty of breaking the law."
The SNP Westminster leader was less successful in his attacks on the impact of Brexit, if only because the Government considers the issue settled.
Mr Flynn asked: "What worries the Prime Minister most about Brexit right now? Is it the likely 4 per cent hit to UK productivity or is it three former Tory leaders planning to vote down his deal this afternoon?"
His question highlighted weaknesses for the Government, but it allowed Mr Sunak to pivot to soundbites, repeating his view the Windsor Framework "represents a good deal for the people and families and businesses of Northern Ireland".
The SNP leadership race also made things trickier, with Mr Sunak referencing comments from SNP president Mike Russell, saying: "I was more intrigued to see the words of his own party's president who just this past week have described his own party as being, in their words, in a tremendous mess."
Comments
 0 comments
Want to join the conversation? Please or to comment on this article.