PMQs: How did Mhairi Black, Dominic Raab and Angela Rayner perform as second jobs and rape convictions raised at deputy Prime Minister's Questions
Dominic Raab floundered at Prime Minister's Questions this week as he was confronted on bullying allegations and low conviction rates for sexual offences.
Ms Rayner challenged Mr Raab to say sorry for low charge rates and backlogs in the court system, with claims rape victims "denied justice" because of his "failures" as justice secretary.
This was followed by Mhairi Black, the SNP deputy leader, having good lines about second jobs for MPs without really expecting an answer.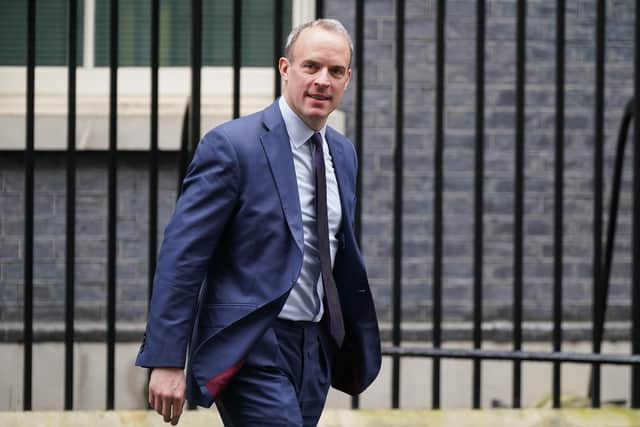 Still under investigation for bullying allegations, Mr Raab was pushed on both his professionalism and conduct as justice secretary. Asked about bringing bullies to justice, the Deputy Prime Minister had a good dig about Ms Rayner previously calling Tories "scum". He said: "I can reassure the House that I've never called anyone scum."
However, he struggled to justify low rape convictions, insisting tackling it "one of our top priorities". He said: "She asks what we are doing about it, since 2019 police referrals of cases have doubled, CPS [Crown Prosecution Service] charges have doubled. She asks on my watch what has happened, the volume of convictions in rape cases has increased by two-thirds.
"If she really wants to protect vulnerable women, whether it is from rapists or other serious crimes, they will back our parole reforms, which will mean ministers are able to prevent them being released into the public and cause more threats."
Having struggled at her last face-off with Mr Raab, this was a return to form for the Labour deputy, matching aggression with strong lines designed to cut through beyond Westminster.
Pushing Mr Raab on new anti-bullying legislation, she said: "This week the Government announced their so-called anti-social behaviour policy – it's only taken 13 years and, look, I'll give him some credit, the Deputy Prime Minister knows first-hand the misery caused by thugs and their intimidating behaviour.
"Lurking with menace, exploding in fits of rage, creating a culture of fear and maybe even, I don't know, throwing things."
Ms Rayner was particularly strong on the appallingly low rape convictions in Britain, especially after Mr Raab pointed to convictions going up "two-thirds".
She said: "He hasn't answered my question because he is too ashamed of the answer – 1.6 per cent of rapists faced being charged for their crime – 1.6 per cent. Let that sink in."
Instead of a serious question, Ms Black used her first exchange to deliver a very strong joke, clearly designed for social media. She pointed to Sir Graham Brady, former chancellor Kwasi Kwarteng, and former health secretary Matt Hancock, all of whom were recently caught discussing how much they would accept for consultancy work.
She asked: "Can I ask the Deputy Prime Minister, when he is inevitably booted out of office, what will his going rate be?"
This was not a question with an expectation of a serious answer, but it did get a laugh, which is still better than most questions.
Comments
 0 comments
Want to join the conversation? Please or to comment on this article.