Peter Murrell arrested: Humza Yousaf denies Nicola Sturgeon resigned due to police investigation and husband's imminent arrest
Humza Yousaf has rejected suggestions his predecessor as First Minister, Nicola Sturgeon, resigned due to an ongoing police investigation into the SNP's finances that has led to her husband's arrest.
Former chief executive of the SNP, Peter Murrell, 58, was arrested in connection with the investigation into the alleged 'missing £600,000' within the SNP's finances.
He was later released without charge "pending further investigation", Police Scotland said in a statement.
Ms Sturgeon would "fully co-operate if required" with police as part of an investigation into the SNP's finances, her spokesperson said last night.
The spokesperson said: "It would not be appropriate to comment on a live police investigation. Nicola Sturgeon had no prior knowledge of Police Scotland's action or intentions.
"Ms Sturgeon will fully co-operate with Police Scotland if required. However, at this time no such request has been made."
The arrest on Wednesday morning shook Scottish politics and the SNP, leaving many in the party blindsided by the development.
The investigation, which has been running for more than 18 months, centres around whether money fundraised by the party for an independence referendum campaign was used legally.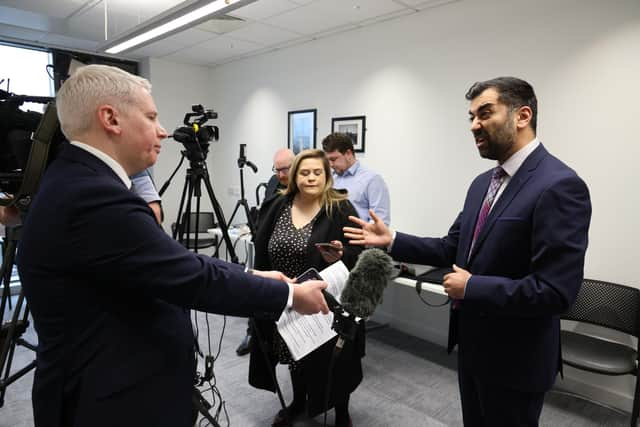 Mr Yousaf, however, was steadfast in his belief Ms Sturgeon's resignation was not linked to the escalated police investigation.
Ms Sturgeon, who married Mr Murrell in 2010, announced in February she would stand down as first minister and SNP leader after eight years in charge.
The former SNP leader spoke of the "physical and mental impact" of dealing with the Covid-19 pandemic as one of the key reasons for stepping down, but refused to say when asked if the investigation had also been factored into her decision.
"I believe her very much when she says how exhausted she was," Mr Yousaf said on Wednesday. "I think anybody who watched her over the course of the pandemic during those daily briefings, day after day, I think anybody could understand how exhausting that is.
"So, no, I don't think [Peter Murrell's arrest] is the reason why Nicola Sturgeon stood down."
Asked if the former first minister's legacy had been damaged by the arrest, Mr Yousaf defended her, saying: "Nicola's legacy stands on its own.
"Nicola's legacy, whether it's in relation to care-experienced young people and keeping The Promise, whether it's on tackling child poverty, there are many legacies she can stand on, and I think that's what she'll be judged on."
During his campaign to be leader of the party, Mr Yousaf said he wanted to look at party finances. He said on Wednesday he had previously spoken about the ongoing investigation with the SNP's lawyers.
His leadership, he said, offered a chance for the party to "make sure we're being transparent".
The newly-elected SNP leader, who is just over a week into his time at the helm, admitted the arrest and the associated scenes were "not great" for trust in the party. He said he has had "no involvement" in the SNP's finances.
He told reporters during a visit to New Gorbals Health and Care Centre in Glasgow the party had agreed a review into governance and transparency, which would involve some external input.
Mr Yousaf added: "The sooner we can get to a conclusion in this police investigation, the better, but it is really up to the police to, of course, investigate in due course in the way that they see fit and appropriate.
"We'll make sure that we fully co-operate and what I can do as the new SNP leader, somebody who has no involvement in the party finances in the past, is hopefully bring new leadership and I think the review that I've spoken about and the NEC [national executive committee] has agreed into governance and transparency with that external input is going to be key."
Mr Murrell resigned as chief executive of the SNP just weeks ago following a row over membership numbers, which also resulted in the resignation of the party's head of communications and media. It had been a role Mr Murrell had held since 1999.
Prior to this, it emerged Mr Murrell had loaned more than £100,000 to the party during June 2021, with the SNP repaying half of that money by October of the same year. It was around this time the-then party treasurer, MP Douglas Chapman, resigned, citing a lack of information on the party's finances.
Ms Sturgeon has also denied her resignation as first minister had anything to do with the ongoing investigation into the party's finances.
SNP figures told The Scotsman the decision to arrest Murrell had shocked the party. Government ministers appeared to get no warning of the imminent arrest, with some finding out via family members who had been watching the news.
A spokesperson for the SNP said it would not be appropriate to comment.
They said: "Clearly it would not be appropriate to comment on any live police investigation, but the SNP have been co-operating fully with this investigation and will continue to do so. At its meeting on Saturday, the governing body of the SNP, the NEC, agreed to a review of governance and transparency – that will be taken forward in the coming weeks."
Scottish Labour deputy leader Jackie Baillie said: "This is a deeply concerning development and the Police Scotland investigation must be allowed to proceed without interference."
Donald Cameron, the Scottish Conservatives constitution spokesperson, said: "Senior SNP politicians, including Nicola Sturgeon and Humza Yousaf, must cooperate fully with the investigation into this very serious case and commit to openness and transparency.
"While there is an ongoing police investigation into the SNP's finances, and given that a suspect has now been arrested, it is right that due process is followed and any potential wrongdoing investigated thoroughly by the police."
In a statement issued early on Wednesday, Police Scotland said officers were carrying out searches "at a number of addresses as part of the investigation", stating that a "58-year-old man", understood to be Mr Murrell, had been arrested.
The statement added: "A report will be sent to the Crown Office and Procurator Fiscal Service (COPFS). As the investigation is ongoing, we are unable to comment further."
A spokesperson for the Crown Office and Procurator Fiscal Service said: "COPFS will continue to work with police in this ongoing investigation. It is standard practice that any case regarding politicians is dealt with by prosecutors without the involvement of the law officers."