Patrick Grady has SNP whip restored after suspension over sexual harassment
An SNP MP who was found to have sexually harassed a teenager has had the party whip restored, in a decision his victim called a "slap in the face".
Patrick Grady was suspended from Westminster for two days earlier this year after he was found to have acted inappropriately towards a male SNP staff member.
The SNP said he had now "resumed his membership" following a six-month party suspension. Critics called the decision "disgraceful".
Mr Grady, the SNP's former chief whip, previously said he was "profoundly sorry" after the conclusion of an independent panel's investigation into his behaviour.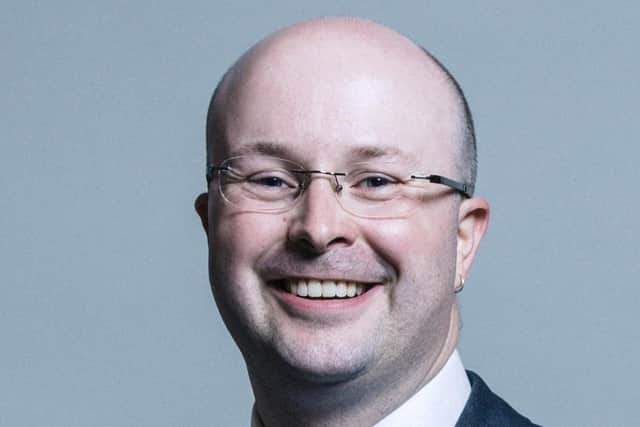 He was found to have made an unwanted sexual advance to the 19-year-old at a social event in 2016 by touching and stroking his hair, back and neck.
His victim told The Scotsman he was not aware that Mr Grady had only been suspended for six months and his return to the SNP benches had come as a "shock".
He said: "The decision to give Grady his job back while I've lost mine is a slap in the face to anyone who has experienced sexual harassment."
He said SNP MPs should now consider the position of the party's new Westminster leader Stephen Flynn.
Ian Blackford, the SNP's former Westminster chief, previously came under fire over his handling of the complaint against Mr Grady.
In a leaked recording, he was heard telling SNP MPs to rally round Mr Grady, saying he looked forward to "welcoming Patrick back" following his two-day suspension from the House of Commons.
The row is thought to have played a part in Mr Blackford's eventual decision to step down from the top job earlier this month.
Conservative MSP Annie Wells said: "It's disgraceful that Patrick Grady has got away with little more than a slap on the wrist.
"His belated resignation back in June was already far too little, too late. The fact that he has now been welcomed back into the Westminster fold after just a few short months is a slap in the face to his victim.
"Ian Blackford's shameful decision to back Grady, rather than his victim, was the main reason cited for SNP MPs toppling him as Westminster leader. Yet now his spineless successor Stephen Flynn has happily invited Grady to rejoin the fold.
"Nicola Sturgeon is equally culpable in this craven decision – and should be ashamed of herself for giving this the green light. If the SNP had any integrity at all, they would have sacked Patrick Grady for good."
Liberal Democrat MP Christine Jardine said: "This decision by the SNP to brush Patrick Grady's behaviour under the carpet and welcome him back into the parliamentary party under cover of the Christmas break is beneath contempt.
"It was unpleasant enough to hear Ian Blackford rallying support among SNP MPs for Patrick Grady instead of his victim over the summer yet alone to see that all is seemingly forgiven just six months later. All parties need to do better in dealing with proven cases of unacceptable behaviour. For the SNP that should start with once again removing the party whip from Patrick Grady."
An SNP spokesman said: "Following a six-month suspension, Patrick Grady has resumed his membership of the SNP."
It is not clear whether Mr Grady, who represents Glasgow North, will be eligible to stand for the SNP at the next general election. The party began its selection process in September.
Comments
 0 comments
Want to join the conversation? Please or to comment on this article.