Parler: why was the conservative app banned by Amazon, Apple and Google - and how has the CEO responded?
The social media platform is favoured by Donald Trump supporters
Now, the "free speech" app's CEO John Matze has said it may never come back online after the shut down.
The platform, which is favoured by President Trump's supporters, surged in popularity after Twitter and Facebook started to censor the spread of misinformation on the sites and eventually suspended Mr Trump's accounts.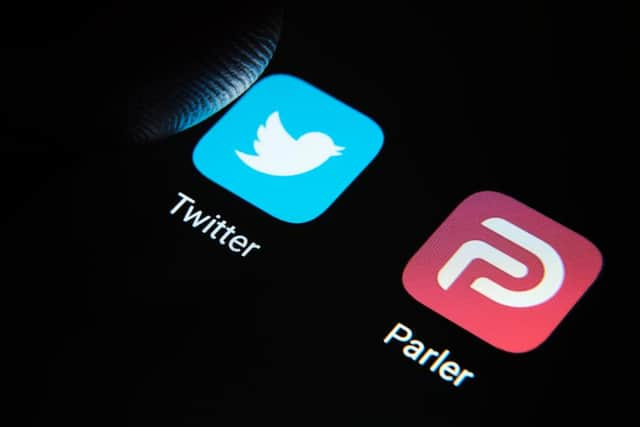 Parler wasn't the only app to see increased use after the president's historic suspension, with conservatives flocking to other "free speech" sites like Gab, MeWe and Rumble.
Here's everything you need to know about Parler's ban - and how its CEO has reacted.
Why has Parler been banned?
Many conservative Twitter users migrated to Parler in protest after President Trump was suspended from the Big Tech site for "inciting violence" after the Capitol building riots.
However, the social media site was cut off after Amazon stopped hosting it on its Amazon Web Services (AWS) platform on Sunday 10 January.
Amazon said it had taken the decision as Parler had failed to effectively moderate posts that encouraged and incited violence.
It said: "It is clear that there is significant content on Parler that encourages and incites violence against others, and that Parler is unable or unwilling to promptly identify and remove this content, which is a violation of our terms of service."
Reliant on AWS, Parler is now "homeless" on the internet as the app was also banned from Google's Play Store and the Apple App Store for similar reasons.
The platform, which is two years old, will be shut down until it can find a new hosting provider.
Parler is popular among supporters of Donald Trump, although the president himself is not a user.
The week after the US election - after Mr Trump had made false claims about the election being fraudulent - the app's founder claimed that five million people were active on the platform.
Democrat politicians, Rep. Alexandria Ocasio-Cortez, have previously been vocal in condemning Parler for its violent content.
How has the CEO responded?
After Parler was pulled from the internet by the tech giants, its CEO John Matze responded angrily, referring to the US Constitution and freedom of speech.
He told Fox News: "I think it's sick. That's not what the Constitution said. That's not what the Constitution stands for, banning 10-plus million U.S. voters from the internet, barring people from free speech.
'When people do things like that, it shows that they don't understand the meaning of the Constitution or this country and what it stands for."
In response to Amazon's shut down, Parler filed a lawsuit against the tech giant claiming the ban was "motivated by political animus".
The platform has asked a federal judge to order Amazon to reinstate it on its hosting services.
Amazon said while it respects Parler's right to determine its own content, it had identified posts on the app that "encourage and incite violence against others".
It said: "It is clear that Parler is unable or unwilling to promptly identify and remove this content, which is a violation of our terms of service.
"We made our concerns known to Parler over a number of weeks and during that time we saw a significant increase in this type of dangerous content, not a decrease, which led to our suspension of their services Sunday evening."
Since the Amazon, Google and Apple bans, the Matze has said it may never return to the internet.
In an interview with Reuters on Wednesday 13 January, Matze said: "It could be never. We don't know yet."
Parler has been growing in popularity since 8 November - the day the presidential election was called for Joe Biden.
Similar to Twitter, the app allows users to post messages, or images.
Fellow users are able to approve the post - similar to Twitter's like function - or "echo" the message - similar to Twitter's retweet function.
The app's unique selling point is its "dedication to free speech" with users able to post anything they desire so long as it's not unlawful, and not spam.
However, it has become rife with misinformation and conspiracy theories since President Trump claimed the election was fraudulent.
Its users are mainly conservative, including a number of right-wing politicians like Texas Senator Ted Cruz and Congressman Jim Jordan.
The platform was formed in 2018 by John Matze and Jared Thomson, a pair of Conservative programmers, with Rebekah Mercer among the app's top investors.
Mercer has previously provided financial backing to Cambridge Analytica, Breitbart News and the 2016 Donald Trump presidential campaign.