Addressing Holyrood during her Covid update on Monday, Ms Sturgeon announced the new planned date for pupils to return to school in Scotland will be February 1.
Pupils were planned to be back in classrooms from January 18.
Parents' campaign group UsForThem Scotland have now questioned the decision and warned keeping children home will do more harm than good.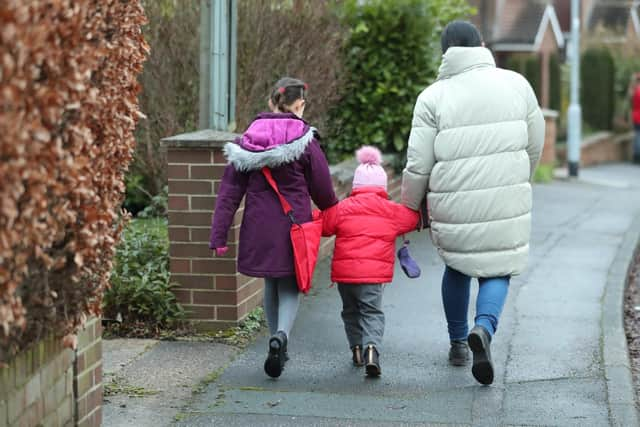 Organiser Jo Bisset said :"This is the news parents across Scotland have been dreading.
"They have been repeatedly assured by the Scottish Government that schools would stay open and yet the doors have been slammed shut indefinitely.
"Now that the schools will be closed until February, no-one seriously believes they will be properly open again this academic year.
"For children, that means a second-class education system if they're lucky and complete isolation from their social groups. This is time they cannot get back.
"For many parents, especially those in shift work or on low income, this will mean falling into poverty with no prospect of a way out.
"We're almost a year into this pandemic and children are suffering more than anyone.
"Only time will tell the full extent of the impact of this decision, but there's no question that the damage being done to the lives of young people is significant."
However, the decision on schools was backed by the National Parent Forum of Scotland (NPFS), which said in a statement the body "understood the decision".
Speaking on behalf of the NPFS, chair Margaret Wilson said: "There is no decision today that is going to please everyone in this situation.
"The pressures faced by families, living with restricted measures, coping with stress created by the pandemic, supporting remote learning whilst balancing many other issues will be a challenge to all parents/carers.
"Our young people have already been through a significantly stressful time.
"However, the safety of our children and young people is paramount.
"Most importantly we must ensure parents are aware that their school is available for support and to make contact with them as soon as possible."
Dr Patrick Roach, general secretary of the NASUWT union, welcomed the announcement, saying: "This will provide a measure of relief to many highly-anxious teachers, parents, pupils and school staff at this difficult time."
He added: "The First Minister stated that the significant uncertainty on the impact of the new variant on children, along with the overall high level of virus transmission in the community, had guided the decision to extend the period of remote learning.
"It will now be vital that in reviewing the closure of schools on January 18, the minister continues to be guided by the medical and scientific evidence on the impact of the new variant, with the priority the safety, health and welfare of children, young people and school staff.
"The highly cautious and preventative approach set out today must be maintained in order to protect health and welfare."
If you haven't already, please consider supporting our trusted, fact-checked journalism by taking out a digital subscription.