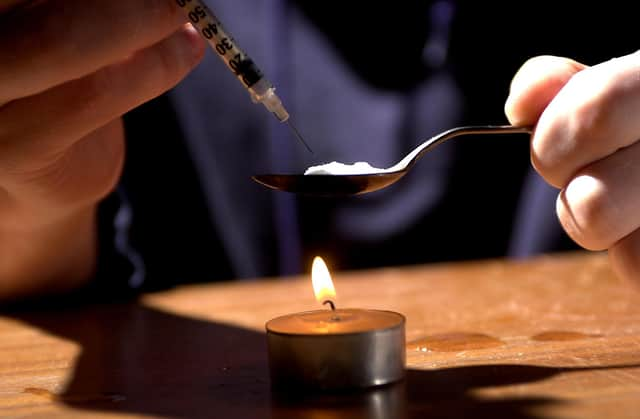 The Scottish Government has said Naloxone will be given to those in danger of overdosing.
The Scottish Ambulance Service will give out the kits, which can reduce the risk of a fatal overdose from opiates.
The move comes just weeks after Scotland registered a record number of drugs deaths for the sixth year in a row and the highest total since records began in 1996.
The figure of 1,264 was a 6 per cent increase on 2018 and more than double the number of deaths in 2014. It is the worst rate recorded in Europe and about three-and-a-half times the rate for England and Wales.
As a result of the failure to reduce the death toll, Public Health Minister Joe FitzPatrick lost his job in government, with Nicola Sturgeon appointing Angela Constance as a full-time drugs minister, reporting directly to her.
Ms Constance said: "As part of a wide range of measures to address the public health emergency of drugs deaths, tools like Naloxone play an important part.
"By providing take-home kits in certain circumstances, there is a chance that a relative or friend will be able to administer it early in the episode, increasing the prospects of a successful outcome.
"Of course, we want to help people long before they get to the point of a life-threatening overdose. That is why we are embarking on a new national mission to reduce drugs deaths, and one which will have people with lived experience, and their families, front and centre."
Ambulance crews responded to around 5,000 incidents in which Naloxone was administered in 2019. The take-home kits would enable friends and relatives to administer the antidote while an ambulance is on its way, reducing the chance of a fatality.
The government has said kits will be supplied after 999 has been called for a person experiencing an accidental overdose and families and carer groups will be given training in how to administer it.
Ms Constance said: "Our ambulance staff have been doing an amazing job each day to save lives in the most challenging of circumstances which are being experienced across our healthcare services. They have all been remarkable this year and continue to be an exemplary public service, always prepared to do more in the interests of public health."
Dr Jim Ward, medical director for the Scottish Ambulance Service (SAS), said: "We are determined to play a key role in reducing deaths and harm resulting from drug use in Scotland.
"The funding provided by the Drug Deaths Task Force has also allowed us to appoint to three full-time posts supporting the work of SAS clinicians across the whole of Scotland, to further increase focus and momentum on how the ambulance service can help save more lives and prevent drug-related harm.
"This new and significant initiative issuing 'take home naloxone' to people at the scene after a non-fatal overdose will support the reduction of potential future harm and death for vulnerable people affected by drug use.
"SAS is also strengthening its relationship with local drug services and is progressing plans to signpost our patients affected by drug use to these local services who have a key role in support and prevention of drug-related harm."
A message from the Editor:Thank you for reading this article. We're more reliant on your support than ever as the shift in consumer habits brought about by Coronavirus impacts our advertisers.
If you haven't already, please consider supporting our trusted, fact-checked journalism by taking out a digital subscription.