Opposition parties demand investigation as Downing Street insists Rishi Sunak has confidence in Suella Braverman
The Prime Minister has sent mixed messages on the Home Secretary after allegations she asked civil servants to help her avoid incurring points on her licence for speeding.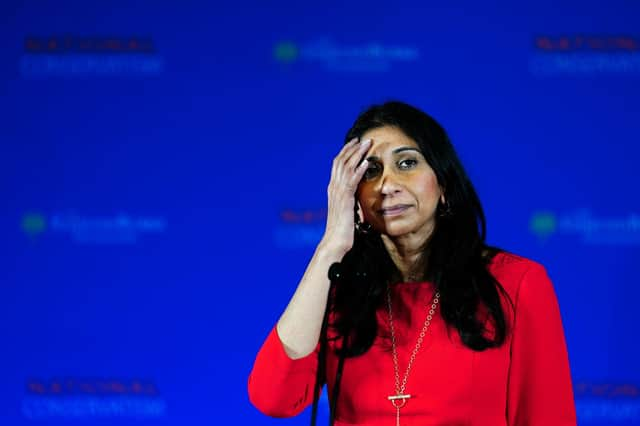 Opposition parties are demanding an immediate investigation after Suella Braverman asked civil servants to help her avoid points for speeding.
The Home Secretary asked Home Office aides to help organise a one-to-one driving awareness course, before turning to a politcal aide for help after officials refused the request.
According to reports, Ms Braverman was hoping to avoid attending a course with other motorists after being caught speeding outside London while she was Attorney General last summer.
The Sunday Times claimed that a number of requests were made to a speeding awareness course provider by an aide, including asking if the senior Conservative minister could do an online course, but use an alias or have her camera switched off. Mrs Braverman ultimately chose instead to accept three points on her driving licence.
The Prime Minister appeared blindsided by the revelations when confronted about them at the G7 in Japan, failing to express support for her three times when asked at a press conference in Hiroshima.
He said: "I don't know the full details of what has happened nor have I spoken to the Home Secretary. "I think you can see first hand what I have been doing over the last day or so but I understand that she's expressed regret for speeding, accepted the penalty and paid the fine."A visibly frustrated Mr Sunak also expressed his frustration at being asked whether he would ask his ethics adviser Sir Laurie Magnus to investigate the claims.
"Did you have any questions about the summit?" he asked.
However, a No 10 spokeswoman has now insisted he does "of course" have full confidence in his Home Secretary.
Opposition parties are now suggesting Ms Braverman may have broken the ministerial code, and demanding an investigation.
Shadow health minister Liz Kendall told Sky News' Sophy Ridge On Sunday programme: "I think Rishi Sunak should launch an investigation into it. He should ask the independent adviser whether she has breached the standards of the ministerial code here.
"I think a lot of people watching this programme will think, you know, why is it always one rule for them and another rule for everybody else?"
Ms Kendall also reminded viewers Ms Braverman "actually had to resign as home secretary under Liz Truss because she sent confidential documents to a Tory MP when she shouldn't have done that, and Rishi Sunak reappointed her as Home Secretary".
Liberal Democrat Home Affairs Spokesperson Alistair Carmichael MP suggested Mr Sunak failing to act would be "stealing page one from the Boris Johnson playbook".He added: "Time and time again Sunak has put Conservative politicians, who think they are above the rules, in his cabinet and every time they have taken the British people for fools.
"The Home Secretary must undergo an urgent investigation, every second she doesn't is another blow to the integrity of this already sleaze-ridden Prime Minister."
There was even criticism from within the Tory party, as former chairman Sir Jake Berry said the Home Secretary had "questions to answer".
Speaking to the BBC's Sunday with Laura Kuenssberg programme, the senior Tory MP said: "I don't think we've seen enough about this story yet.
"It certainly brings into question, I think, the use of civil servants, so I think there are definitely questions to be answered.
"Let's see what is said — I guess it will be in the House of Commons, an urgent question or statement about it on Monday, let's see what is said there.
"Look, this is part of … People get speeding fines, right? The Archbishop of Canterbury, Andy Burnham, Robert Jenrick, Tom Tugendhat, these public figures. You shouldn't do it in the first place but if you do get caught, you just take the medicine."
Mrs Braverman resigned in October after sharing a sensitive document with a Tory backbencher from a personal email without permission.
But Mr Sunak reappointed her just six days later when he entered No 10.
A spokesman for the Home Secretary said: "Mrs Braverman accepts that she was speeding last summer and regrets doing so.
"She took the three points and paid the fine last year."
Comments
 0 comments
Want to join the conversation? Please or to comment on this article.