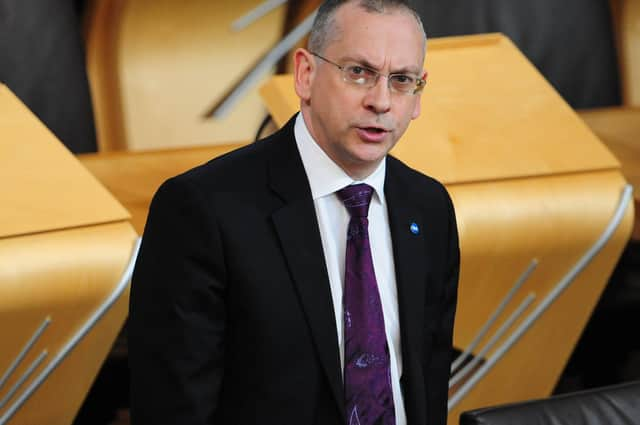 Former Edinburgh Southern SNP MSP Jim Eadie has quit the SNP to join Alba and will stand as a list candidate in Mid-Scotland and Fife.
He said: "The opportunity to maximise the number of Yes-supporting MSPs is a crucial one that can't be missed, although leaving the SNP after almost 40 years is not an easy step to take and it wasn't one I took lightly."
Mr Eadie was parliamentary liaison officer to Ms Sturgeon throughout the 20011-16 parliament when she was Deputy First Minister and then First Minister.
"Turning my back on people I have worked with closely was not an easy thing to do but I happen to think it's the right thing to do. Like many people I think the SNP has got bogged down in managerialism."
He said he was comfortable with Alex Salmond's leadership of the new party and rejected the idea his return to politics was part of a vendetta.
"I think he's bigger than that. There are always going to be issues between individuals but I think he is focused on the prize of having the greatest number of independence-supporting MSPs in the parliament and using that to drive the agenda forwards."
And Mr Eadie argued Alba could boost the constituency votes for the SNP as well as winning list votes for itself.
"If there are people who for whatever reason – perhaps because they don't think there has been sufficient progress towards independence – are not enthused by the current leadership of the SNP I think they will now be motivated to go out and vote SNP in the constituency and Alba on the list."
He said if Westminster continued to block a referendum, Scotland should look at what other options were available under international law.
"I would not be in favour of a wildcat referendum," he said. "Any route to independence has to be a democratic, constitutional and legal one but we can't continue to allow Boris Johnson to have a veto over Scotland's democratic aspirations and certainly can't have a situation where we're told we must wait 40 years for the question to be put again to the Scottish people."
A message from the Editor:
Thank you for reading this article. We're more reliant on your support than ever as the shift in consumer habits brought about by coronavirus impacts our advertisers.
If you haven't already, please consider supporting our trusted, fact-checked journalism by taking out a digital subscription.